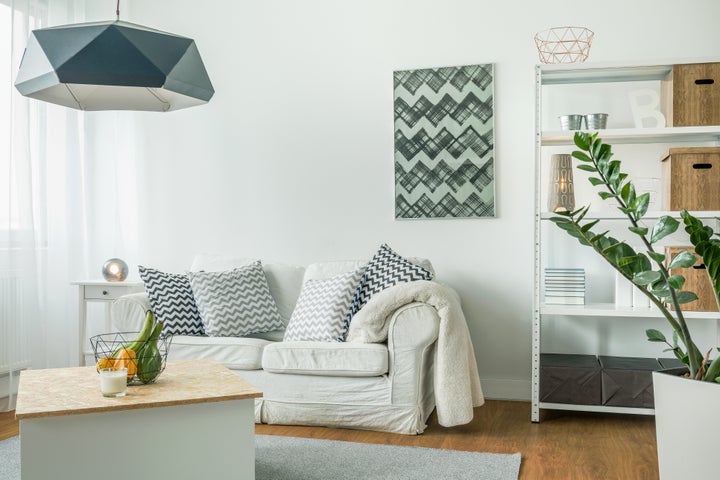 Hygge (pronounced hue-gah) is having a major moment in the world of interiors and once you know about it, we guarantee you'll get on the hype train.
The Danish word can't be directly translated into English because hygge is more a feeling than a tangible object.
Hygge is about feeling calm, feeling connected to your own sense of wellbeing and above all, feeling cosy.
The interiors in your home can play a big part in achieving this, so ditch that clutter, hide away those devices and read our top tips on creating the perfect hygge home.
Keep Walls Neutral
Paint walls a soft shade of grey, white or cream and keep colours throughout the house earthy to create a sense of calm.
Stock Up On Throws
Drape throws on every chair or place in baskets ready for guests to grab to make your home super inviting.
Buy Contrasting Cushions
Scatter cushions on the floor to add splashes of colour and soften harsh edges.
Play With Shapes
Add accessories in geometric shapes to provide the perfect contrast to all those soft furnishings.
Pick Up A Picture
Hang artwork in neutral shades to add some personality while maintaining that sense of calm.
Use Every Space
Got a gap under your stairs? Turn it into a library. Make the most of tiny corners to leave your main living space clutter free.
Mix Wood With Metal
Use natural materials with metal accents to add contrast to your room. Industrial-style copper accessories work well.
Add Personal Touches
Happiness is at the heart of hygge so dot nicknacks around your home that make you smile.
Take Hygge Outside
Bring a few cosy accessories outside and invest in a patio heater to make the most of your garden space throughout winter.
Don't Forget Lighting
Whether you brighten your house with lamps, fairy lights, candles or open fire, lighting affects the overall mood of your space. Think about the amount of natural light your room receives, but most importantly, pick something you love.
Related