Iain Duncan Smith broke down in tears during the filming of a BBC documentary as he recalled meeting a young woman who had "written off her life".
The former work and pensions secretary was speaking to Ian Hislop for a new documentary Workers or Shirkers? Ian Hislop's Victorian Benefits.
The programme due to be aired this Thursday was filmed in December 2015, when Duncan Smith was still in his cabinet post.
Recalling a visit to a lone parent in an estate. "I remember leaving there thinking very simply 'this is my daughter'," he said.
Welling up he said: "I'm sorry, I'm quite emotional. 19-years-old. My aspiration for my daughter was boundless.
"And here I'm sitting with a 19-year-old girl who had written off her life and had no aspiration and no self-worth. She was a product of a system."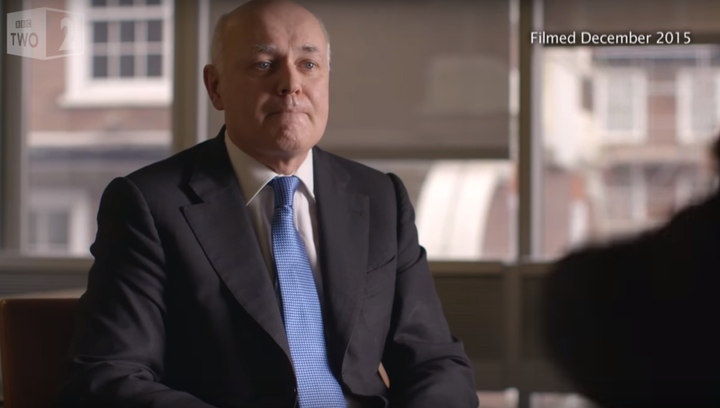 Duncan Smith said he wanted to "change her life" and enable people to be "masters of their own fate, not leaving me as master of their destiny".
Hislop asked whether his motivation for changing the UK benefit system "heart as well as head"
Speaking to the Radio Times, Hislop said the moment Duncan Smith cried was "extraordinary moment".
"I just watched him cry. We're sitting in the Department for Work and Pensions talking about his desire desire to increase the lot of those without any privileges or start in life and he starts welling up," he said.
Ducnan Smith quit the government last month over planned cuts to benefit payments for disabled people - triggering a furious internal-Tory row with David Cameron and George Osborne.