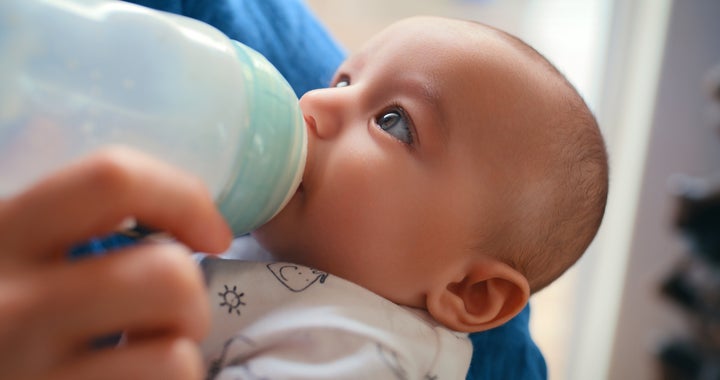 A UK supermarket chain has committed to slashing the cost of infant formula milk to help parents during the cost of living crisis.
Prices on its range of formula milks have been reduced by over 20%, which the company says is in line with hundreds of other household staples it has discounted.
It comes after a survey by the supermarket found that, amongst 18-35 year olds who have a child under one, 86% are concerned about the rising cost of formula.
Why is this a big deal?
Formula milk is very expensive for new parents. The cost has soared over the last year – with the price of the cheapest brand increasing by more than 22%.
NHS guidance recommends that babies are exclusively breastfed for the first year of their lives. However, data shows that the majority of babies will be partially or fully formula fed by the time they are 6-8 weeks old.
For those who do rely on feeding their babies formula milk, there are barriers in the way of accessing it cheaply.
For low income households or those on Universal Credit, some help is available in the form of Healthy Start vouchers – however the cash value of these vouchers is £8.50 per week (for each baby under one), which is no longer enough to cover the cost of most types of infant formula.
It states that "no manufacturer or distributor of any infant formula shall provide for promotional purposes any infant formula free or at a reduced or discounted price, or any gift designed to promote the sale of an infant formula."
"Attempts by parents to cut costs, for example by reducing feeding frequency, ignoring best before dates, or over-diluting powdered infant formula, come with worrying health risks as babies and young children are more susceptible to food-borne illness than adults and have high energy needs for growth and development," the charity said.
It called on retailers to start offering own-brand formula as well as protecting first infant milk formula from the worst of food price inflation – which Iceland has now done.
"Scientific and medical research is clear that breast feeding is the best source of nutrients for babies and growing infants, and Iceland strongly supports this," reads a press release from the supermarket.
"However, it is also clear that the rising price of formula milk is placing unbearable pressure on parents who choose to or have no alternative but to use it."
What are the new prices of infant formula?
The Sun reports that the below products have been reduced at Iceland/The Food Warehouse, as follows:
Aptamil 800g First Infant Milk – now £12.00 (was £14.50)
Aptamil 800g Growing Up Milk – now £12.00 (was £14.50)
Aptamil 800g Follow-on Milk – now £12.00 (was £14.50)
Cow & Gate 800g Milk Powder – now £9.75 (was £10.75)
Cow & Gate 800g Follow-on Milk – now £9.75 (was £11.50)
Cow & Gate 800g Growing Up Milk – now £9.50 (was £10.50)
Kendamil 800g Classic Milk – now £9.25 (was £11.50)
Kendamil 800g Stage 2 Milk – now £9.25 (was £11.50)
Kendamil 800g Stage 1 Organic Milk – now £9.25 (was £13.50)
Kendamil 800g Stage 3 Milk – now £9.23 (was £14)
The supermarket hopes the lowered prices will "give real help to these families who are struggling to afford to feed their babies during the cost of living crisis".
Richard Walker, executive chairman of Iceland Foods, said: "If parents cannot breastfeed or choose to use formula for whatever reason, we need to ensure it is accessible for them.
"More and more parents across the country are living in fear about being able to feed their babies, and they don't feel supermarkets are doing enough to help them.
"At Iceland we're just not willing to have that on our conscience. Reducing the price on formula is the right thing to do to support our customers."
The charity Feed UK, which campaigns for inclusive feeding policies, told HuffPost UK it is "delighted to see Iceland recognise the significant impact high formula costs are having on families, and taking concrete action to help".
Dr Erin Williams, co-founder of the charity, added: "It takes courage to be the first to make the change families desperately need ... We also hope other retailers will take Iceland's lead and do the same."