Your food shop may never be the same again. The phase-out of single-use plastics in supermarkets has begun.
HuffPost UK asked Britain's other major supermarkets what they were doing to address Britain's plastic problem.
Waitrose
Today, Waitrose announced that they will completely remove black plastic packaging from their fruit and vegetable, meat, poultry and fish ranges by the end of the year.
They also confirmed that they will remove all plastic straws from sale in all branches by September 2018, replacing them with non-plastic alternatives.
"We are working with our suppliers and packaging manufacturers to develop and source alternative materials to plastic and our dedication to this is ongoing," Laura Blumenthal, a Waitrose spokesperson, told HuffPost UK.
Sainsbury's
"We've reduced our own brand packaging by 31% since 2005, and our target is to reach 50% by 2020," a Sainsbury's spokesperson told HuffPost UK.
"We're always looking at ways to package products that help reduce food waste, whether that's introducing re-sealable packs, or making them lighter, thinner and more recyclable."
Tesco
As part of their Little Helps plan, Tesco plan to make all of their packaging fully recyclable or compostable by 2025.
Also, over 78% of the packaging of their own-brand products are recyclable depending on the allowances of local authorities.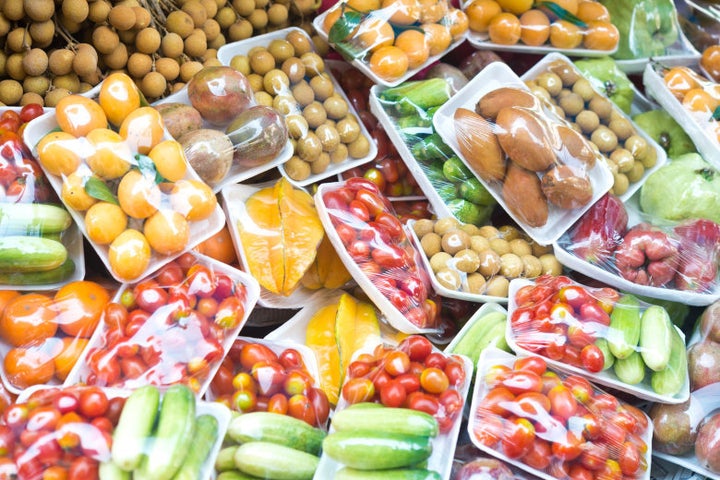 Lidl
"Lidl has long been committed to the reduction of unnecessary plastic waste," a Lidl spokesperson told HuffPost UK.
"In 2017, we made some strong positive steps ahead of legislation by eradicating microbeads from all cosmetic and household products, and committed to the removal of plastic-stemmed cotton buds, which we are in the process of replacing with biodegradable stems."
Asda
Asda had not yet responded to requests for detail of their plans to deal with plastic.
M&S
"Our ambition is to be a zero-waste business by 2025," Emma Johnson, an M&S spokesperson, told HuffPost UK.
"As part of that work, we're ensuring our packaging is easy to recycle for our customers and we're targeting 100% of our packaging to be 'widely recycled' by local councils by 2022."
M&S are also trying to assess the feasibility of making all of their plastic packaging from one polymer group, to help encourage the use of recycled content.
Budgens
A Budgens spokesperson said the chain's stores are independently owned and operated and therefore have no operational control of plastic policy.
Morrisons
"We will be phasing out plastic drinking straws that are sold separate to drinks and replacing them with paper straws this year," a spokesperson for Morrisons told HuffPost UK.
"We have also started to phase out plastic stem cotton buds, to introduce them with paper stems."