Every night, thousands of UK couples get into bed, kiss each other on the cheek, roll over and shut their eyes ready to sleep.
All is quiet and peaceful. That is, until a few hours later - when battle commences.
Regardless of how big a couple's duvet is, the chances of them playing a nightly game of tug-of-war are high. To tackle the problem, Ikea has announced the launch of its 'TOG-ether bundle', which will see couples snoozing under two single covers rather than a double. (Why didn't we think of this?)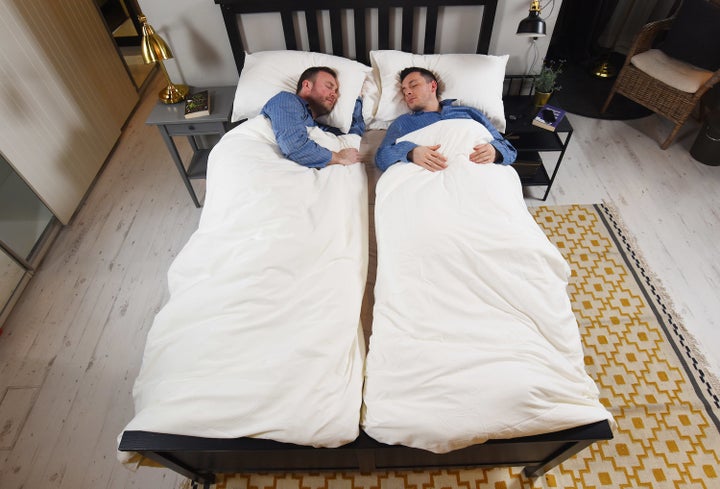 Statistics released by Ikea reveal almost half of us endure sleepless nights so a partner can sleep comfortably, with 52% of women regularly retreating to the sofa as a result.
Almost two-thirds (61%) of people in the UK are feeling fatigued from routinely sleeping badly, with adults missing out on at least an hour every night.
Bed-sharers seem worst off, with 50% losing out on the battle of the bedsheets by having covers stolen or being too hot or cold so their partner remains the perfect temperature.
The TOG-ether bundle, made up of two single duvets of different tog ratings (7.5 TOG or 12 TOG), will be available to buy nationwide on 27-28 January. Or you could just save yourself the wait and buy two single duvet covers from any homeware store.
Carol McSeveny, textiles leader at IKEA UK and Ireland, said: "Many of us find that not getting a good night's sleep is becoming a regular occurrence. Getting enough sleep is of upmost important for us to remain healthy and optimise our wellbeing.
"This is why we have introduced this traditional Swedish sleep trend of using two single duvets instead of a double, in UK stores for a short period, allowing couples to select a duvet from the bundle that suits them."
Related