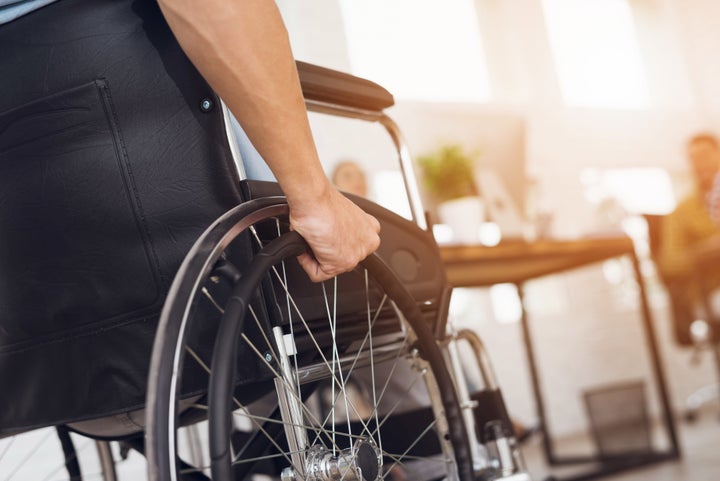 I'm 23 years old and have limb girdle muscular dystrophy (LGMD), a condition that gradually weakens my muscles over time. It means that, today, I have very little movement from the neck down. Throughout my life I've always been encouraged to embrace every opportunity that came my way and enjoy life to the full.
I attended a special needs school and was fortunate enough to attend one that operated on the same site as a mainstream school. This meant I attended lessons and gained my GCSEs and A Levels as part of a mainstream comprehensive. Operating in a hybrid environment meant the people around me were used to interacting with people with a range of impairments. However, I couldn't ignore the reality of my disability when faced with crucial choices about my future.
Due to the progressive nature of LGMD, time is everything. Rather than spending three years at university, during which time my muscles would have weakened even more, I decided to move straight from school to the jobs market; eager put my studies to practical use.
And so, I began my quest for employment. I was encouraged to learn that there are initiatives to help promote disabled people in the workplace, but the harsh reality is that the majority of employers overlook the potential talent within the disabled community.
I can understand how this happens. Hiring a disabled person such as myself does bring with it additional complications. It requires a degree of greater accommodation and this is often enough to put an employer unfamiliar with a certain condition off the potential candidate.
It's also not the norm. There is a huge amount of misconceptions when it comes to people living with disabilities. Because they're woefully underrepresented in the workplace, we're not used to seeing disability at work, with many employers consciously or unconsciously deciding to not hire them.
My reservations about applying for jobs quickly grew, as I began to believe that there simply weren't any full-time jobs out there for someone living with a condition such as mine. I'd long suspected that this might be the case and it didn't take long for these fears to be confirmed.
Instead, I began taking up a range of volunteering opportunities that came about through relationships I'd made during my education. I thought voluntary roles could open doors and help me build skills, providing an alternative route into the world of work. I soon became involved in a number of charitable projects for wonderful organisations such as Bromley Youth Council, the Youth Sports Trust, and the Panathlon Challenge. I also began voluntarily going into mainstream schools to talk to pupils about life with a disability.
While I enjoyed my volunteering career, I did still long for permanent employment and the chance to build a career path. I began to accept that living with a disability comes with its own barriers, the toughest to surmount being employment. However, one day, this all changed.
I was fortunate enough to meet Liz Johnson, former Paralympic gold-medalist for ParalympicsGB, as part of my volunteering. We got on well and stayed in contact. Then, earlier this year, she reached out to see if I'd be interested in getting involved in her new business venture, The Ability People (TAP), which would involve taking up a full-time job.
TAP is a recruitment consultancy which is staffed only by disabled people. It operates just like any other recruitment company - placing able-bodied and disabled candidate. Naturally, I jumped at the chance. So, all of a sudden, I'm being trained up as a recruitment consultant. In my role, I'll be working with young people to help them find suitable roles - a perfect extension of the outreach work I've previously done in schools. I'm learning the ropes of the industry, as well as getting to grips with all that comes with the corporate world such as conference calls and email signatures.
I'm extremely excited to start working. I hope to shift the stereotypes associated with both recruitment and with disabled professionals. We're set to prove that a successful business can be run by those with disabilities, it just has to be done in the right way.
I hope that I'll be good at this job, but I also hope I can act as a role model for young people with disabilities. I want to be someone who other job-seekers can rely on in their quest for employment. I don't want anyone to feel alone in that experience.