The Conservative government has been slammed using immigration detention centres as "virtual sweatshops", after a minister said detainees "benefit" from working for just £1 an hour.
Home Office minister Baroness Williams of Trafford told the House of Lords yesterday the low wage given to "volunteers" in the centres was fair as they did not have the same employment rights as UK citizens.
"Paid work is provided in immigration removal centres as a means to meet the ​recreational and intellectual needs of detainees and to relieve boredom," she said.
Immigration detention centres hold people while it is decided whether their asylum claim will be accepted or has been rejected.
Lib Dem leader Tim Farron told HuffPost UK it was "disgusting" and appeared either the government or a private company was guilty of "shameless profiteering".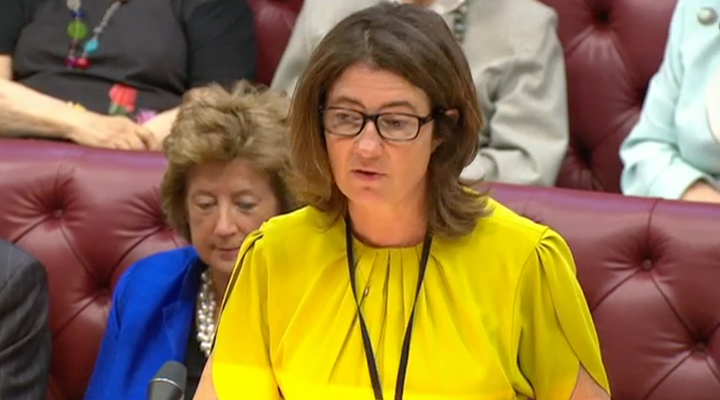 Lib Dem peer Baroness Hamwee questioned whether the government should be "proud" of paying "people who have committed no crime" substantially below the £7.50 minimum wage.
And Baroness Williams was heckled as she refused to answer questions about who benefited from the work.
A freedom of information request to the Home Office in 2014 found that in May of that year hundreds of detainees had been paid £45,438 for 44,832 hours of work.
Labour peer Lord Rosser calculated the saving of using detainees to do work rather than paid staff from Serco, or an other company that ran the centre, was £300,000 a month.
"Who gets the benefit of this apparently considerable financial saving each month? Is it the government or the firm running the immigration centre who reap that financial benefit?" he asked.
Baroness Williams replied: "The work is not there to prop up these private companies' profits, but they are obliged to make these opportunities available should detainees wish to avail themselves of them."
She finally told peers, to gasps: "Who benefits is the detainee."
Tim Farron said this morning: "This is disgusting, how can the government use immigration detainees as virtual sweatshop labour? The fact that we lock people up for administrative convenience alone and without a time-limit is already beyond the pale but these new revelations add insult to injury.
"We need urgently clarity on where all the rest of this cash has gone and who has pocketed it. At first glance this looks like shameless profiteering by someone, if so, this is the grubbiest form of capitalism."
Baroness Williams told peers the £1 wage for detainees was currently being "reviewed".