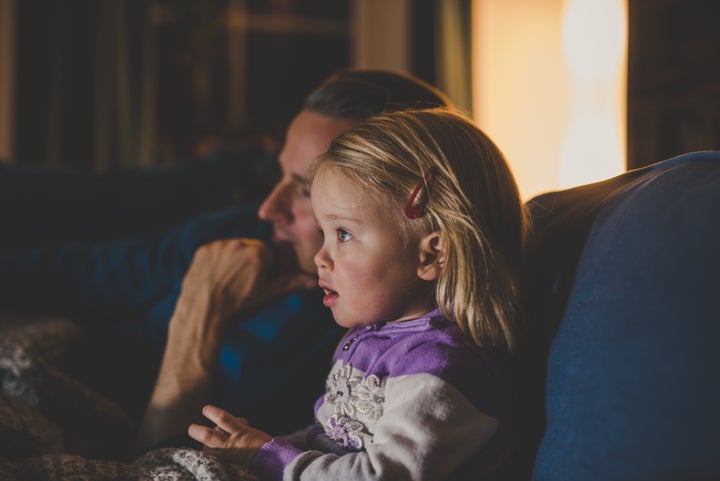 A mum has shared a simple switch that she claims has helped improve her toddler's behaviour.
Katy Menehem (@getpreppedmama) used to let her toddler watch TV every morning but noticed the regular screen sessions were affecting her child's mood – so she tried a different tactic.
"I take 30 seconds the night before to set her toys at her table in some interesting playscapes," said the mum in a video which has been viewed almost 90,000 times.
Menehem said as soon as her daughter would see the table set up, she'd sit down and start playing, while the mum had chance to sort out her child's breakfast (and, importantly, her own cup of coffee).
The toys on the table would vary from day to day: there'd be a doll with little clothes to get ready into laid neatly beside it, or colouring pencils and paper, or stuffed animals eating pretend food in a tea party scene.
"It took little to no thought and imagination, it took no extra cost, the opportunities are endless and most importantly, starting the day without TV has made my toddler's behaviour so much better for the day ahead," she said.
Explaining how her daughter's behaviour changed specifically, she said her toddler was "happier, calmer, [and] better at playing using her imagination" than when she would start the day watching TV.
There is some evidence to suggest increased levels of screen time can impact negatively on a child's behaviour – in one study from 2019, more than two hours of daily screen time was linked to behavioural and attention problems.
The art of setting up a playscape
The idea of setting up 'playscapes' isn't new – but it can be effective when it comes to encouraging young kids to think creatively and play independently.
Also known as an 'invitation to play', the idea is you set up a child's play session and then invite them in to try a new way of playing. You could use toys, but also household items (like utensils) or natural items (think pine cones, sticks, shells, etc).
Firstly, use open-ended activities – so basically, toys that can be played with in many different ways. Next, consider the arrangement. It needs to be self-explanatory and not too busy. You might want to use a table or perhaps trays.
And lastly, it should require little – if any – direction from you. The child should be free to explore, as "children given the opportunity to make their own choices, learn independence for life-long learning." In short: it gives you more time to crack on with whatever you need to get done.
Of course, sometimes we just need to turn that TV on for the sake of dinner getting cooked – no judgement here, we've all been there. And there'll be some kids who might only last for a few minutes with their playscape, while others (particularly older toddlers) might be intrigued for much longer.
But if you're struggling for ideas to keep your little one occupied, an invitation to play could be the perfect remedy – and it could even buy you 10 minutes' peace.