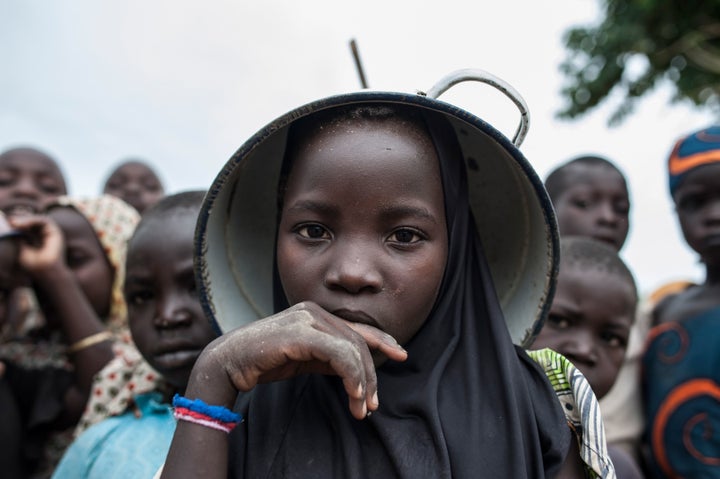 It has felt at times that 2017 been a year punctuated by severe humanitarian crises – from the Rohingya people fleeing persecution, to violent conflicts in Yemen and Syria, to desperate food shortages in East Africa. The need for humanitarian assistance has increased exponentially - and the charities seeking to help those in need are more stretched than ever.
And yet, what strikes me is that, amid the harrowing headlines and photographs, we are all at risk of forgetting one of the world's most complex and urgent humanitarian crises, in the Lake Chad region of West Africa.
The insurgency of militant extremist group Boko Haram continues to directly affect more than 17 million people in Nigeria, Niger, Cameroon and Chad. Besieged by flooding, famine, diseases, a Polio outbreak and violence, more than 2.5 million people - half of them children- have been displaced.
On some level, we're all aware of the individual tales of these atrocities – from the Chibok schoolgirls to women who have faced unabated violence – targeted, abducted, held hostage, raped, forced in to marriage. It is tempting to believe that this is the only face of the crisis. It is tempting to forget that every day thousands of others are being forced to flee their villages and give up their livelihoods, only to face further destitution.
In the Borno and Diffa regions of Nigeria, the constant threat of violence and the displacement of farmers and fishermen has almost entirely stalled agricultural production and caused chronic food shortages across the region, with over 3.4 million people needing nutrition assistance. As a result, almost half a million children are now suffering from acute malnutrition, which could have life-long impacts on their development. A population weakened by lack of food, they are even more susceptible to disease, exacerbated by inadequate access to clean water, poor sanitation services and unaided due to a crippled and broken health system.
38 year old Myriam has struggled to keep her two year old twins alive. In 2015, while heavily pregnant, Myriam was forced to join the masses fleeing indiscriminate attacks on their village. She trekked on foot for days, with the insurgents pursuing them, killing many and abducting 36 girls. Despite surviving the violence, the family faced a daily struggle – trapped in a remote and dry village, with no source of income, Myriam was pushed to the edge of survival.
"My children were sick because they had no food. I know they could have died but Plan International came here. I practice at home diligently the new teachings I receive on nutrition and health and I see my children improving daily", she explains.
Plan International's Mobile Unit visits her village and other hard-to-reach places to provide children with protection, nutrition, health and education, with a particular focus on vulnerable girls and women.
We're also setting up safe places where children can play and recover from trauma. Describing the enormous impact these spaces have on children, Idris, a Plan International community volunteer says "before we started with the child friendly space activities, children were full of fear because of what they had experienced. They stayed at home because they had no place to go. We are bringing back their childhood. We want to see them grow up so they can become someone tomorrow". Plan International and others will be working to help ensure that we're not only meeting the children's immediate needs today, but helping them and their families rebuild their lives in the long-term.
So as we move into 2018, it's important for us to make sure that the international community is there to support the people of this region to rebuild their lives. Myriam's children may now be stable but for many children, particularly those who live in areas which are under the control of insurgents where aid workers cannot reach, their fate remains unknown. Let's make sure 2018 is a year in which their futures become more secure.