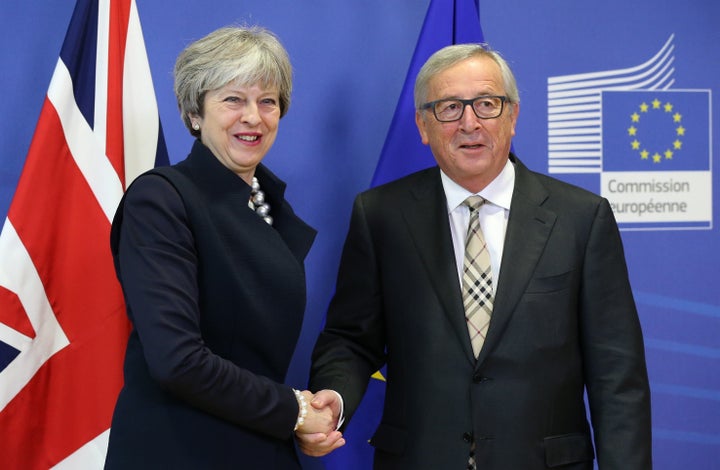 Tuesday's headlines all seemed to have been written earlier on Monday afternoon when Donald Tusk paraphrased a Bob Geldof song. The President of the European Council tweeted news of his delight at progress in negotiations on the issue of Brexit and the Irish border. But his rhetorical statement of 'Tell me why I like Mondays' proved premature, and it seems he should have opted for another song about Mondays from several decades ago.
On yet another manic day of negotiations, stories of an impending deal faded into a diluted sense of still working towards one. At first it had appeared as if EU negotiators and the British government had formulated the wording of a text which would form the basis of an agreement on what would happen in Ireland after Brexit. But as the hours passed, the Democratic Unionist Party and others intervened to express reservations and opportunistic intentions. Very soon, it became clear that nothing would be resolved.
Once again, there has been no resolution to the thorny issue of what happens to the Irish border in the aftermath of Brexit. Yet, the Irish government has been unequivocal about its position from the start. After today's events, Taioseach Leo Varadkar and his assistant Simon Coveney expressed surprise at the latest developments and reiterated the straightforward position of the Irish government.
That position is clear as the crystal you can find in the border village of Belleek, straddling Donegal on one side, Fermanagh on the other. The Irish government wants no change to the status quo and no return to the barriers of the past. From the start they have been seeking a cast iron agreement that there will not be a hard border on the island of Ireland. The Taoiseach has insisted that in the aftermath of Brexit, people must be free to "cross the border as they do now and go about their business as they do now."
Anything else would put The Good Friday Agreement at risk and that is something which neither government wants to do. On Monday, according to Simon Coveney, the Irish government believed that they had a deal in relation to a wording that "would provide reassurance for many people who were concerned about the potential re-emergence of a border on the island of Ireland."
In those few lines, the Irish Tánaiste has touched upon the matter that goes to the heart of explaining this situation to outsiders. At this moment in time if you go to places like Belleek or Newry, Newtownbutler or Derry City, you don't have any physical sense of a border. The fact of this has contributed largely to the absence of conflict over this past twenty years and has created a situation in which border communities can thrive culturally and economically.
The simple fact is that Northern Ireland is different from other parts of the United Kingdom and even the DUP have used this to their advantage in terms of economics and laws concerning morality. The border is not an Irish creation. It was and remains a British construct drawn across counties where there is a Catholic and nationalist majority. The Irish government know the problems that could arise if this issue is not resolved in a timely fashion, hence why they are pushing for this to be sorted before the EU withdrawal negotiations enter their next phase.
Still though, nobody seems quite certain of the original wording in a draft agreement that gave such hope to everyone directly involved. Rumours suggested that wording had been formulated to allow for "regulatory alignment" on both sides of the Irish border. This would mean that even if Northern Ireland did not stay fully within the Single Market or Customs Union, trade and commerce would be governed by the same rules across the whole island. This proved anathema to many unionists, particularly the DUP, who insisted that Northern Ireland had to be subject to the same rules as the rest of the UK, despite their selectivity in this area.
However there does still seem some hope that good can still come from this manic Monday of stalled negotiation. Jean-Claude Juncker, President of the European Commission, has stated in a joint press conference with British Prime Minister Theresa May that positions have narrowed and a "common understanding" has been reached. May, for her part, seemed shell shocked by the pace of events and it remains to be seen what reaction and reception she will get back in the UK in the next few hectic days.
One thing is clear though. By Thursday, this phase should have moved a stage closer to either resolution or collapse. It seems that on the British and Irish government side there is the will to avoid a visible border, but the DUP are playing hardball over this issue in a potentially dangerous lose-lose game for everyone involved. If the Irish government are happy to accept a status quo that features continued British rule on a part of the island of Ireland, it seems small-minded of the DUP to press for an effective hard Brexit that could seriously damage the peace process.
Right now, Bob Geldof is probably not the only Irish person who doesn't like Mondays. This was a bad day for Anglo-Irish relations and one that could so easily have been avoided. If everyone's happy with the status quo, except for the unionists, you just have to ask what alternatives they are seeking, and why. It defies logic that they are acting in the long-term interests of any part of Ireland, whether north or south, and their opposition to today's wording may be that they are again seeking to cement divisions on the island rather than foster long-term peace.