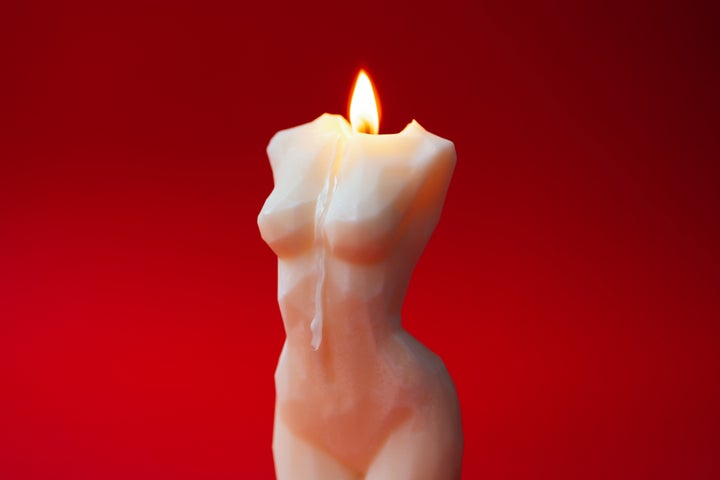 Nothing makes you grow up faster than being a child with a woman's body. At thirteen, my breasts had grown into a full C-cup overnight. I spent hours looking in the mirror, profiling my new silhouette. I looked grown up, even if my breasts were covered in thistle-purple scars. They prickled across my skin as it split apart to accommodate my growth.
My new stretch marks evidence of how fast I'd entered womanhood, and yet I didn't feel like I was blooming. I felt like I was being moved to the top shelf of a corner shop magazine rack. Society had picked a lane for me, and without a cool £10k, or so, for a reduction surgery, nothing would change. Ever.
Growing up in a time where the likes of Katie Price, Jodie Marsh and Pamela Anderson were the cookie cutter for the ideal woman meant one thing; big boobs were sexy. But this attribution of sexy came without agency. I did not choose to have sex appeal, and neither did I want it thrust upon me.
If you've watched the Netflix documentary Pamela, A Love Story, you'll know the catastrophic effects being 'sexy' can have on your bodily autonomy. My breast's arrival set me up for a lifetime of sexualisation. It didn't matter that I was only 13, I was fair game for the wolf whistlers and cat callers alike.
My breasts became the focal point of almost every interaction I had. Eyes fixated on my chest, while hands groped at me in clubs or in the bedroom. And, when asked why I would recoil at the thought of another person asking for a tit job, to play with my breasts or nipples, all I could do was gawk. Wasn't I supposed to like this? Isn't this what men wanted? But, what did I want?
And so, I spent hours trying to find a way to reduce my breast size. I didn't just hate my breasts, I was repulsed by them. Their growth in parallel to my accumulation of trauma meant I just wanted to be rid of them. A clean, flat-chested slate. I didn't want to be sexualised any more. I wanted to jump and run and dance without someone trying to grab, grope and stare.
Over the years they have become heavy with the burden of other people's arousal and gratuitous lip-smacking. I simply can't go on like this. Yet, I am still in no position to pay for breast reduction surgery. I'm willing to get into big debt for my big boobs, but why?
Ashley Ballard, an influencer and brand consultant, explains that for them, breast reduction surgery was more than just gender-affirming; "I had this literal weight on my chest that I was carrying around with me. Not only just physically but also emotionally. It was just following me around everywhere. And it was this like a constant reminder of some of the treatment that I can get that's like usually like, not something I want," they tell HuffPost UK.
Society has a historic love-hate relationship with cup size, shape and curvature - even post-body-positive-movement. In an extraordinarily slut-shamey and now-viral tweet, one user told hundreds of thousands of people that big boobs were cheapening clothes, to swathes of uproar and horrifying support. Truth is, boobs are sexualised and can propel you to sex symbol status — if they're big and round enough.
"You know, just because our bodies are a certain way doesn't mean that we necessarily have the motivation to draw attention to us and even if we did, that's okay too. You know, all bodies deserve celebration," Ashley says.
Olivia Young tells HuffPost UK that for her, breasts have been a lens through which society sexualised her from a young age. "Just putting on clothes gave way to the narrative of 'I was asking for it'," she tells me.
″You feel like a target or a conquest, it just became part of my experiences going out and frankly, with just existing," says Olivia.
Olivia explains that, for her, having breast reduction surgery was a way to remove the accumulated trauma from her body in a symbolic act. And, that while doing so, faced something of an identity crisis.
She had always been the friend with big boobs and had become numb to the attention her breast size commanded. Without them, who was she? To add to this, the misogyny she faced in response to her breast reduction made her feel fetishised and slut shamed in one fell swoop.
"I ran into someone I had hooked up with before the surgery and he said, 'I am so glad I got to get my hands on those (referring to my breasts) before you got a reduction'," she continues, "...I was an object they were so glad they got their hands on."
Dr Paul Banwell, an award-winning British and internationally trained plastic surgeon, tells HuffPost UK that, "slut-shaming is, of course, never acceptable, and can have a very negative impact on a person's mental health. Some people are sadly slut-shamed for their body and this can cause great distress and lead them to seek to change their body through plastic surgery."
He explains that he understands how severe things like slut shaming can do to our mental health, like increase our risk of developing body dysmorphic disorder, or BDD. Something that can prevent people from receiving treatment and care.
"Cosmetic surgery or treatments can potentially help people feel more positive about the way they look. But, as a plastic surgeon, I also want to find out why people are wanting to have a particular procedure carried out. Someone who has been slut shamed may want to change their body to hide certain attributes, which have been criticised."
Breast reduction surgery is on the rise, whether or not slut shaming is a rationale for it is yet to be seen in research. Fundamentally, the current factors for surgery focus mainly on physical reasons like back pain and effects on exercise ability.
Anecdotally, though, it's clear that it is a major factor for people, like myself, who are considering breast reduction surgery, and for those like Ashley and Olivia, who have had it.