People are being left in "excruciating pain" after receiving illegal teeth-whitening from beauticians, a BBC report has revealed.
Undercover footage from the broadcaster uncovered one London beautician was using a chemical containing 25% hydrogen peroxide - more than four times the legal limit qualified dentists are permitted to use when whitening teeth.
In light of the report, the General Dental Council (GDC) confirmed it has seen a rise in illegal treatments across the UK. So if you're thinking of getting your teeth whitened, how can you ensure the procedure is safe and won't damage your teeth?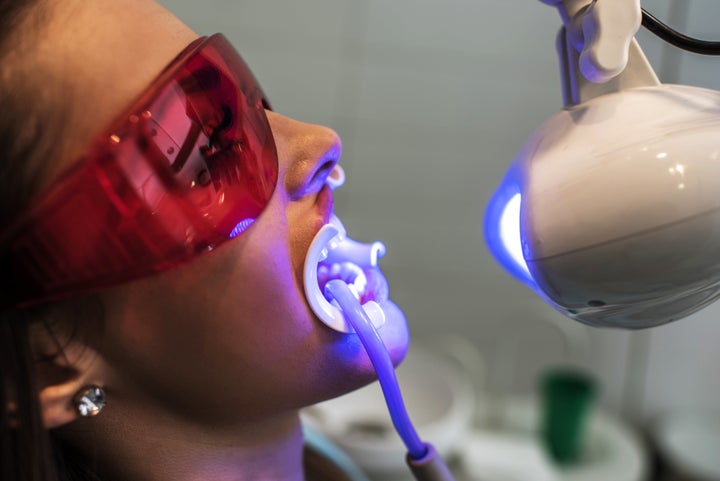 Visiting a high street beautician for teeth whitening is often less expensive than seeing a dentist, but don't be tempted by the reduced price tag. It is illegal to carry out any oral work on another person - including teeth whitening - if you are not a registered dental therapist or dental hygienist. Before having treatment, you can ensure the person whitening your teeth is correctly qualified by accessing the General Dental Council register online or calling 0207 167 6000.
In the vast majority of cases teeth whitening is not available on the NHS as it is a cosmetic procedure, so you will need to pay a private dentist. The NHS will only cover the costs of teeth whitening if there's a medical reason for it. "For example, this might be to lighten teeth that have discoloured because the nerve has died," the website explains. Prices for teeth whitening will vary between dental practices, but the procedure tends to cost around £250 for the upper teeth only or £400 for the upper and lower set.
Martin Ashley, a consultant in restorative dentistry at the University Dental Hospital of Manchester, said dentists who perform whitening for patients are highly regulated, whereas others offering the service, such as beauticians, are not.
"Dentists have to use techniques and products that are manufactured and very closely controlled, like any medical product," he told HuffPost UK. "We would say that it's fine to whiten teeth in a healthy mouth, but we're able to recognise if there are any other problems [such as cavities] present that need addressing before whitening takes place. Someone who is not qualified may not notice these other problems."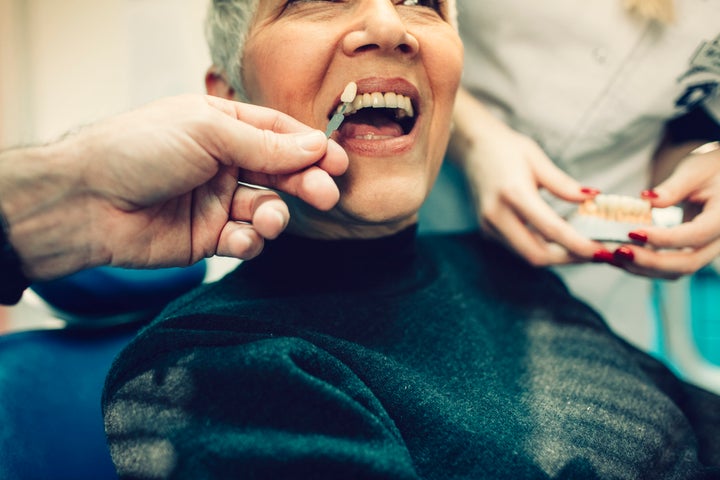 According to Ashley, the biggest risk associated with going to an unqualified practitioner for teeth whitening is that you may have "incorrect chemicals put in your mouth". The maximum legal limit for hydrogen peroxide within teeth whitening chemicals used by dentists is 6%. The BBC secretly filmed a beautician charging £75 to administer customers with an illegal level of hydrogen peroxide at a strength of 25%.
Ashley said a 6% solution is effective, yet he's seen patients with burnt gums and blisters who have been treated with a stronger solution elsewhere. The BBC reports a higher dosage can also lead to tooth loss. Needless to say this kind of damage can take a long time to heal and contribute to extreme sensitivity in the mouth.
These risks aren't just associated with teeth whitening from unqualified practitioners. Legally, teeth whitening products you can buy on the high street and self-administer must contain no more than 0.01% hydrogen peroxide, yet Ashley has seen patients suffer the consequences of purchasing much higher solutions online. As a rule of thumb, you should only purchase at-home teeth whitening products from a recognised high street retailer in order to be sure what you're purchasing is safe.
Ashley explained a popular and relatively risk-free teeth whitening option is toothpaste marketed as having whitening qualities. He said these products tend to have a very low level of whitening chemicals, but instead brighten teeth by reducing stains.
"If we measured the brightness in your teeth today, but you continued your usual lifestyle of drinking tea, coffee and red wine, your teeth would eventually become more stained," he explained. "Toothpaste marked as 'whitening' often works by preventing teeth from staining as much. Technically these toothpastes don't actually whiten your teeth, it's very different from going to the dentist and getting your teeth whitened, but teeth will appear brighter longterm."
Others favour at-home whitening strips, which can be purchased from a number of high street chemists. According to Ashley, these can contain peroxide but are quite weak and although "they might work a little bit, you probably won't notice a big difference".
Dentists tend to offer two different procedure options for whitening teeth: laser whitening or gum shield whitening.
Laser whitening involves a dentist painting a bleaching product onto teeth and lighting with a laser. The process is fast and can be over and done with within half an hour - giving it the nickname 'lunchtime whitening' - but Ashley said this technique does not offer the patient much control over their end look. "It's a bit like painting a wall white, you don't know the exact shade of the paint or how it will look on the wall itself until you've finished," he said.
In contrast gum shield whitening is a slower procedure but the option favoured by Ashley, as "you'll have full control over how white your teeth go". Patients are fitted with a gum shield that sits closely to their teeth. After brushing their teeth in the evening, they can then rub a small amount of a special gel into the shield and wear this throughout the night.
"The gel is low concentration but reasonably effective," Ashley explained. "The next day you might not notice any difference, but over a two-week period you will. You've got a lot more control than other methods - if your teeth feel sensitive overnight, you just don't do it again the next night."
Unfortunately there are no natural quick fixes that are proven to whiten teeth, but if visiting a dentist for teeth whitening isn't affordable to you, Ashley said making some dietary changes could be the best way to change the appearance of your teeth.
"Things that would stain your blouse do stain your teeth. If you're regularly consuming red wine, coffee and curry, your teeth will become less bright," he said. "That said if you have good dental hygiene and brush your teeth twice a day with a normal toothbrush and toothpaste, you shouldn't really have a problem with it."
If you think your teeth whitening has been carried out illegally by someone not qualified or registered to perform it, contact the General Dental Council on 0207 167 6000 or email illegalpractice@gdc-uk.org.