"Attaboy, Clarence!" We can't be the only ones to have noticed quotes from the Christmas classic, 'It's A Wonderful Life', cropping up on train platforms across the UK.
It turns out Virgin Trains is painting the script of the festive cinema favourite along platforms the length of its route from London to Glasgow between now and mid-December to show how powerful simple acts of kindness can be, particularly around Christmas.
Frank Capra's 1946 film, starring Jimmy Stewart, follows family man George Bailey, whose suicidal thoughts on Christmas Eve prompt an intervention from his guardian angel Clarence. The angel shows George all of the lives he has touched and how different his community would be if he had never been born.
Natasha Grice, from Virgin Trains, said the film "is a story of hope, redemption and kindness, which teaches us that having someone there for you when you need it the most is one of the greatest gifts you can receive".
The campaign has been developed with charity Rethink Mental Illness. Text along each platform will include online links and hashtags directing people to simple ways to intervene when someone is struggling with poor mental health.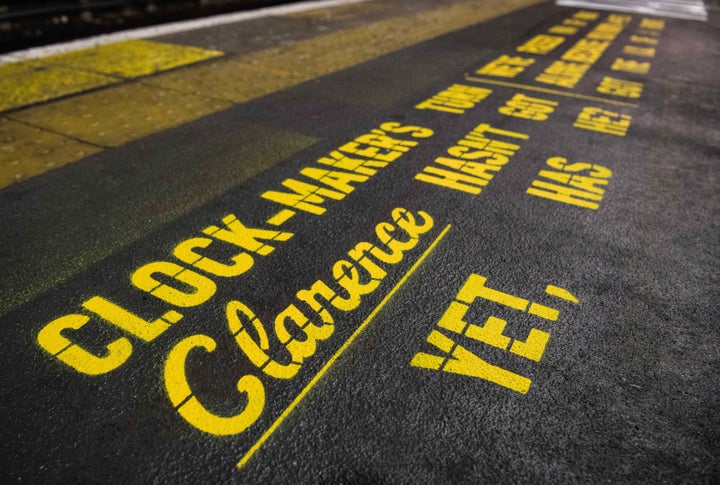 The 'It's A Wonderful Line' initiative recognises how difficult the festive period can be for some and the positive impact simple acts of kindness and friendship can have. As Clarence reminds George: "No man is a failure who has friends."
The script will stretch for 7.5km, painted next to the yellow lines along platforms running the length of the Virgin Trains route. The first section was unveiled at London Euston on 22 November and the final lines will be painted at Glasgow Central on 13 December.
Rethink Mental Illness has worked with Virgin Trains since May 2017, training its staff in how to deal with mental health issues they might experience during their working day and in their personal life.
One of Virgin's train managers in the North West, Gary, recalls how grateful he was for the training when, in November, he spotted a woman out of the corner of his eye who had walked on to the tracks at Liverpool Lime Street.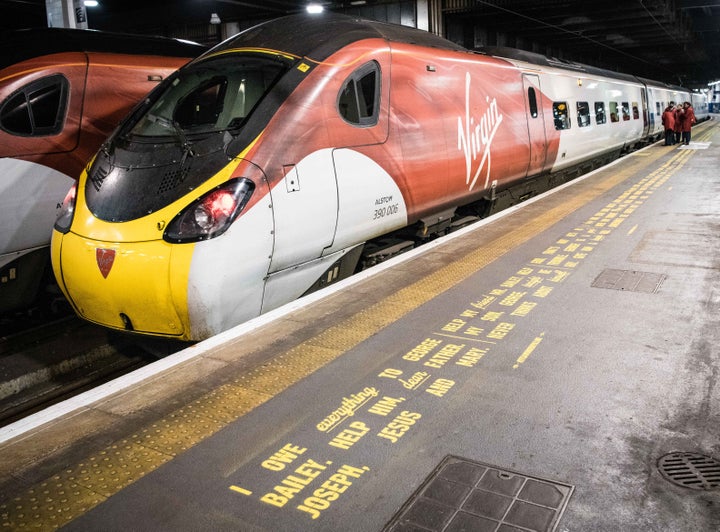 In front of hundreds of passengers Gary got down onto the tracks, knowing from his training that it's important to be on the same level as the person you're talking to. The woman, who had a knife, told Gary: "I just want to die."
Gary knew he needed to act quickly. "I said, 'we've all got problems' and I took her through a few options of support. She wasn't having it at first, it was a long process," he said. "She felt everyone was against her in that moment. But I used my training and we agreed to both get off the tracks.
"Eventually, I'm lifting her up, putting my arm around her and walking her past the crowds."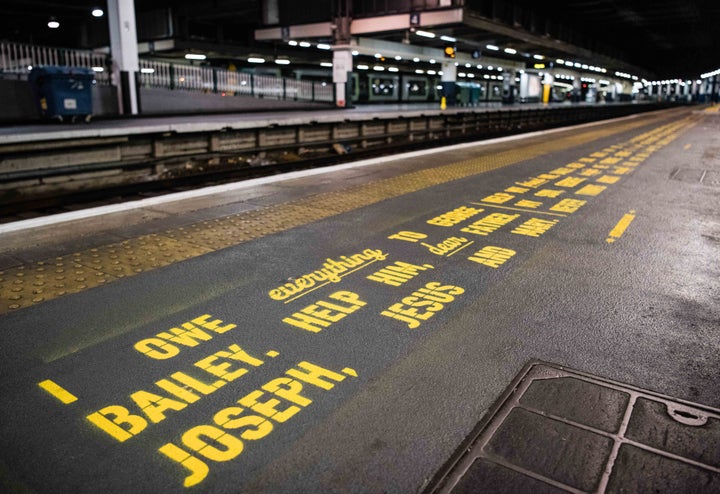 "Many of our people have been personally affected by the issues raised in this campaign or know someone who has been," said Natasha Grice from Virgin Trains. "This is why we wanted to get as many of our staff involved as possible, working to create a message of kindness that will touch as many of our customers as we can."
James Fletcher at Rethink Mental Illness said the charity is proud to partner with this particular campaign. He added: "It is vital at this time of year to let people know that help is available if they need it."
Meanwhile, "It's A Wonderful Life" is back for its annual festive screenings at London's BFI and cinemas across the UK from Belfast to Tyneside. There's even a free screening at Manchester's People's History Museum on 13 December. Search your local cinema listings for showings near you
Useful websites and helplines:
Mind, open Monday to Friday, 9am-6pm on 0300 123 3393
Samaritans offers a listening service which is open 24 hours a day, on 116 123 (UK and ROI - this number is FREE to call and will not appear on your phone bill.)
The Mix is a free support service for people under 25. Call 0808 808 4994 or email: help@themix.org.uk
Rethink Mental Illness offers practical help through its advice line which can be reached on 0300 5000 927 (open Monday to Friday 10am-4pm). More info can be found on www.rethink.org.