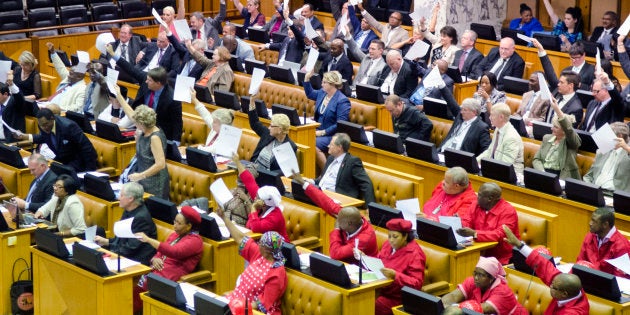 The terms " Mr. Zupta" and "black face", and comparing ANC members to wolves have been declared unparliamentary.
Water Affairs and Sanitation Minister Nomvula Mokonyane would have to withdraw her reference to "black face", which she made during the motion of no confidence in President Jacob Zuma in the National Assembly on November 10. She was referring to DA leader Mmusi Maimane.
She said the DA was "using a black face to protect the interests of the white minority".
This, deputy speaker Lechesa Tsenoli said on Thursday, was clearly directed at Maimane, to suggest he was a front.
It was offensive and unparliamentary, Tsenoli said, and would have to be withdrawn when Mokonyane was next in the House.
UDM leader Bantu Holomisa would have to withdraw his comparison of ANC members to wolves.
The ANC were like "wolves who jumped like popcorn" in their chairs, he said.
Another MP would have to withdraw calling Holomisa a "Bantustan general".
EFF Chief Whip Floyd Shivambu's "absolute disregard of the chair" would be referred to a disciplinary committee, Tsenoli said.
This was in reference to Shivambu saying during a recent sitting that President Jacob Zuma would kill ANC members if they opposed him. He refused to withdraw the comment when called on to do so.
EFF MP Hlengiwe Hlophe had to withdraw references to "Mr. Zupta". She made them during her speech earlier this month. She was referring to President Jacob Zuma's friendship with the Gupta family.
EFF MP Mmabatho Mokause would have to take back remarks about Home Affairs Minister Malusi Gigaba.
"A man who thinks through his stomach is a dangerous man. Gigaba is that man," she said.
Shivambu said the party would challenge all rulings against the EFF as "they are stupid, foolish".
The rulings were made minutes after tempers flared in the National Assembly during a debate on land on Thursday.
'Vlakplaas of Groenewald'
EFF MP Sam Matiase asked FF Plus MP Pieter Groenewald if he had receipts for his land.
Groenewald said the slips were all available at the deeds office. He told the EFF they would find them there. He raised the ire of the party when he said the question was stupid.
EFF MPs including Shivambu, Ntombovuyo Mente and Matiase objected to the use of "stupid" and asked Tsenoli to rule on the matter.
He should not be afraid of white people, MPs told Tsenoli.
Matiase was asked to leave the House when he referred to the FF Plus MP as "this white racist" and said "Parliament is not a Vlakplaas of Groenewald".
He told Tsenoli that he "grew up in an era when he was your baas" and he should not make let this affect his ruling.
Shivambu placed a motion for the House to reject and expunge Groenewald's whole speech on land, which he said was "stupid and foolish".
Related