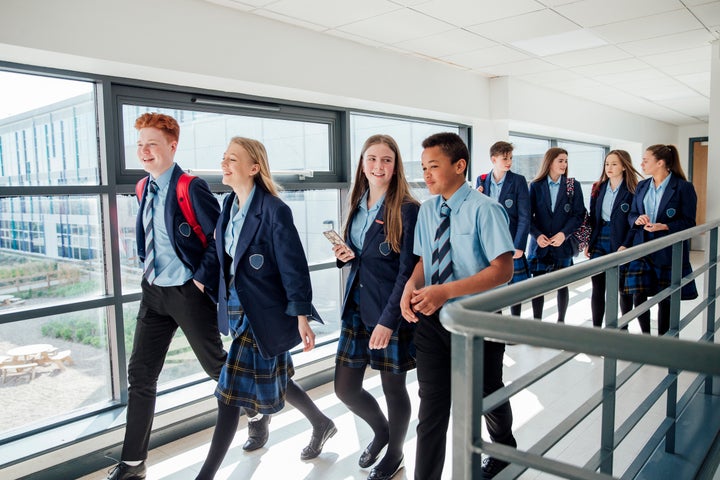 For many parents it can be hard to shop on budget and sustainably when uniform shopping, especially when clothes are outgrown so quickly and regularly need repairing.
Depending on the project, second hand uniform items are passed on either for free or at a very reduced rate.
Kate Frances set up her own uniform exchange in Kirklees, West Yorkshire in 2016 after watching ′Poor Kids', a BBC documentary about children living in poverty across the UK.
"I was so impacted by it, and I don't think the situation has changed much since I watched the documentary," said the 41-year-old.
She gives out roughly 7,000 items of school uniform clothing per year, for free. All parents have to do is fill in a form with what they need and, due to the huge amount of donations from members of the community, she can sort the rest.
Kate refers to the issue of parents not being able to afford it as "uniform poverty", due to the huge disadvantages that children who cannot afford school uniform (and therefore often cannot go to school) face.
"If you can't afford the uniform, children don't just miss out on education, it also has a huge social impact," she told HuffPost UK.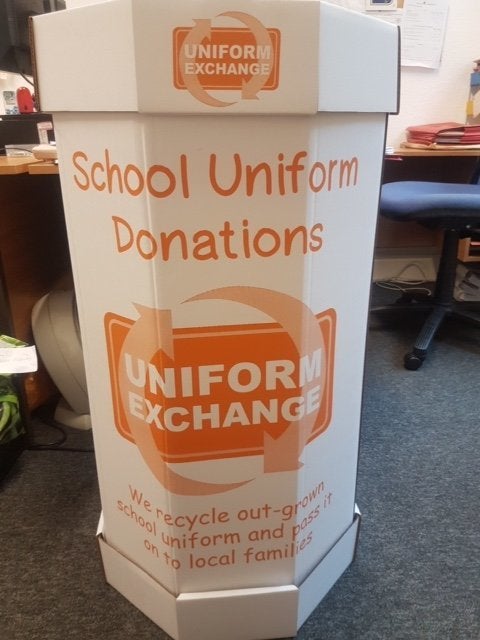 Siobhan Walker, 35, a frequent user of the Kirklees school uniform exchange, said her family struggled when they could no longer access government-sponsored vouchers for uniforms.
"Every penny counts in our house," she said. "We were kind of lost, and then we found out about the local uniform exchange. It was a dream come true, they helped us out with everything, every piece of clothing, even school bags and footwear, coats, hats, gloves and scarves."
Becky Martin, 29, uses a school uniform exchange in her local area of Cramlington in Northumberland. Her three children – aged eight, nine and ten – all have disabilities, and the extra cost of school uniform proved a huge stress.
"A lot of my money has to go towards medical care and hospital appointments, and this time of year it's all about expensive school tops, and I just can't afford it," she explained. "The exchange has helped me so much with the stress of getting the kids ready to go back to school."
These projects may be making a huge difference to families' lives, but according to Kate Frances some parents are reluctant to ask for help.
"There's definitely a stigma around it," she says. Using request forms allows a certain amount of anonymity, and the fact that it's an exchange means that parents can also contribute old uniforms, as well as taking new ones. "People really feel hesitant about asking for help and admitting that you're in that place. A lot insist that they shouldn't accept help because somebody else needs it more. It's awful."
"If you can't afford the uniform, children don't just miss out on education, it also has a huge social impact."
The summer holidays can be a particularly big stretch on the pursestrings, with back-to-school expenses looming. According to The Trussell Trust, food banks across the UK have reported school uniforms have been highlighted by visiting families as an extra seasonal expense that they are struggling to afford.
Morecambe Bay Food Bank in Lancashire has started collecting school uniforms this year, to give to families who have been referred by local schools. "Over the last few years, we noticed in the school holidays that we were getting an increase in requests for food parcels from families, because their money had been spent on school uniforms instead of food," Annette Smith, a representative for Morecambe Bay Food Bank, said.
"The support means a lot," she said. "Knowing that exchanges exist around where we live is heartwarming, it reduces the burden of worry for my daughter going back to school wearing worn out or outgrown items."
"We have been able to channel the savings into activities my daughter loves but we couldn't afford, like swimming lessons."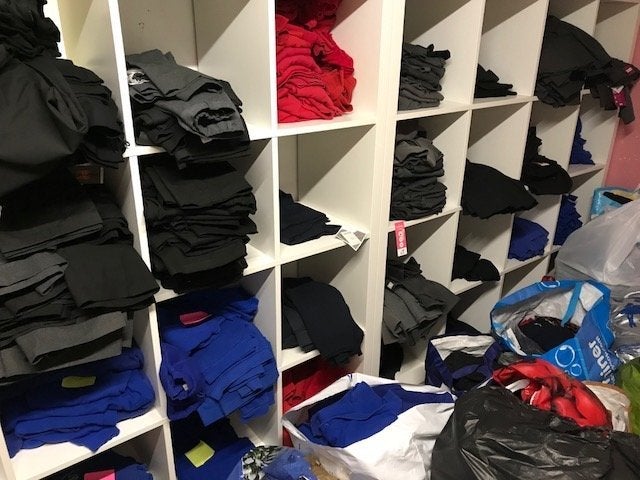 There's also a planet-friendly mantra to the work of school uniform exchanges. "It's really good from an environmental point of view, we stop tons of uniforms from going into landfill," Kate says. Smarter Uniforms, a Brighton-based uniform exchange, was also set up last year by a group of parents who wanted to extend the life of school uniforms past the hand-me-down traditions within families.
Part of its mission is to cut down on waste and promote a circular economy, where resources are used as many times as possible. "We're hoping to change people's shopping habits for the better," Naomi, 22, a volunteer at Smarter Uniforms, said. "Affordability is a key factor when it comes to uniform, but the environment is also part of a lot of people's ethos," she says. "We also want to teach children that there's nothing wrong with buying and wearing second hand clothes."
Above all, though, access to discounted or donated school uniforms has served as a lifeline for many. "It's taken so much stress out of my life," Siobhan says. "I'm not having to worry suddenly if the kids need a new pair of shoes. For some people it's not a large amount of money, but to us, it is. Knowing I don't have to stress, I just have to send an email, it's so, so important to me."