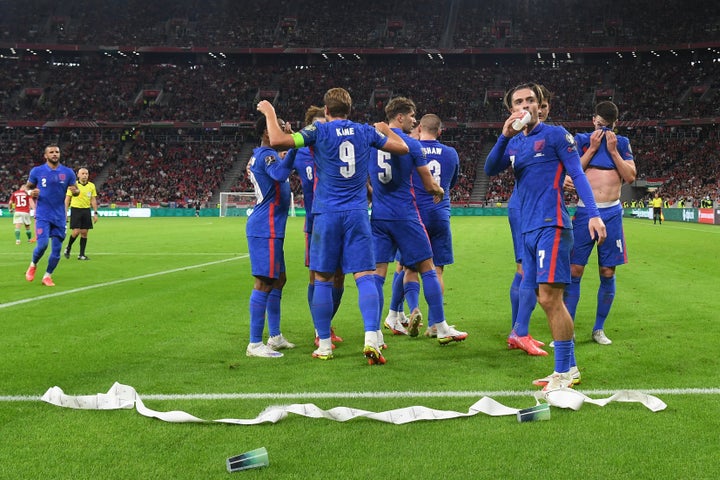 The England men's football team have reacted with defiance after facing a hostile reception during their defeat of Hungary.
Gareth Southgate's team convincingly beat their World Cup 2022 qualifier opponents 4-0 in Budapest.
But it followed a torrid night marked by the England players being pelted with objects and subjected to booing while taking the knee before kick-off, amid reports the home fans aimed monkey chants at Black players.
The England team took the stance against racism and discrimination throughout the summer, but faced a deafening reaction at the Puskas Arena on Thursday night. No English supporters were allowed to Budapest for the game.
The antagonism between the England players and Hungary fans intensified after forward Raheem Sterling scored the game's opening goal. Sterling took off his shirt to reveal a message to friend Steffie Gregg, who died earlier this week aged 26.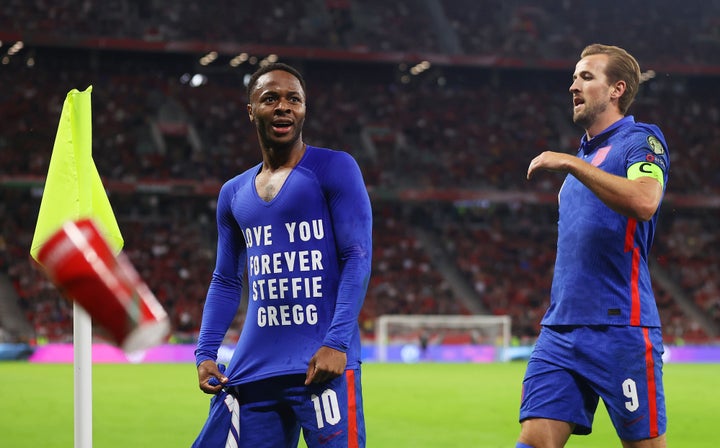 The home fans threw bottles, cups and other objects at Sterling as he celebrated (as shown in tweet below).
TV footage showed missiles aimed at Luke Shaw as the England left-back prepared to take a corner, and a flare tossed on the pitch after centre-back Harry Maguire scored.
ITV reported that some monkey chants were aimed at Sterling and substitute Jude Bellingham, 18, as he warmed up.
In the face of the hostility, two England players – Jack Grealish and Declan Rice – mocked fans after two of the goals by pretending to drink from the plastic cups hurled at them.
England captain Harry Kane did not hear the racist abuse during the win – but hopes heavy sanctions are passed down.
"I didn't hear that," he told ITV. "I'll talk to the boys and see if they heard any of it.
"Look, we'll have to report it to UEFA as the rules with it. If it's the case then hopefully UEFA can come down strong."
England defender John Stones echoed captain Kane's comments.
"I personally didn't hear it, I've been told about it after," he said.
"It is so sad to think that this happens at our games and I hope UEFA and whoever needs to take care of it does and I'm sure they will.
"We stand together as a team and we will continue fighting for what we believe in as a team and what we believe is right."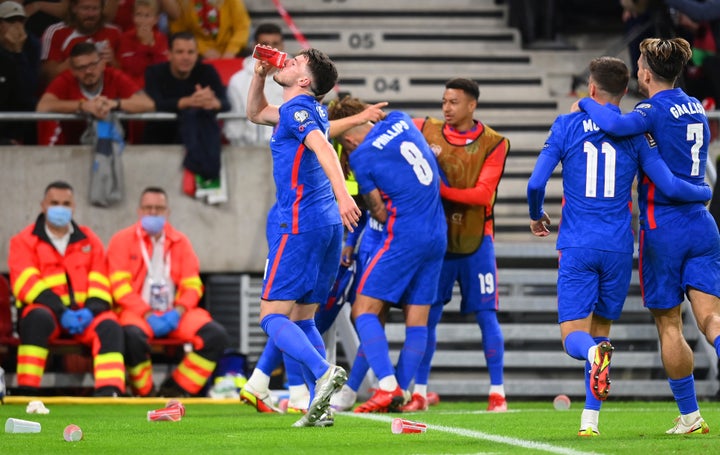 Prime Minister Boris Johnson condemned the "unacceptable" racist abuse, which was directed at Sterling and Bellingham.
The PM tweeted from his official account: "It is completely unacceptable that @England players were racially abused in Hungary last night.
"I urge @FIFAcom to take strong action against those responsible to ensure that this kind of disgraceful behaviour is eradicated from the game for good."
Euro 2020 qualifiers in Montenegro and Bulgaria were tarnished by similar incidents, with Southgate speaking out against further abuse here.
"They (the players) recognise the world is changing. Although some people are stuck in their way of thinking and prejudices, they are going to be the dinosaurs in the end because the world is modernising.
"Hungary isn't anywhere near as diverse in their population as our country is, it is still taking us a long, long time to get to where we need to get to and inevitably, if other countries don't have that same level of diversity, it is probably not in their thinking in the same way as in our country.
"We'll continue to do what we do, continue to try set the right example for young people in our country who will be more influenced by us than people will be elsewhere."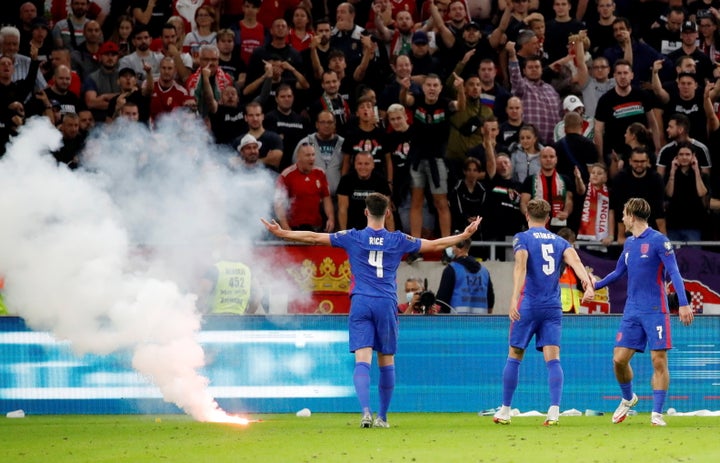 The FA said in a statement: "It is extremely disappointing to hear reports of discriminatory actions towards some of our England players.
"We will be asking FIFA to investigate the matter.
"We continue to support the players and staff in our collective determination to highlight and tackle discrimination in all its forms."
Kick It Out said it was "appalled to see the actions of some Hungary fans".
Chief executive Tony Burnett said: "We stand proudly in support of the England players and staff, who once again acted with strength, grace and integrity in the face of racism that has no place in our game or our society.
"This is not the first incident like this in Hungary, so we urge FIFA to investigate this matter urgently.
"Those responsible need to be held to account and steps need to be taken to ensure scenes like (this) are not repeated."
England has its own problems with racism.
Three players – Jadon Sancho, Marcus Rashford and Bukayo Saka – were targets of online racist abuse following their penalty misses in the Euro 2020 shoot-out against Italy.