Food writer Jack Monroe has revealed exactly how to make the incredible smoothie bowl they made for wife-to-be Louisa Compton this weekend.
Taking to Twitter to share a photo of the creation, the Tin Can Cook author told their followers: "Mrs J is off on a 50-mile bike ride this morning so I surprised her with this breakfast bowl and I don't think I'll ever better it, so please join us in our mutual ridiculousness this morning."
The tweet had over 5,000 likes at the time of writing, with people flocking to compliment Monroe's early morning burst of creativity. Classic FM presenter Katie Breathwick described it as "an actual Van Gogh for breakfast".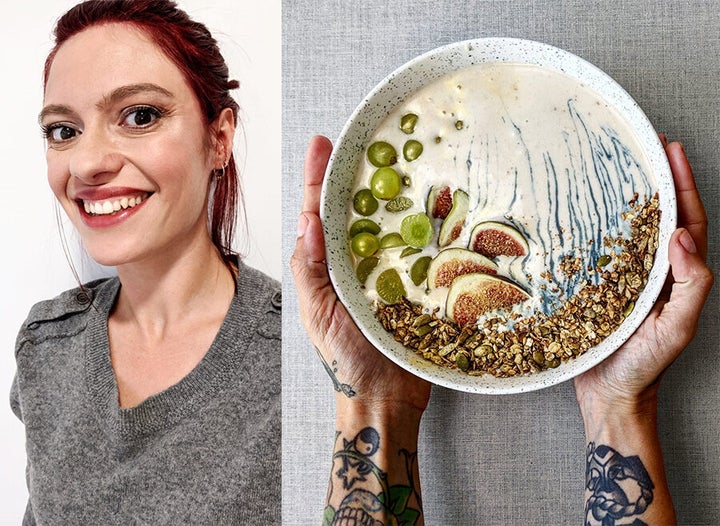 Monroe tells HuffPost UK they had their first foray with smoothie bowls last week after handing in the final edit of new recipe book Veganish, which is due out in December. What started out "as a bit of joke" has become a much-loved breakfast in their household.
"I threw one together to surprise Mrs J last week and unfortunately for me, she loved it and requested another one," says Monroe. "One thing led to another and I've ended up absolutely loving this new outlet for creativity – something totally different to the ultra low budget recipes that I'm known for."
While the dish is "a bit on the fancy side", breakfast bowls don't have to cost the earth, says Monroe. So how can you make your own Tate-worthy brekky at home?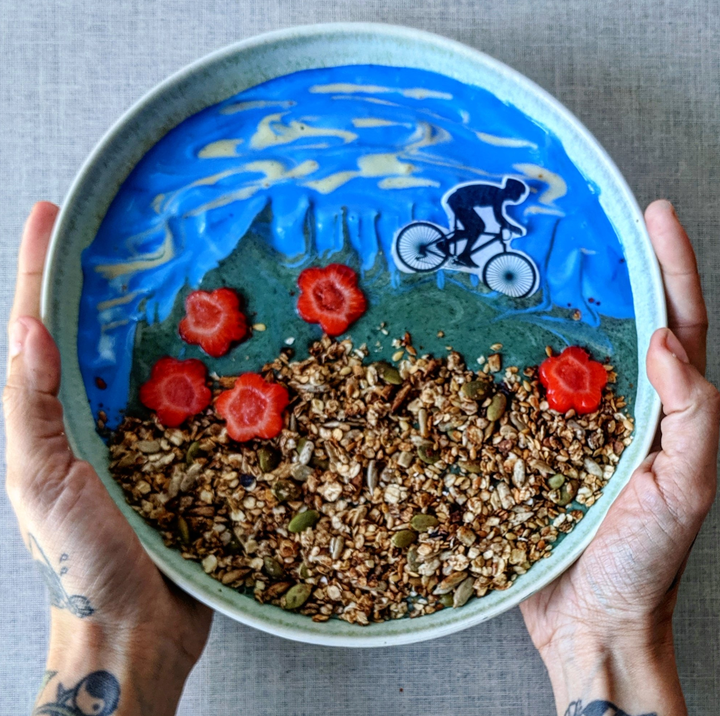 You will need:
:: Bananas – preferably chopped and frozen, but not essential;
Optional: oats, cinnamon and nuts for a crunchy topping; natural food colouring; rice paper characters.
Method
Monroe started off by creating a banana base, blending frozen bananas with milk, and dividing the mixture into three small dishes.
"I used natural food colouring to make one blue and one green, and left one white," explains Monroe, "then I literally painted them into the bowl, using an ordinary spoon to dollop the colours in, and the thin end of the handle to make the patterns."
As Compton was embarking on a huge bike ride, Monroe decided to add a personal touch, incorporating a little rice paper cyclist – bought for recipe development ahead of their wedding. Monroe also decorated the bowl by cutting strawberries into flower shapes and adding leftover granola.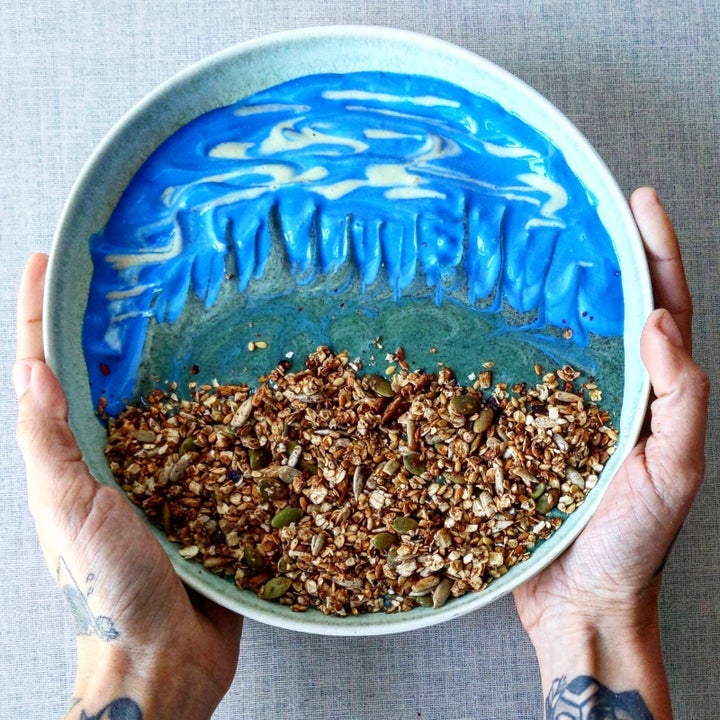 "It sounds complicated but the smoothie base takes two minutes to throw together, and I already had the granola made up from a previous breakfast," explains Monroe – who advises toasting the oats in a nonstick pan with cinnamon to make the crunchy granola topping and adding nuts and seeds.
"It's become something of a nice morning ritual before the busyness of the day, spending 15 minutes really engrossed in something creative just for the sake of making something beautiful," says Monroe, who mostly cooks for work. Recipe development and commissions tend to come with a brief, and strict parameters when it comes to budget and nutrition. "So to make something preposterous and flamboyant for someone I love is a really glorious start to the day."