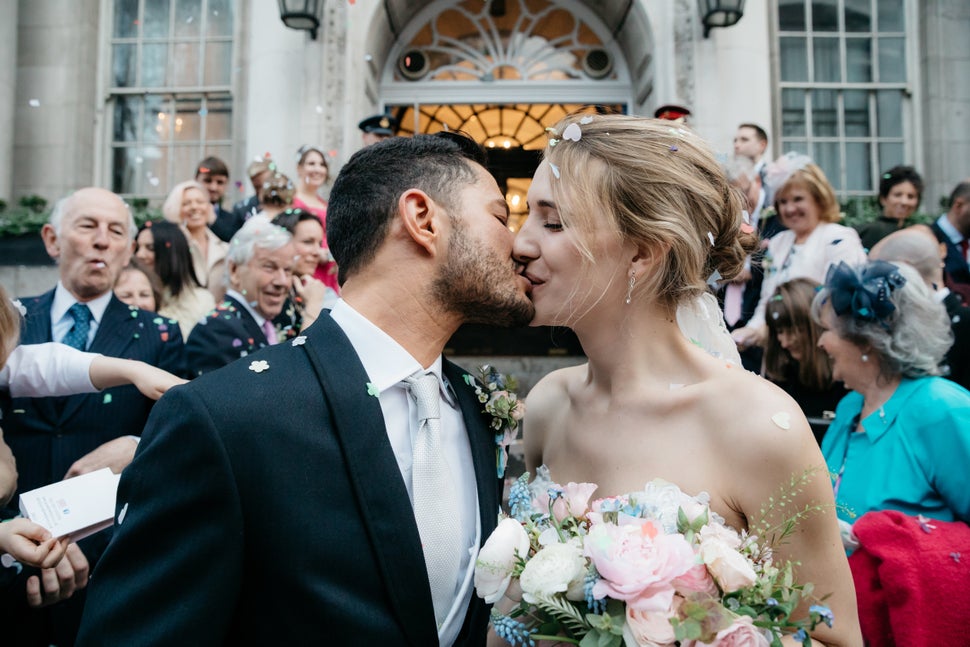 Trans actor and filmmaker Jake Graf has responded to The Sun's controversial exclusive front page coverage of his recent wedding, branding it "sensationalist and tacky".
Graf married Captain Hannah Winterbourne, the highest-ranking trans officer in the British Army, on Friday in London and shared their story with The Sun, but the couple were left disappointed by Tuesday's coverage, which drew considerable criticism in parts of the media.
"Whilst it was a really positive article from [author] Emma Pietras, The Sun unfortunately very much marred it with their sensationalist and tacky headline and front page, which has been very disappointing and a great shame," Graf told HuffPost UK.
The 40-year-old added that the couple hoped sharing their story would have a positive impact. "Hannah and I only had the intention of putting out a hopeful, happy and honest story about a couple who happen to be transgender finding love. Hopefully that will still be the case and their [The Sun's] readers will be able to take something good away from it."
The paper's front page ran the headline 'Tran And Wife' as well as adding that Graf "used to be a man" and Winterbourne "used to be a woman" - in response, Winterbourne explained on Twitter: "I have always been a woman and Jake has always been a man."
The headline drew criticism on Twitter. One user said: "Their love is all the more special in spite of the bigotry and outright discrimination they have faced." Another reacted: "Ignoring the headline, which made me so angry! Angry enough I was in tears. I just want to call out how beautiful you looked."
In a statement to HuffPost UK, The Sun spokesperson said: "We've put this story on a front page in order to celebrate a wonderful modern romance. I want to emphasise that there was no intention to offend, and we wish them both the very best for the rest of their happy lives together. We are confident that our readers, especially after reading the piece, will join us in wishing them the same."
They added that The Sun had conversations about the story with members of the LGBTI community before going to print.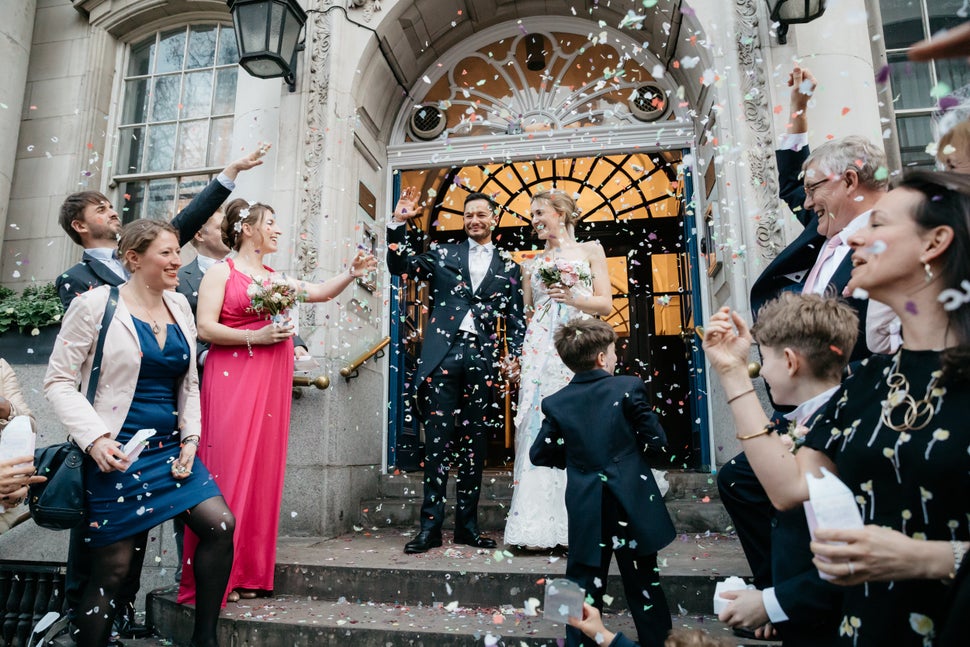 Speaking to HuffPost UK before the big day, the couple had hoped the wedding would be a significant moment for trans visibility and show the world that "you can be trans and happy". "Growing up, I never thought I would be happy," Winterbourne told HuffPost UK in the lead up to the wedding. "But when I met Jake, things changed."
The newlyweds tied the knot in an intimate ceremony in Chelsea Town Hall, London. The couple's ceremony was small with fewer than 20 guests each, because they are saving up to start a family.
Speaking to HuffPost UK on Tuesday, Graf described the wedding as "absolutely magical". "We had all of our nearest and dearest with us, my bride looked beyond stunning and we really couldn't have asked for more. When Hannah walked down the aisle I welled up and she also had tears in her eyes, as did many of our friends, it was surprisingly emotional."
The couple's wedding colour scheme was pink, white and blue ("trans colours", Jake explained) and they also had a vanilla-flavoured rainbow cake (a nod to the LGBT+ community) from Hummingbird Bakery.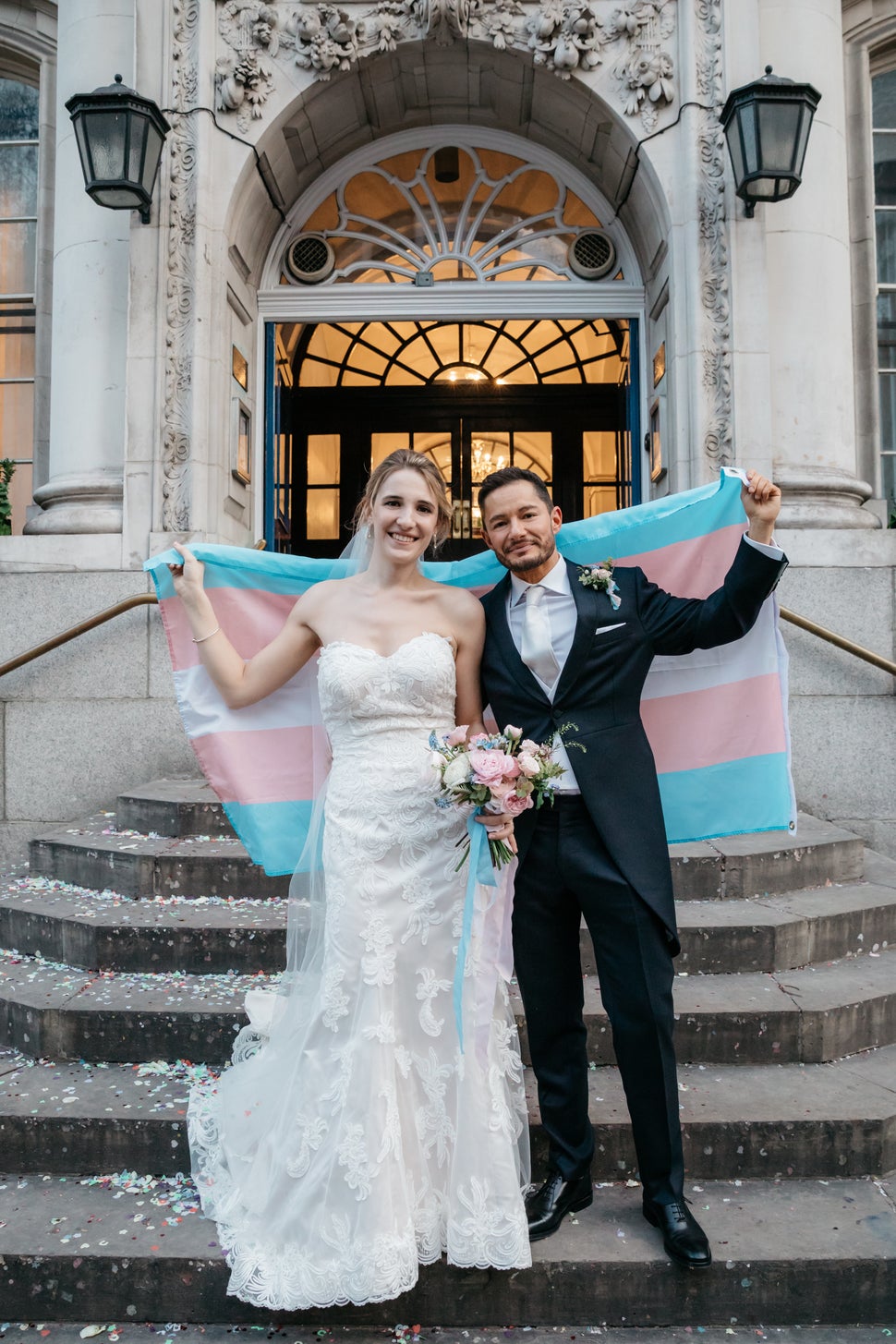 The couple's wedding was made possible thanks to kind donations from friends, family members and business owners from the LGBT+ community. Graf's step-father David Browne paid for their reception and guests offered money instead of wedding gifts. Winterbourne said: "There aren't many big transgender weddings out there, so the wider community throwing themselves into our marriage is a nice touch for myself and Jake, but also trans people everywhere."
Two of Winterbourne's friends from different branches of the military were also in attendance, forming a guard of honour. "It's a military tradition," she said. "I've been in the military for many years, it's formed a large part of me.
"It's good to have a nod to my military service on the day. But also they are two of my best friends and it's nice, as a bride, to be able to include male friends in the ceremony - as not many brides have that option."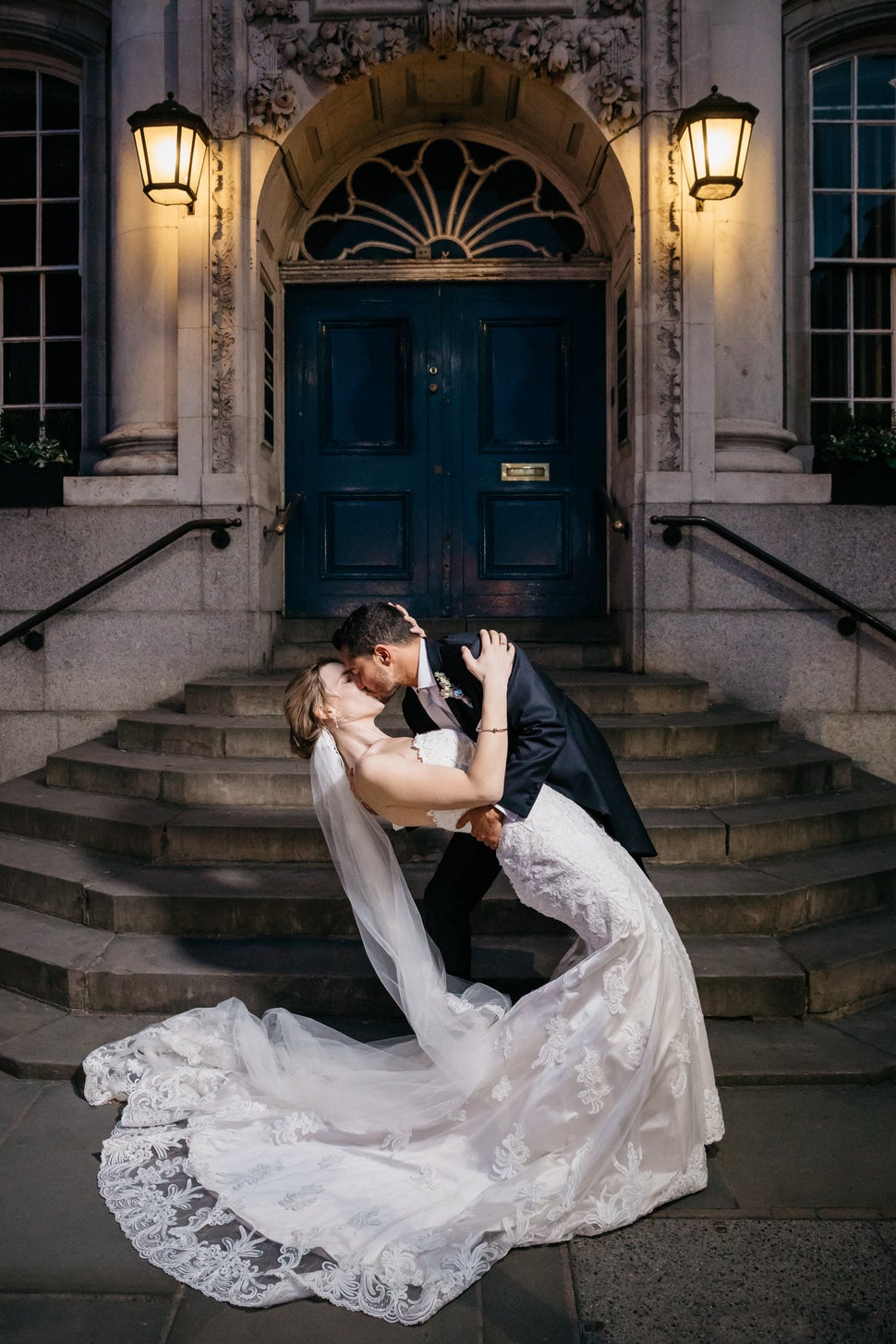 The couple first met online in December 2015 through a mutual friend. Recalling the moment he sent her a friend request on Facebook, Graf proudly exclaimed that she had accepted "within minutes". The pair messaged regularly before going on an 11-hour date a week later. Winterbourne said prior to that she had never dated anyone before, but with Graf things were different and she felt she could be herself.
A whirlwind romance saw them get engaged in September 2017 in Central Park, New York. Graf hired them a boat a boat and was rowing across a lake when he took a swig of vodka from a hip flask to steady his nerves and asked her to marry him. She said yes.
Prior to their wedding Graf lived in Richmond, London, while Winterbourne lived in Camberley, Surrey. When asked what aspect of married life they're most looking forward to now, Graf said, for him, it's the chance to be able to live with the love of his life and finally start a family.
Winterbourne added: "I'm looking forward to being more settled. I love Jake to bits, and while we've been dating it's been quite hectic. The marriage will bring stability to our lives, we've made that commitment to each other now and we can just focus on being best friends."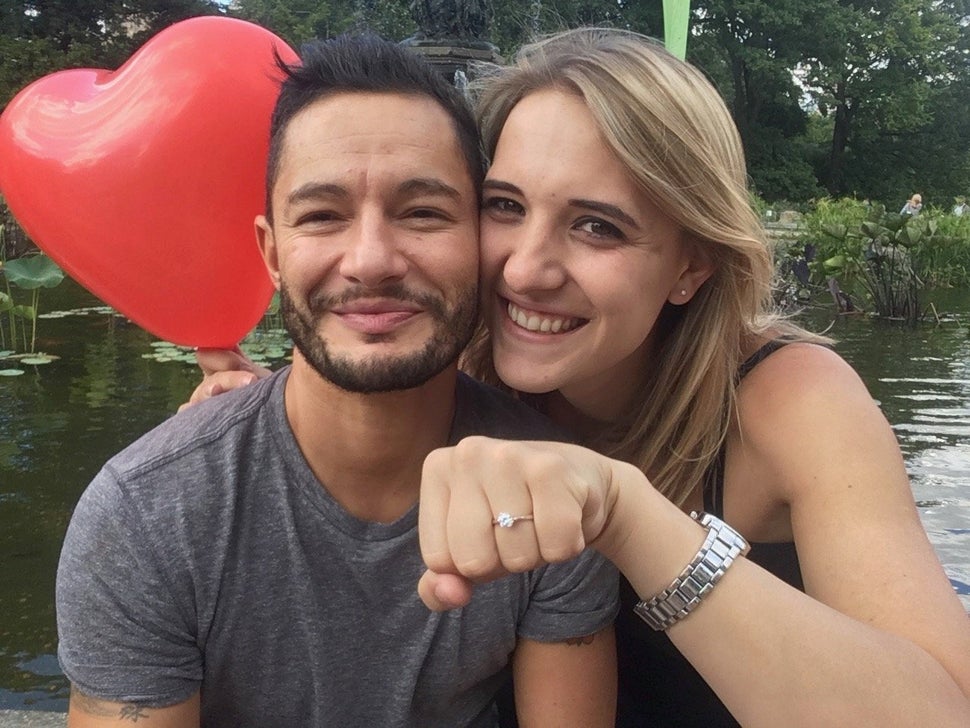 Useful websites and helplines: