Pinterest has revealed its trends forecast for 2021, with a big focus on 'Japandi' home styling – where "Japanese design meets Scandinavian minimalism".
Searches for Japandi have increased 100% year-on-year, says Pinterest, and searches for 'neutral colour palettes' and 'earth tones' have tripled. There's been an even larger rise in interest for modern, wooden bed designs and minimalist bathrooms and kitchens.
The Japandi homeware trend is nothing new – it's been on people's radars for a couple of years now, but Pinterest predicts 2021 will see it really take off.
So, how can you achieve the trend in your own home? Think functional furniture, minimalist layouts (no clutter allowed!) and natural raw materials like clay and wood, as well as a focus on sleek lines, neutral colour schemes and calming setups.
Here's some inspiration to get you going.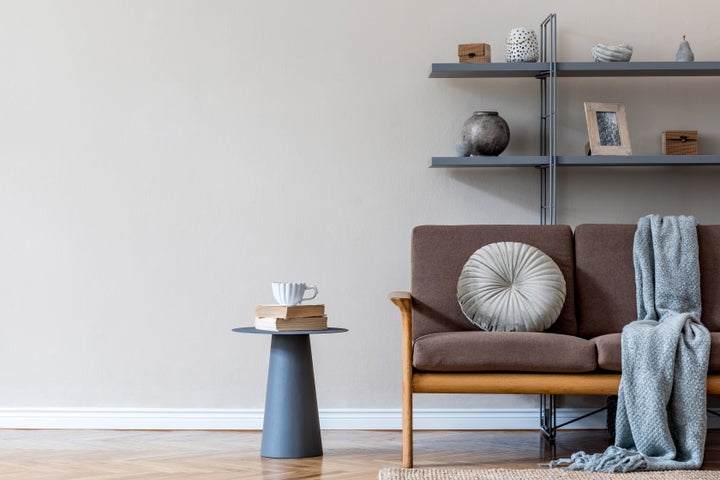 The bedroom
Helen White, co-founder and creative director of Houseof, says the idea behind the trend is to give us space to breathe, which is exactly what we need in 2021. And what better place to up the calm factor than in your boudoir?
"When trying to recreate this calming trend go for a 'less is more' approach and choose iconic pieces, giving each item a space to breathe," she says.
While both regions celebrate soft, light colours and natural materials "they don't always agree on texture", she adds, so pair soft light wood with cosy knitted fabrics, and a minimalist style with fluted concretes and pleated materials.
Adele Shotton-Pugh, of home furnishings retailer Terrys, recommends keeping your bedroom space neutral in shades of white and beige, and bringing in the trend through inexpensive accessories. This could be a faux sheepskin rug, natural cotton throw or rattan accessories.
"Artwork is also a fantastic way to bring the trend to life," she adds. "Look for neutral and abstract prints paired with black line drawings for a simplistic yet stylish look."
One piece of advice from Nadia McCowan Hill, Wayfair's resident style advisor: don't get too hung up on the details. "This trend is all about finding beauty in imperfections, such as raw edged rope details or hand painted motifs on wood," she says. "The more discreet and subtle designs will go hand-in-hand with a bedroom space, to create a soothing and sanctuary-like atmosphere."
The living room
One key way to view this trend is to declutter your home and focus on a few select statement pieces, suggests Tracy Appleby, head of interior design at I Love Wallpaper.
"The rustic part of this trend can be easily and inexpensively achieved by opting for wooden accessories such as dark wood photo frames, natural wood shelves and bookcases," she says.
As for the Japandi colour palette, muted tones of pink, blue and mint with a base of white or grey keeps things sleek, she adds, and functional yet decorative items such as vases and fruit bowls in these shades can add a pop of colour to brighten up a space at a low cost.
Shotton-Pugh, of home furnishings retailer Terrys, recommends keeping furniture simple with clean lines and neutral tones and accessorising "mindfully" – only introducing elements that are necessary. "A simple coffee table book, a woven basket to store throws and the introduction of pampas grass combine together to create a personal, functional space," she explains.
The kitchen
You might be wondering how to bring the Japandi trend to your kitchen, but there are simple ways to do this without having to fork out on new units.
"Japandi interiors look to embrace the natural by bringing the outdoors in, so incorporating a selection of plants into your kitchen is a great way to nail the trend," says Shotton-Pugh.
"As well as foliage, this interior style is all about raw materials. For a quick and cost-effective Japandi update to a kitchen space, switch out chrome cupboard handles in favour of brass ones. These can be picked up in any hardware store and completely change the feel of a space."
McCowan Hill recommends bringing the trend to your dinner table through wonky ceramic tableware paired with rustic woven placemats.
The bathroom
Nowadays, bathrooms are less confined to clinical white, polished ceramic and a clean contemporary feel, says Abbie Schofield, head of design at Ribble Valley Bathrooms. Instead, people are becoming more confident about bringing the outside in by creating spa-like sanctuaries fusing the old and the new.
"This perfectly reflects the draw to Japandi style interiors," says Schofield. "The goal of creating a rich, sensory connotation with nature is still growing in popularity. A Japandi bathroom design will boast surfaces and neutral tones that reduce stress and improve creativity while featuring materials that emulate those found in the great outdoors.
"Victorian roll top baths will remain a crucial component in a 2021 chic bathroom, but this will be harmoniously blended with modern, sleek alcoves, warmer toned surfaces, real-looking wood and more curved lines as opposed to cold and harsh surfaces normally found in the bathroom."