A woman who boasted about her lust for popstar twins Jedward and had sex with two 14-year-old boys, has been jailed for two years.
Kirstin MacRuary, 39, had sex with the boys at her house after grooming them via social media.
MacRuary has an obsession with Irish music act Jedward and has posted pictures of the "hot" singers on her Facebook page - from when they were 12-years-old.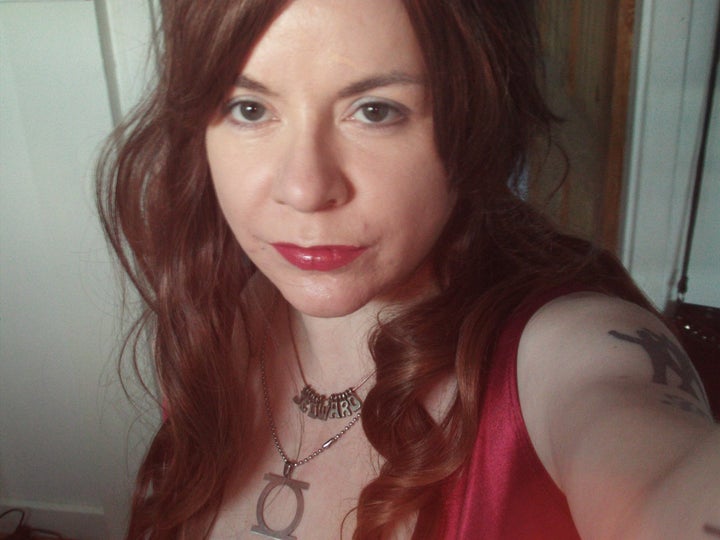 She has also posted on Facebook about her need for "Jedcest".
At Ayr Sheriff Court on Tuesday she was locked up for two years after the court heard she had shown no remorse for abusing the two boys.
At an earlier hearing she pleaded guilty to two separate counts of having sex with them, South West News reports.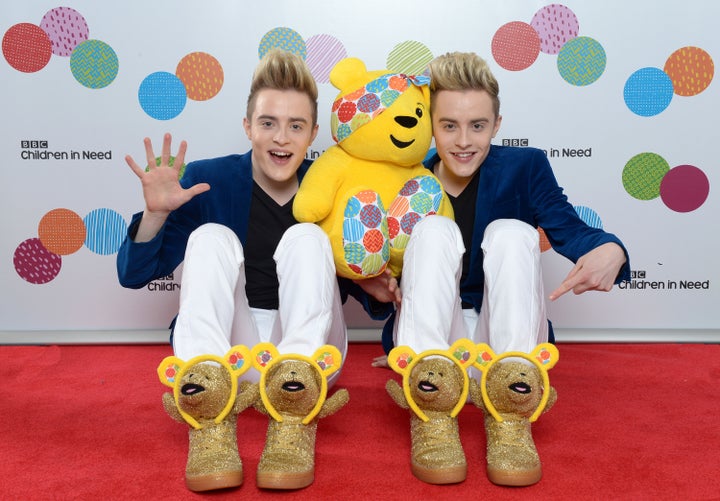 She groomed her 14-year-old victims online and invited them to her house in Dundonald, South Ayrshire, to get drunk and watch films.
On one occasion, MacRuary perched herself on the arm of a sofa before sliding down next to the first teenager.
She then invited him upstairs and had sex with him. The boy later said that it "made him feel weird".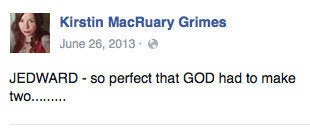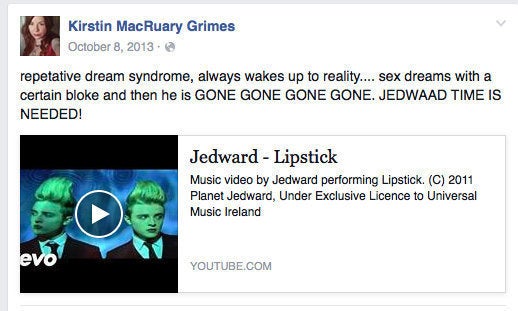 MacRuary then made a move on the second 14-year-old boy, who had also been in her house watching a movie.
After MacRuary suggested the boy went upstairs for a nap she followed him into the spare bedroom, undressed him and had sex with him.
Police launched an investigation after the boy became anxious and made a dash from the house.
Officers checked her laptop and found a chat with the two boys in which she told one of them she missed their "cute little faces."
Her teen victims cannot be named for legal reasons. On social media MacRuary has shared countless photoshopped pictures of the Jedward twins.
In one Facebook post she says: "I miss my Jeds, need some Jedcest now."
And MacRuary refers to herself as Kirstin Grimes on the social media site - the surname shared by Jedward brothers John and Edward.
Defence solicitor Ian Gillies said: "It is safe to say in my submission that this lady clearly needs supervision at the higher end of the scale.
"It is clear that she needs some assistance. There are concerns about her mental health."
Sheriff John Montgomery said he no option but to jail her.
"You've pled guilty to two charges of having sexual intercourse with two boys aged between 13 and 16. They were both 14-years-old at the time of the offences.
"I have read the report, and it's astonishing because you don't express any remorse.
"There is no alternative to a custodial sentence.
"On the first charge I sentence you to 12 months imprisonment. On the second charge I sentence you to 12 months imprisonment. To be served consecutively. Two years."
MacRuary was also placed on the Sex Offenders Register.