The Labour Party's attempt to win the general election in 2020 currently resemble Homer Simpson's attempt to jump Springfield Gorge on a skateboard, a Labour MP has warned.
Former shadow minister Jamie Reed said today the scene from the 1990 episode 'Bart the Daredevil' reminded him of Labour's current predicament under Jeremy Corbyn.
"As our protagonist soars above the gorge he breathlessly exclaims 'I'm gonna make it … I'm king of the world …' before losing momentum and plummeting to the ground," he wrote for Progress Online.
"As he bounces from the jagged rocks, Homer becomes increasingly injured with each fall. A helicopter winches Homer out, slamming his head against the side of the gorge several times in the process before he is loaded into a waiting ambulance, which immediately crashes into a tree as it starts to leave for the hospital. The stretcher carrying Homer rolls out of the back, and Homer once again crashes to the canyon floor, hitting every tree and rock protruding from the cliff face as he descends.
"It's this scene that most accurately describes life in the Labour Party right now. The fear, the pain and for some – like an overweight middle-aged man who believes he can jump a canyon on a child's skateboard – the baseless optimism in the face of all available evidence."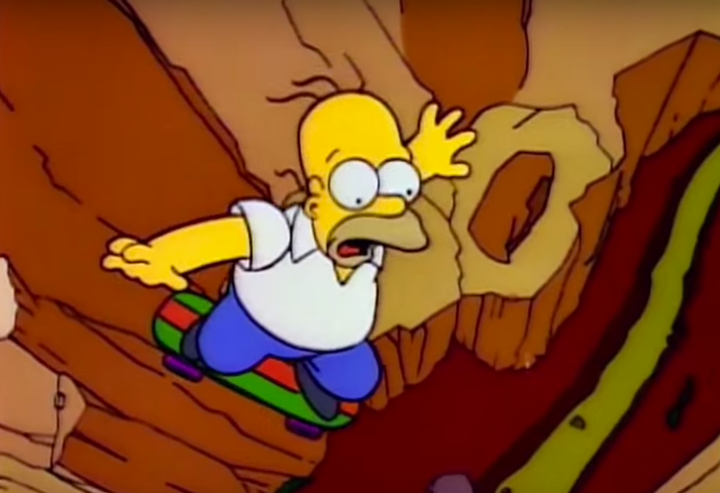 Reed famously quit the Labour front bench within minutes of Corbyn being elected leader in September.
This week the battle to protect Corbyn from a coup by Labour MPs begun in earnest after left-wingers unveiled a rule change to ensure party members can vote for him in any new leadership election.
So-called moderate' Labour MPs believe that they have "one last shot" at ditching Corbyn before his allies use this year's party conference in September.
Aberavon MP Stephen Kinnock increased the pressure on the Labour leader by setting out what he needs to achieve in May to avoid a leadership challenge.
Speaking to The Huffington Post UK Politics Commons People podcast, Kinnock said: "We need a Labour mayor in London. We need a big jump forward in the council elections in England, we need in Wales to hold on well to Government. I think Scotland – very, very problematic – but we need as an absolute minimum to be coming in as a second party in Scotland."
Popular in the Community