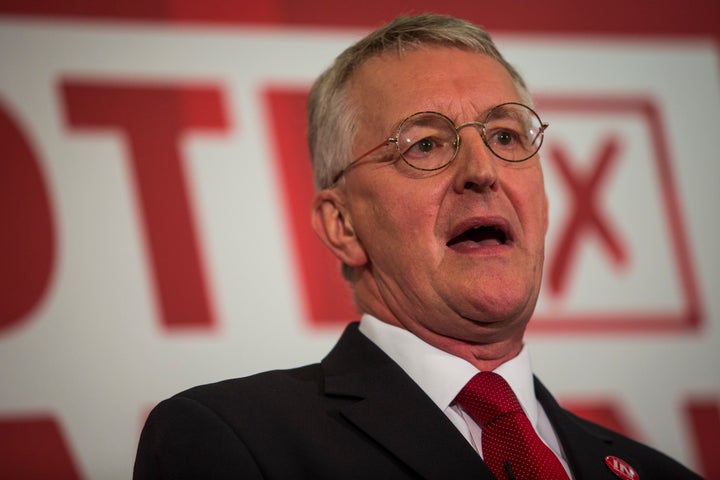 Hilary Benn has been axed as Shadow Foreign Secretary by Jeremy Corbyn in a dramatic early hours sacking amid rumours of a leadership coup.
A spokesman for the Labour leader announced Corbyn had "lost confidence" in Benn and decided to strip him of his key front bench role.
The move came just hours after the Observer claimed Benn was planning to lead a Shadow Cabinet revolt against Corbyn later this week in response to the Labour leader's perceived lack of effort during the EU referendum campaign.
The Observer reports Benn was ringing Labour MPs over the weekend in order to gauge support for a coup against the party leadership - and was asking fellow Shadow Cabinet members to resign en masse in order to force Corbyn out.
Benn himself spoke out in the early hours of Sunday morning, saying there had been "widespread concern" among Shadow Cabinet members about Corbyn's leadership after this week's Brexit vote.
"In particular," Benn said, "there is no confidence in our ability to win the next election, which may come much sooner than expected, if Jeremy continues as leader."
Corbyn's spokesperson said: "Jeremy has lost confidence in him."
Speaking on the BBC's Andrew Marr Show this morning, Benn said he called Corbyn on Saturday night to tell the Labour leader he had lost confidence in him
He said: "It has becoming increasingly clear that there is growing concern in the Shadow Cabinet and in the Parliamentary Labour Party about his leadership and I said to him that I no longer had confidence in his leadership and he then dismissed me from the Shadow Cabinet, which is understandable.
The Leeds Central MP added: "He's a good and decent man but he's not a leader."
Benn went on: "A number of people will say this is not an ideal time. There's never an ideal time but it isn't working and therefore I felt it was important to speak out
"We have a wider duty to the party and I think the country needs a strong and effective Labour opposition."
Referring to the EU Referendum, Benn said: "I don't blame Jeremy for the outcome of the referendum, but I think people saw he didn't bring a great deal of enthusiasm to the task of arguing the case for Britain remaining in the European Union."
The sacking could trigger a wave of resignations within the Shadow Cabinet, with other members seeing Benn as providing key balance to the Corbynites in the party.
One former Cabinet Minister, Ben Bradshaw, urged those remaining in the Shadow Cabinet to "now act to save the party" in a call-to-arms against the leadership.
Labour MP Wes Streeting took to Twitter to say there were "no longer good reasons for good people to stay" in the Shadow Cabinet.
Durham MP Roberta Blackman-Wood described the sacking as "sad news" and questioned the logic behind the move.
Remain campaigners say that pro-EU lines in Corbyn speeches were cut, his diary was scheduled to avoid Labour In events and any attempts to work with Tony Blair, Peter Mandelson and Gordon Brown were overruled.
Furious In campaigners lashed out, claiming that the party leaders' diary was deliberately light on pro-EU events and that he refused to campaign actively until the very final stages of the Brexit debate.
Key decisions on planning and messaging were delayed or changed, making it impossible for Labour's official In campaign to function smoothly, it is alleged.
A Labour spokesman dismissed the criticisms, declaring that Corbyn was the only frontline politician who could heal a divided country, adding the referendum result showed "Jeremy's views were in tune with the people".
Corbyn was known for his eurosceptic views prior to becoming Labour leader, and it was only after pressure was put on him from Benn and Angela Eagle in September that he decided to come out for Remain before David Cameron had concluded his renegotiation.
As well as the EU, Benn and Corbyn also clashed over whether the UK should carry out airstrikes against so-called IS in Syria.
Corbyn spoke against the military action, while Benn - from the same despatch box - delivered a passionate speech in favour of extending Britain's bombing campaign against IS from Iraq into Syria.
Related