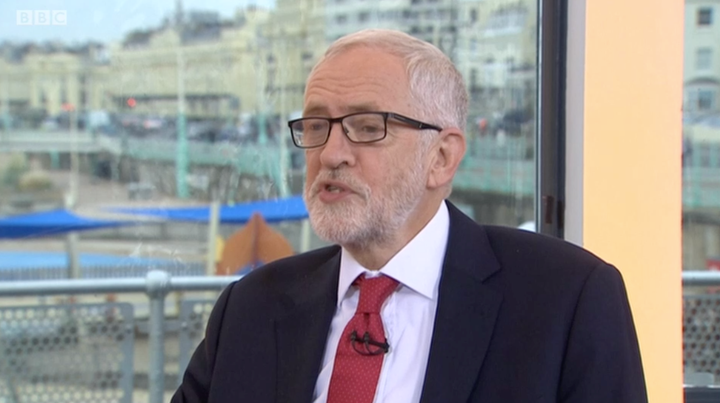 Jeremy Corbyn has said he will serve a full term as prime minister, amid rumours that he is considering standing down.
The Labour leader told BBC One's The Andrew Marr Show on Sunday morning it was "wishful thinking" by some that he was preparing to quit.
"I am taking the party into the general election," he said. "I'm campaigning all the time – I did 40 events during August alone all around the country."
And asked if he would serve a full five year term in office, Corbyn said: "Of course. Why wouldn't I?"
Labour's annual conference in Brighton has already been overshadowed by an attempt by allies of Corbyn to oust Tom Watson as deputy leader.
Corbyn claimed this morning he "did not know" that "particular" move was going to happen.
Asked why he did not know, the Labour leader said: "I'm not all seeing and all knowing – I'd love to be."
In a memo seen by The Sunday Times, Fisher hit out at the "blizzard of lies" in the upper echelons of the party.
Corbyn, who was accompanied to the interview on Marr today by Fisher, confirmed the memo written by his aide was real.
"I think he said that because he was extremely distressed at that point about whatever was going on in discussions within the office at that moment," Corbyn said.
The rule change means Watson would not automatically become temporary leader.
In the interview on Marr, Corbyn also repeatedly refused to say whether he would campaign for Leave or Remain in any second referendum.
A policy statement put forward by Corbyn to the NEC sets out a plan for a Labour government to reach a deal with Brussels in three months which would then be put to a referendum.
Labour's stance in that referendum would be settled in a special conference after a general election.
Corbyn said this morning he "will go along with whatever decision the party comes to" as to how to campaign.
But he suggested the UK could be better off outside the EU as it "depends on the agreement" reached.
The move has angered Labour MPs and activists who are pushing for the party to throw its weight behind the Remain cause now.