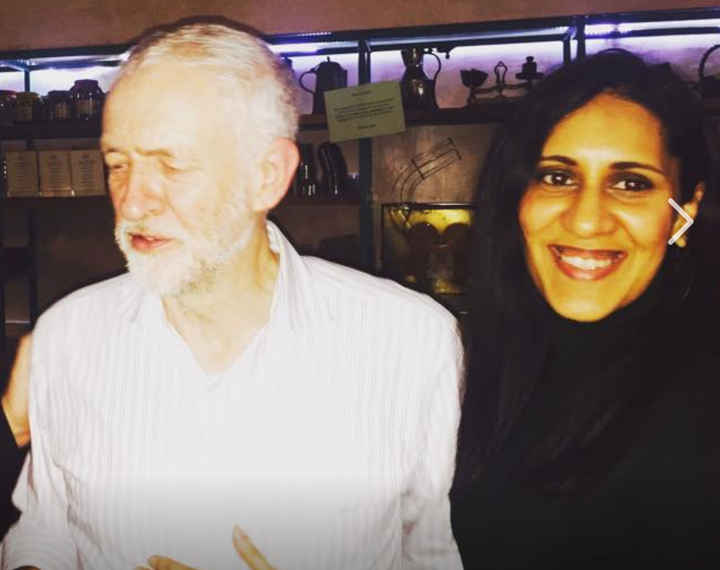 One of Jeremy Corbyn's closest aides has not been granted a Parliamentary pass due to unspecified security concerns – but has continued to work in his Commons office for more than nine months.
HuffPost UK can reveal that Iram Awan, the Labour leader's Private Secretary, has not had her application approved by the authorities on the advice of the security services, due to questions over known associates.
But Awan, a British-born national whose role includes providing "strategic advice" to Corbyn, has been escorted into Parliament on a routine basis by other members of his team.
She was hired late last year and has worked in the Leader of the Opposition's office in the Palace of Westminster since despite her lack of security clearance.
With Westminster suffering another attempted terror attack this summer, the Commons authorities will face questions as to why someone so close to a senior politician has been allowed to apparently breach basic security requirements.
Counter-Terrorist Check (CTC) clearance is required by everyone working in Parliament and normally takes a matter of weeks at most to process.
Awan has routinely accessed Parliament through both its Derby Gate and Portcullis House entrances.
She goes through security checks and X-ray like other visitors, before being picked up by a member of Corbyn's team and escorted to his office.
A total of 41 people working in Corbyn's office are listed on the Register of Interests of Members' Secretaries and Research Assistants. Awan is not among them.
The practice of Corbyn's office regularly escorting Awan into the building appears to be a clear breach of Parliament's rules on security which forbid anyone from working on the Parliamentary estate without approval.
A Parliamentary spokesperson told HuffPost UK said: "Visitor passes are for visitors only; they cannot be used to carry out work on the parliamentary estate.
"While we are unable to comment on specific cases, any alleged breach of the rules on passes will be investigated by the House authorities."
When asked about current security rules on passes, the spokesperson also said: "Anyone carrying out work on the estate must have been through the vetting process and hold a Parliamentary pass. Anyone working on the estate on a visitor pass would be in breach of this rule."
A spokesman for Corbyn said: "We don't comment on staffing matters".
But a Labour source said: "We have not been told that any member of staff has been refused a pass or any reasons for why any pass may not have yet been granted."
Awan's duties are understood to involve her working with Corbyn both inside and outside Parliament.
It is understood that Corbyn is personally aware that she has not been granted a pass. The reasons for the lack of clearance have not been specifically communicated to his office.
Every applicant for a Parliamentary pass is required to read the Government's personnel security and national security vetting policy.
It states: "There are three different types of national security vetting clearance: Counter Terrorist Check (CTC), Security Check (SC) and Developed Vetting (DV)...
"They are all intended to allow Parliament to assess whether individuals who are to be employed in sensitive posts or critical functions might represent a security risk directly or indirectly. Applicants for a Parliamentary Pass will normally undergo a CTC only".
Individuals are asked to provide information about themselves, family members and other associates. It may be checked against information held by the Security Service (MI5) and third party references. "Interviews with the vetting subject and referees may be carried out to establish good character and to verify information that has been provided."
The Government policy states: "Security clearances may be refused or withdrawn" in cases where "there are security concerns related to an individual's involvement or connection with activities, organisations or individuals associated with the threats described in this Statement (or any similar new threats that emerge)"
It adds that other reasons can include "personal circumstances, current or past conduct indicate that an individual may be susceptible to pressure or improper influence" and "other behaviours or circumstances indicate unreliability".
"There are no national security vetting appeal routes for applicants for employment who are refused a national security clearance," the advice states.
The role of Private Secretary is one of the most important in the Leader of the Opposition's office. Awan's predecessor in the job was Laura Parker, who left to become National Coordinator of Momentum.
When the party advertised the post it said the successful candidate would be responsible for "ensuring that the political actions and requirements of the Labour Party Leader's Office are delivered effectively and efficiently"
The Private Secretary "will provide advice to the Labour Party Leader as and when required, coordinating with the work of the teams within the Leader's Office" and show "the ability to provide strategic advice".
The UK's current threat level is set at "severe", with a terror attack deemed highly likely. The threat level is one below the highest rating of "critical", when an attack is deemed imminent.
Security on the Parliamentary estate has been stepped up since the 2017 Westminster Bridge terror attack and security forces have faced the separate challenge of Russian inspired threats.
Corbyn has repeatedly insisted on seeing evidence of any Russian involvement in the Novichok poisoning of Sergei Skripal and his daughter. He was briefed by security officials last week on the murder of Briton Dawn Sturgess.
It was reported this month that the Labour leader had been invited to a "full briefing" briefing by MI5 chief Sir Andrew Parker on the threat from Islamist terrorists in the UK and returning from the Middle East. It is unclear if he has attended the briefing.
This week also marks the beginning of the inquests into the deaths of five victims of the 2017 terror attack on Westminster Bridge, with the inquest into the death of the attacker, Khalid Masood, following afterwards.
In August this year, a man was arrested on suspicion of terror offences after his car crashed into pedestrians and cyclists outside the Palace of Westminster.
Very little is publicly known about Awan. She was previously an activist with the Left Unity pressure group, attending its inaugural meeting in 2013. The group was formed after a plea from filmmaker Ken Loach for a new party to provide a left-wing alternative to Ed Miliband's Labour.
According to a crowdfunding page online, Awan this year made a donation to a charitable event in aid of Helping Households Under Great Stress (HHUGS). She wrote on the site: 'Great cause!'
The group exists to "provide financial, emotional, and practical support and advice to Muslim household impacted by counter-terrorism, national security and extremism-related laws, policies and procedures in the UK and abroad".
The charity states: "For every arrest and detention, a home has been raided and ravaged and a family has suffered the loss of a loved one, a breadwinner, a dear husband. a much-loved son. These are homes where life will never be the same."