Jeremy Hunt has been told to stop "talking down" the NHS by an MP whose life was saved by doctors on a weekend.
Today the health secretary told the Commons there will be "no retreat" on introducing a new contract for junior doctors.
The government has said the changes need to be made to ensure patients get equal treatment at the weekend.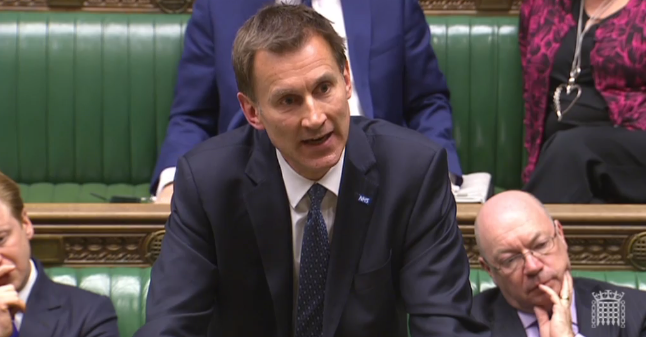 But Labour MP Mike Gapes, who suffered a heart attack in November, said Hunt was wrong to claim there was not a seven-day health service.
"Can I tell the secretary of state, I was admitted to the hospital in the early hours of a Saturday morning at a weekend. I spent five-and-a-half weeks in intensive care.
"I had many conversations with doctors during the time I was in St Mary's Hospital Paddington.
"I really do ask him to look to the circumstances of those doctors today who do work weekends. We do have a weekend NHS. It is not true to say there are people like me who lives are not saved because we are admitted at weekend."
The Ilford South MP added: "Can he stop talking down the medial profession and start defending the doctors."
Hunt said there was an 11%-15% higher chance of death if patients were admitted at a weekend.
The health secretary said the idea he was attacking doctors was wrong and "nothing could be further from the truth".
There has been speculation that Hunt may have U-turned on how the new contract will be implemented amid suggestions that he may not have the legal powers to actually force it upon junior doctors.
Popular in the Community