Most news-watchers have an enduringly sad image of James Foley, or rather how he met his end. The video of his beheading by Jihadi John in August 2014 was broadcast across the world, as he became the first American citizen to become a victim of ISIS.
Even as his mother Diane Foley bravely told media that week that she had never been prouder of her journalist son, giving his life trying to expose the world to the suffering of the Syrian people, his childhood friend Brian Oakes was suffering a double grief for his friend - his death, and the loss of the friend he remembered to the images being bandied around the world in a propaganda war being waged between east and west.
Brian's reaction? To make 'Jim: The James Foley Story', a film about the life, not the death, of his friend - bringing together the recollections of family, friends, colleagues and, most movingly, the hostages with whom he shared his last days.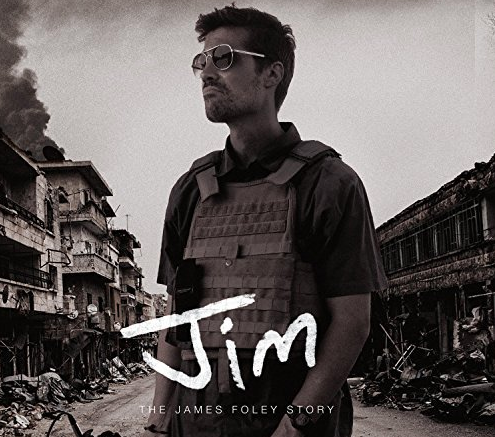 A film that has no happy ending (and no execution video in sight, a video Brian has not watched and intends never to) somehow manages to be both inspiring and surprisingly uplifting, as they remember his foibles, their frustrations, the fear and grief, but also his legacy of freedom, and unique effect on all their lives. In particular, one scene in which Jim's fellow hostage, a Frenchman, describes the way they celebrated Christmas within their prison walls will leave you breathless.
With the film receiving an Emmy Award for exceptional merit in documentary-making, we sat down with Brian to hear how this film, and knowing James Foley, has changed his life...
Why did you decide to make this film yourself?
After Jim's death, it took me about three months to decide to take on the project. His image had been propagated everywhere, and I really wanted to re-contextualise that one image.
I was his friend, I had a background in animation and design, I felt equipped, but, more importantly, I felt fuelled by my love for him and his family.
What was the biggest challenge?
It was the intimidation of diving in, setting off on a path, knowing I'd be living his life for over a year. I didn't know how I'd deal with the topic. But, piecing together what the Foley family and his fellow hostages had to say, it ended up becoming a big puzzle I had to piece together.
Apart from ISIS, what makes you angry about this story?
The hesitation of governments still to work together, to find ways of getting hostages home. It's complex, but to progress, you need governments to talk to each other. The people who suffer are the hostages and the people waiting for them at home. That was intensely frustrating to document, although we chose not to focus on that too intently in the finished film.
Did you learn things about your friend Jim that you hadn't realised?
He touched a lot of people's lives. We had a memorial, and the room was full of students, his childhood friends, his colleagues. And everyone had the same opinion of him. He was someone who didn't change, despite his circumstances.
How has knowing him changed your life?
I've taken an inventory of my own life. It's a case of looking in the mirror, figuring out what you're doing. It's also stopped me complaining about things not that big a deal. The people he cared about, these were people struggling every day to live. He's certainly changed my perspective and I hope other people get that as well.
I was also moved by the humanity of the hostage situation, the intense humanity in that world. The hostages became a family, and that is a triumph, and it gives me some peace.
He was a people person, he was for the underdog. He didn't care about material possessions, nor money, he was just trying to live a good life. And making this film, learning so much about his experiences, it's made me put less emphasis on material things, too. He's made me assess that. He wasn't perfect, as this film shows, but I'm so grateful that I knew him and got to grow up with him.