The artist JMW Turner will appear on the next £20 banknote, Bank of England Governor Mark Carney has announced.
The image of his famous self-portrait and The Fighting Temeraire - voted Britain's greatest painting in 2005 - will appear on the notes that will enter circulation in 2020.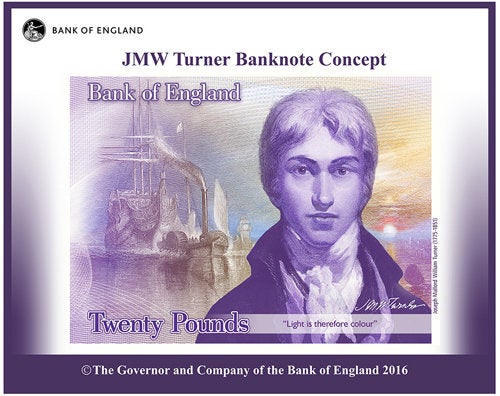 The note will also feature Turner's quote "light is therefore colour", referring to his use of light, shade and colour.
It also includes Turner's signature on his will, in which he left his paintings to the nation rather than sell them.
It is the first time a figure has been chosen under a new, more transparent process. The Bank received 29,701 nominations from the public covering 590 eligible characters for the new note.
The Banknote Character Advisory Committee, formed in early 2015, then made the decision.
Carney said: "Turner is perhaps the single most influential British artist of all time.
"His work was transformative, bridging the classical and modern worlds. His influence spanned his lifetime and is still apparent today.
"Turner bequeathed this painting to the nation, an example of his important contribution to British society."
Renowned artist Tracey Emin said: "It's so amazing that an artist has been chosen for the £20 note and an artist who was a wild maverick.
"It's wonderful that Britain's creative side is being honoured in this way and of course I am especially happy because it is Turner."
Popular in the Community