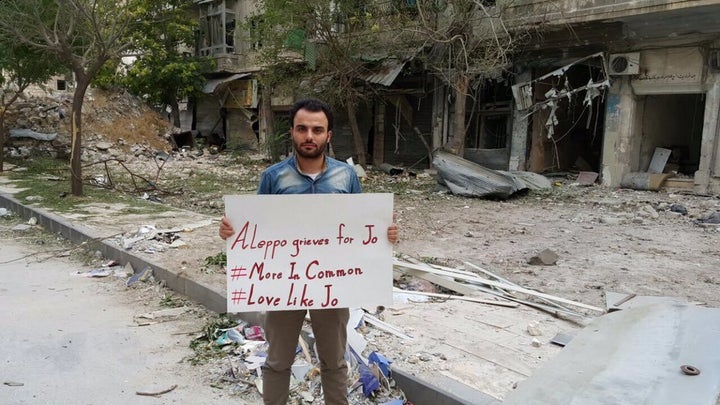 An image of a man standing in war-torn Aleppo, holding a sign paying tribute to killed MP Jo Cox, has been described by her husband as an "amazing" sign of the love she inspired and the global solidarity her death has triggered.
Six days after her murder, people across the world paid tribute to Cox on the what would have been her 42nd birthday.
Before the-mother-of-two's election in 2015, Cox was an aid worker who became a passionate advocate in parliament for protecting Syrian civilians caught up in the devastating five-year conflict.
The man's sign says simply: "Aleppo grieves for Jo #MoreInCommon #LoveLikeJo".
The Syrian city has been the scene of devastating fighting since August 2012 in which an estimated 26,000 people have died.
Her husband Brendan Cox said the Aleppo picture reflected "such amazing solidarity".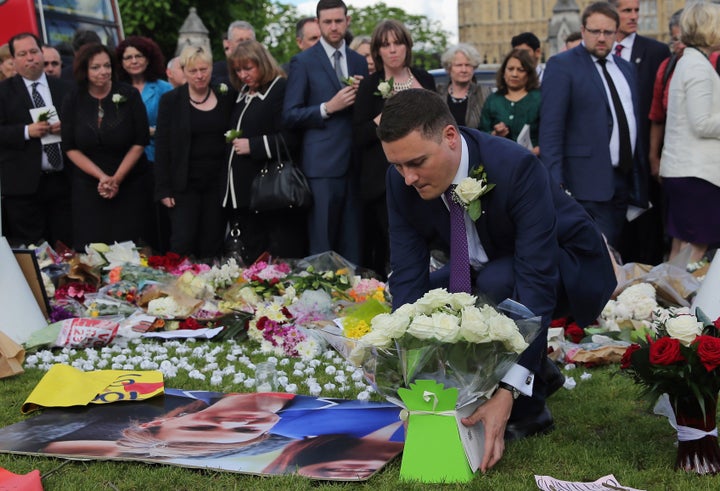 "An incredible tribute to Jo's work and to the power of unity. Our thoughts are with them," he tweeted.
The image was taken by The Syria Campaign, which advocates "a peaceful and democratic future" for the country.
"Like with all her politics, Jo's positions on Syria were rooted in her compassion for humanity and her fellow human beings," it said.
"When Jo Cox was killed on the 16th of June the Syrian people – inside and outside the country – lost their most vocal and passionate defender on the international stage."
Tributes to Cox are due to take place across the world today, including in Beirut, Brussels, Melbourne, Nairobi, New York and Washington DC, as well as her hometown of Batley.
Using the hashtag #MoreInCommon - a line from Cox's maiden speech in parliament, people remembered the MP.
On Tuesday, 1,500 parliamentarians from 40 countries signed a statement calling for more compassion in politics and pledging to uphold a legacy of love and tolerance.
"Every elected representative should reflect on those words this week. Let this be a turning point for us all," it said.
"I don't want people ascribing views to her she didn't have but I certainly want to continue to fight for the legacy and for the politics and the views she espoused," he said.
He is due to attend an hour-long rally in Trafalgar Square in his wife's memory from 4pm. A moment of silence is due to observed around the world at 4.25pm.
Earlier today, The London Assembly fell silent for a minute in her memory.
Related