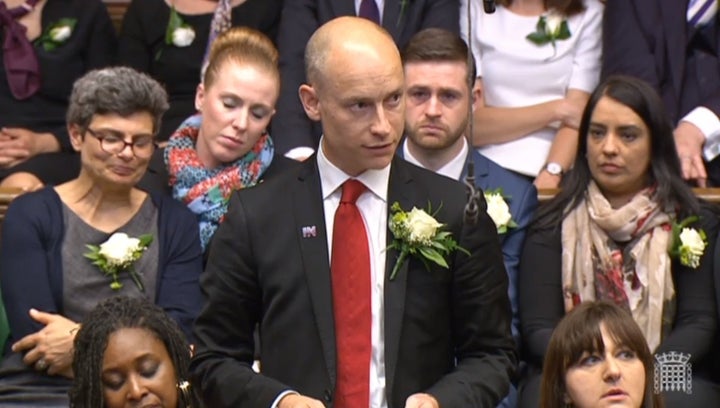 Jo Cox would "responded with outrage" to the anti-immigration poster unveiled by Nigel Farage just hours before her death, Labour MP Stephen Kinnock has said.
MPs filled the Commons on Monday afternoon to pay tribute to Cox - who was killed on Thursday.
In the days since her death, Farage has been criticised for producing a poster which showed a queue of refugees and claimed the United Kingdom was at "breaking point".
Paying to tribute to Cox today, Kinnock, who shared a parliamentary office with the Batley and Spen MP, said the billboard was part of a "harking back to incendiary slogans, the rhetoric of Britain First, that twists patrotisim from love of country into an ugly loathing of others".
Kinnock said Cox "understood that rhetoric has consequences" and that when "fear and anger are used to light a fuse then an explosion is inevitable".
"I can only image Jo's reaction had she seen the poster unveiled hours before her death, a poster on the street of Britain that demonised hundreds of desperate refugees including hungry, terrified children fleeing from the terror of Isis and Russian bombs," he said.
"She would have responded with outrage and a robust rejection of the calculated narrative of cynicism, division and despair that it represents."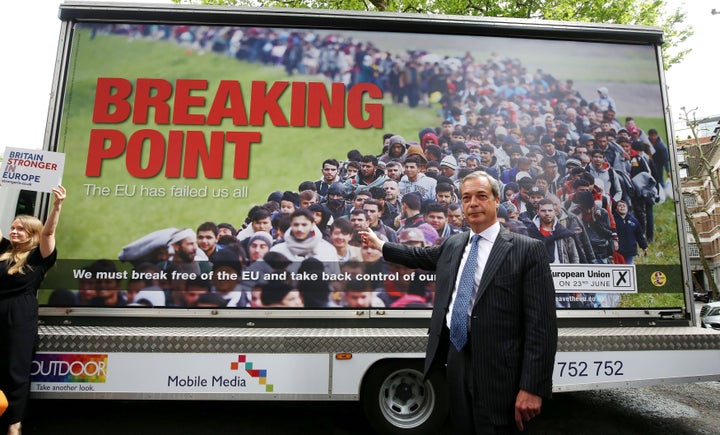 Farage has defended the poster campaign and claimed it would not have been controversial had Cox not been killed. And he accused the 'Remain' campaign in the referendum of exploiting her death.
"When I launched the poster there was no controversy at all," the Ukip leader told LBC this morning.
"What we are seeing here is the prime minister and 'Remain' campaign trying to conflate the actions of one crazed individual with the motives of half of Britain who think we should get back control of our borders and do it sensibly and I think it's quite wrong the way it's being done."
Today former Conservative Party chairman Baroness Warsi said the poster convinced her to switch sides from 'Leave' to 'Remain'.
"Are we prepared to tell lies, to spread hate and xenophobia just to win a campaign? For me that's a step too far," she told The Times.
George Osborne said the poster was "disgusting" and compared it to Nazi propaganda.
And David Cameron told BBC Question Time it was an "irresponsible" attempt to "frighten people".
Speaking in the Commons today as MPs paid tribute, Jeremy Corbyn said Cox's very life was a "demonstration against despair".
"Jo Cox didn't just believe in loving her neighbour, she believed in loving her neighbour's neighbour. She saw a a world of neighbours. She believed every life counted equally," he said.
David Cameron said "quite simply there are people on this planet today who are only here and alive because of Jo".
Introducing the tributes, Commons speaker John Bercow described Cox as "caring, eloquent, principled and wise".
"Above all she was filled with and fuelled by love for humanity. Devoted to her family and a relentless campaigner for a equally human right and social justice."
Several emotional MPs from all sides of the Commons chamber, wearing white roses, also spoke about their lost colleague.