In Spenny vs Penny we compare the products we love, with those following in their (sometimes pricey) footsteps. Are they worth the cash? Here, we try to find the best pomegranate noir candle – trying each out for an evening to see the results.

Spenny: Jo Malone Pomegranate Noir Candle, John Lewis - regular-sized £47.00 200g, small/"travel"-sized £23.00 60g.
As I watch Jo Malone's Pomegranate Noir candle flicker in my living room, it's hard to shake the feeling that I am, quite literally, burning money. The teeny-tiny 60g travel-sized sample I'm trialling costs £23.00, while you'll barely receive change for a 50 if you fork out for the regular 200g candle.
Yet as the mixture of pomegranate, raspberry, plum, pink pepper, Casablanca lily and spicy wood fills the room, I am seduced. Despite the small size, the candle packs a punch, but at the same time, it's not overpowering. Just a rich, perfectly balanced blend that's not too dark and woody, not too sweet and light.
The iconic cream and black packaging is luxurious, if a little wasteful: the candle arrives with a lid adorned with a tiny black ribbon, and is then placed in a Jo Malone-branded box, nestled in black tissue paper. This is then placed in a branded shopping bag, adorned with yet another black ribbon. I imagine working on the packing line is a bit like being Rowan Atkinson in 'Love Actually', but I guess it's another way to justify the price tag.
The 200g candle has an estimated burn time of 45 hours, while the smaller 60g one lasts for 18 hours. I'm pleased to see the candles are made from soy wax, which is created using soybean oil and is sustainable.
Despite myself, I'm falling head-over-heels for a candle I certainly won't be able to afford to buy regularly. So now I've developed a nose for the luxury stuff, how will the cheaper alternatives compare?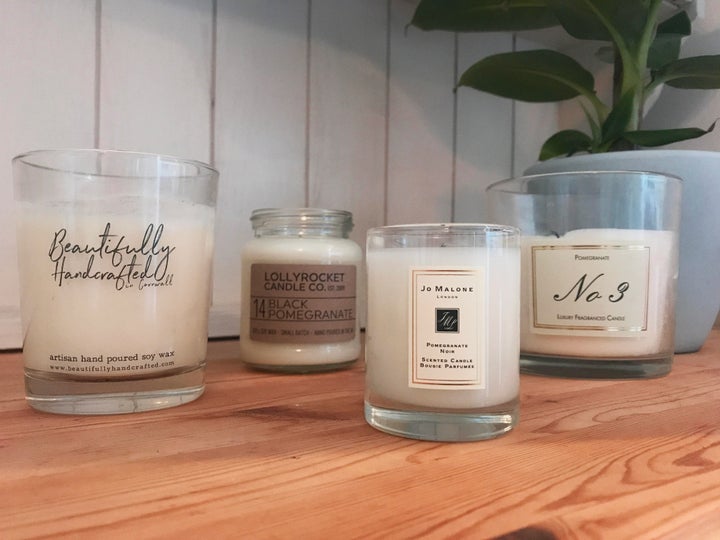 Penny(ish): Pomegranate Noir Scented Soy Candle by BeautifullyHC – Etsy, £8.00 (90g) or £18 (160g).
BeautifullyHC, which stands for "beautifully handcrafted", is an independent business in Cornwall selling vegan-friendly candles that'll make you feel as good as they smell. The Pomegranate Noir candle comes in completely recyclable packaging and is made using environmentally-friendly ingredients. Not only does the candle use soy wax, but the makers go one step further to create a sustainable product, using natural, cotton-linen wicks.
When the candle arrives it immediately reminds me of relaxed, laid back Cornwall, with its understated yet attractive brown packaging and simple glass container.
The scent is described by the makers as having "top notes of juicy red fruits, reminiscent of pomegranate that fall away to floral mid tones". While Jo Malone's scent feels comforting and designed for deepest winter, this candle is lighter, filling the room with spring-like freshness. The smell is enjoyable but fairly subtle, which is not necessarily a bad thing; of all the candles, this is the only one my boyfriend doesn't object to having on while we're eating dinner.
The candle isn't the cheapest in the list – I'm testing the £18 (160g) version with an estimated burn time of 40 hours, but a more affordable £8 (90g) version that burns for 18 hours is also available – but I wouldn't mind paying the extra in future. Knowing your candle has sound eco-credentials also helps justify the cost.
Penny(ish): Black Pomegranate Scented Soy Candle by Lolly Rocket Candle Co, Not On The Hight Street - £9.50 (147g).
The seller describes this candle as having a "stunning and mysterious" scent, but something else comes to mind as I unscrew the cap and release the aroma: Maoams. You know, those chewy, artificially fruity sweets you (probably) loved as a child.
Now, I enjoy a Maoam as much as the next person, but I'm not sure I want my flat to smell like a sweet shop. It pains me to say it – because I'm all for supporting small businesses – but this candle has my least favourite scent of the four. It comes with an estimated burn time of 40 hours, and thankfully, the sweet scent seems less strong once it's burning. Still, I blow it out within 30 minutes.
That said, you can tell the vegan-friendly candle is handmade with love, right down to the cute polka dot tissue it comes carefully wrapped in. The wax is environmentally-friendly soy and the jam jar-style container with screw top gold-coloured lid can be reused as a trinket box afterwards. It hasn't got the classy appeal as some of the others, but I think 15-year-old me would have enjoyed this candle, nestled on a shelf next to Versace Red Jeans perfume, trying (and only just failing) to be grown up. That said, if you like your scents sweet, this is one for you.
Penny: Pomegranate Glass Candle, Aldi, £3.99 (290g)
With a cream and black design, Aldi's pomegranate candle is the most closely styled to Jo Malone's, but comes at a fraction of the price at just £3.99. Although the design is simple, I'm not a huge fan of the sticker, which reads "No 3" (what does that even mean?), but this can be peeled off easily if you'd rather have a plain glass case.
For the price, I'm impressed the candle also comes with a metal lid, which can double up as a surface protector or be used to trap in the scent when the candle isn't in use. It's also the largest candle of the four, at 290g with an estimated burn time of 48 hours. The double wick is a nice touch, meaning the candle really adds a blast of light to a dark corner of the room.
The scent itself is pleasant with a careful balance of sweet fruit and woody undertones, but it lacks the depth of the Jo Malone version. The smell doesn't envelope the room like its expensive counterpart, or leave a trace long after it's been blown out. Worth noting, the candle is the only one of the four to be made from paraffin wax.
As far as supermarket candles go though, it's not half bad. As good as Jo Malone's? Probably not. But it won't bankrupt you either.
We all work hard to earn our money – so it shouldn't feel like hard work to spend it well. At HuffPost Finds we'll help you find the best stuff that deserves your cash, from the ultimate lipstick to a durable iron to replace the one that broke (RIP). All our choices are completely independent but we may earn a small commission if you click a link and make a purchase.