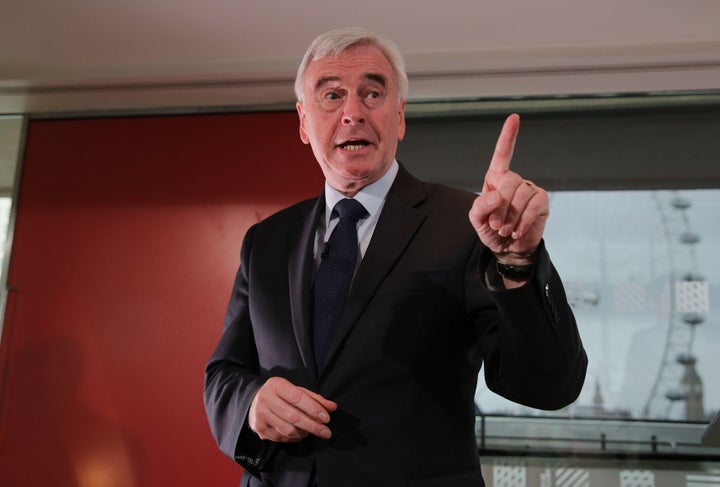 John McDonnell has sensationally accused the Labour Party of trying to rig the leadership election against Jeremy Corbyn.
On Thursday evening the shadow chancellor attacked officials in his own party after Ronnie Draper, general secretary of the bakers' union BFAWU, was suspended from the party and told he cannot vote in the leadership election.
McDonnell said the decision was "shocking, and appears to be part of a clear pattern of double standards".
"While Ronnie, a supporter of Jeremy Corbyn, has been denied his say in Labour's election, no action is being taken over the Labour peer, Lord Sainsbury, who has given more than £2m to support the Liberal Democrats," he said.
Draper has said his suspension related to something he wrote on social media. The union leader is a supporter of Corbyn
Corbyn will face his leadership challenger Owen Smith in a televised debate on Thursday evening.
""Labour party members will not accept what appears to be a rigged purge of Jeremy Corbyn supporters"
McDonnell said in a statement today: "And no action has been taken against Michael Foster, the Labour party member who abused Jeremy Corbyn's supporters and staff as Nazi stormtroopers in the Daily Mail.
"Both will, as things stand, be able to vote in this election. Meanwhile, thousands of other members and registered supporters are reported to have been denied a vote without being given an explanation or opportunity to challenge the decision or process.
"Labour party members will not accept what appears to be a rigged purge of Jeremy Corbyn supporters. The conduct of this election must be fair and even-handed.
"I am writing to Labour's general secretary Iain McNicol to demand that members and supporters who are suspended or lose their voting rights are given clear information about why action has been taken and a timely opportunity to challenge the decision.
"In particular, the specification of particular terms of abuse to exclude Labour party members from voting should not be applied retrospectively."
Labour MP and Corbyn opponent John Woodcock called McDonnell's comments "an insult" to Labour staff and an attempt to "distract from [Corbyn's] campaign melt down".
Related