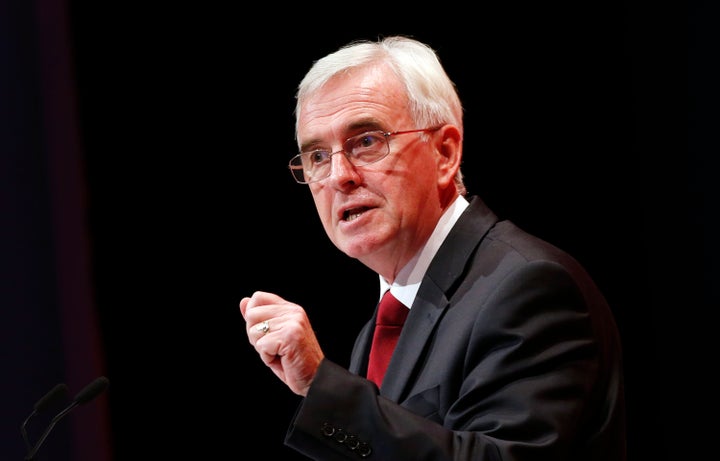 Labour will not seek to "block or delay" the triggering of Brexit and will oppose any moves to hold a second referendum, John McDonnell has said.
The shadow chancellor also said on Monday that it was time people were "more positive about Brexit" given the referendum result.
His comments have led to accusations that Labour is guilty of "capitulation" on leaving the EU.
Some Labour MPs have said they will join the Lib Dems and others in voting against the triggering of Article 50 when it is brought before the Commons. But speaking in central-London today, McDonell said Labour's official position would be to fight over the terms of Brexit rather than try and prevent it from happening.
This afternoon, the BBC reported the government was preparing a short three line bill to put before MPs to allow Theresa May to meet her March deadline to trigger Article 50.
Asked what Labour would have over May's Brexit plan given he had promised not to frustrate in parliament, McDonnell said he would apply "moral pressure".
"Labour accepts the referendum result as the voice of the majority and we must embrace the enormous opportunities to reshape our country that Brexit has opened for us," he said.
"In that way we can speak again to those who were left behind and offer a positive, ambitious vision instead of leaving the field open to divisive Trump-style politics.
"It is time we all were more positive about Brexit"
"This means we must not try to re-fight the referendum or push for a second vote and if Article 50 needs to be triggered in parliament Labour will not seek to block or delay it.
"To do so would put us against the majority will of the British people and on the side of certain corporate elites, who have always had the British people at the back of the queue.
"The question of what Brexit means will be fought in the months and years through the negotiations and in the next election when we will define what a post-Brexit Britain looks like.
McDonnell added: "It is time we all were more positive about Brexit. Labour wants to see an ambitious Brexit Britain."
McDonnell's position was criticised by Green Party leader Caroline Lucas. "Labour's premature capitulation on Article 50 leaves those of us who oppose a hard brexit in a weaker position. As a result we now have less power to persuade the Government to give us proper details on their plans ahead of a vote," she said.
"Though we should not seek to overturn the result of the referendum it is down to us as MPs to look closely at the deal on the table before throwing our support behind the Government's plans. A small majority of people voted to leave the EU, but without any clear plan of what such a vote would mean. I'd urge Labour to rethink their stance on this. The Government should not be able to ride roughshod over Parliament – and MPs should be demanding more details from Ministers before standing aside and letting them pursue brexit entirely on Tory terms."
According to a leaked memo prepared for the Cabinet Office, May's government has no Brexit plan and a poor understanding of what leaving the EU means for industry.
The November 7 memo obtained by The Times also suggests that Cabinet splits are delaying the Government's ability to agree a negotiating strategy ahead of its goal to begin the Brexit process by April.
Titled "Brexit Update", it criticises the Prime Minister for "drawing in decisions and details to settle matters herself", and warns that big companies will "point a gun at the Government's head" after Nissan was given assurances about trading conditions once Britain leaves the EU.
Downing Street dismissed the memo. "It's an unsolicited document that has nothing to do with the government, not produced by government," a spokesperson for the prime minister said.
Popular in the Community