Boris Johnson stands accused of abandoning promises to accept unaccompanied child refugees in new Brexit legislation.
The so-called Dubs amendment – named after Labour peer Lord Alf Dubs – passed in May 2016, required the government to act "as soon as possible" to relocate and support unaccompanied refugee children in Europe.
Theresa May's administration accepted it but shadow Brexit secretary Keir Starmer claims the new prime minister is rowing back on May's commitment in the new Withdrawal Agreement Bill tabled by the government.
There is no clause binding the government in the new bill set to be debated tomorrow, which sets out the terms on which the UK will break from the bloc next month.
Instead, it says ministers will simply "make a statement" to the Commons on the issue, suggesting the Dubs amendment may be watered down by Johnson now the Tories have an 80-seat majority.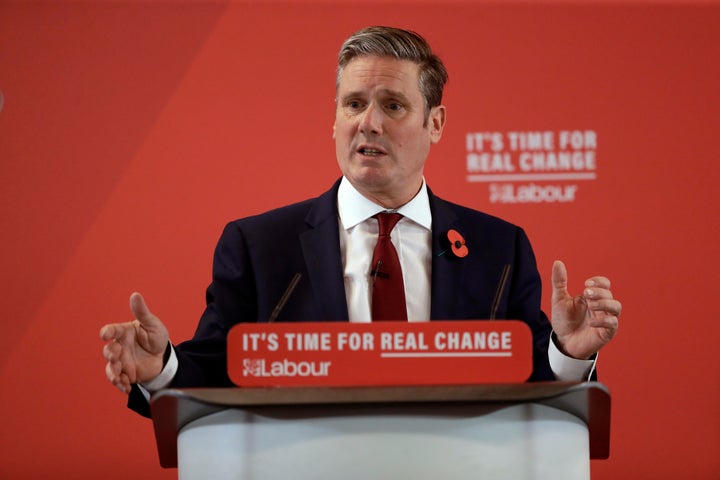 Starmer, one of the Labour MPs bidding to succeed Jeremy Corbyn as Labour leader, told HuffPost UK: "During the last parliament, Labour's Alf Dubs led the campaign to protect child refugees post-Brexit. The Tories now want to tear up those protections.
"As we leave the European Union we cannot abandon our values of human rights and internationalism. Labour must continue to stand up for the most vulnerable people in the world."
The government has denied the claim that it is planning to renege on May's previous commitment.
The PM's spokesperson said the government plans to negotiate a new agreement with the EU and does not want legislation to tie the hands of the UK.
He said: "We remain absolutely committed to ensuring that children claiming asylum or international protection can be reunited with specified family members in the EU and vice versa.
"The government's policy on refugees has not changed and we will continue to do all we can to enable children to claim asylum and be reunited with their families."
The government insisted its aim was still to reach an agreement with the EU to take child refugees but ministers did not plan to set out the full plan in the legislation.