Joseph Fiennes may have courted controversy already with news that he is set to play Michael Jackson in a new film including the late singer, but he is hoping his new film won't divide potential viewers in the same way - pretty wishful thinking, considering it's the tale of the Crucifixion and what came after, through the eyes of a non-believing Roman soldier.
"'Risen' a respectful retelling, following the framework of the Scripture, but departing from it for narrative purposes," he tells HuffPostUK carefully. "It's clearly one for the believers, but I hope we've struck a balance between groups that traditionally polarise the issue."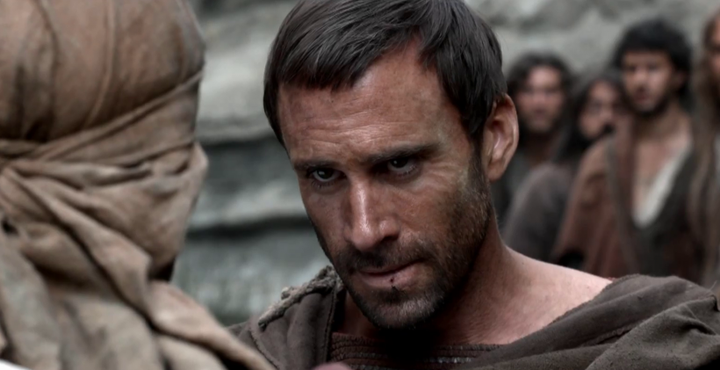 The film takes its starting point, unusually, as the day of the Crucifixion, witnessed in the film by Joseph's character Clavius, a favourite at the forum of Pontius Pilate (Peter Firth), who calls upon him to investigate once the unbelievable happens, and Jesus' body goes missing from the cave.
What Clavius discovers, and how he reacts to it is the core of the tale. Joseph Fiennes, who describes himself as an atheist agnostic - "Lapsed? Yes. Flawed? Yes" - says he nevertheless finds it fascinating the idea that a rational man may find himself questioning everything he thought to be true.
"It's a question of how deeply we are conditioned, and the chance to look at life through a different lens, breaking through our conditioning and all our knee-jerk reactions. I think those experiences transcend religion.
"Am I fallible? Yes. But I take on the worth and importance of asking these questions, a readiness to promote the conversation.
"How much do we need to witness something to believe in it? I feel like my character in the film is an Everyman in that regard."
Of course, his character is also olive-skinned, an irony not lost on Joseph, ahead of his taking on the role of Jackson in the forthcoming 'Elizabeth, Michael and Marlon'. While he bats off talk of this future project - "we will have a really long conversation about that, I'm sure" - he is confident regarding the provenance of his 'Risen' character.
"Regarding Clavius, it would make sense that he would have Celtic roots," he explains on the subject of the Roman centurion's relatively pale skin. "They were the roots of many a tribe in Judaea so it made sense to me."
'Risen' is on release in UK cinemas today. Trailer below:
Related