Hundreds of thousands more children and pensioners are living in poverty as rates have begun rising for the first time in two decades, a new report has revealed.
The Joseph Rowntree Foundation says progress on tackling hardship is at risk of unravelling, with 400,000 more youngsters and 300,000 more elderly people now living in poverty than in 2012/13.
The charity says since that year there has been continued increases in poverty across both age groups and very little progress made in reducing poverty among working-age adults.
Chief executive Campbell Robb said: "These worrying figures suggest that we are at a turning point in our fight against poverty. Political choices, wage stagnation and economic uncertainty mean that hundreds of thousands more people are now struggling to make ends meet. This is a very real warning sign that our hard-fought progress is in peril.
"Action to tackle child and pensioner poverty has provided millions of families with better living standards and financial security. However record employment is not leading to lower poverty, changes to benefits and tax credits are reducing incomes and crippling costs are squeezing budgets to breaking point."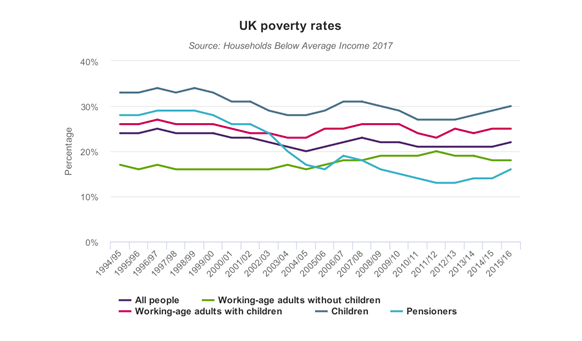 Robb said Philip Hammond's 2017 budget offered little to ease the strain and put low income households' finances on a firmer footing.
"As we prepare to leave the EU, we have to make sure that our country and our economy works for everyone and doesn't leave even more people behind," he added.
The foundation said new threats are emerging to people in the poorest fifth of households, including becoming trapped in 'in work poverty - where at least one person in the household is employed, struggling to be able to afford a home, rising living costs and being unable to afford bills or save for retirement.
It has urged the government to end the four-year freeze on working-age benefits and tax credits, which it says is the single biggest driver of poverty.
Shadow work and pensions secretary Debbie Abrahams said the increase in rates is "totally unacceptable".
"The last seven years of flat-lining wages and austerity cuts, now combined with sharply rising costs of household essentials is a truly terrifying prospect for millions trying to make ends meet," she added.
"The cuts to Universal Credit, which were not addressed in the recent budget and mean that 'work does not always pay', will push even more children and working age adults into poverty.
"Even the government's own social mobility commission has resigned over their failure to act."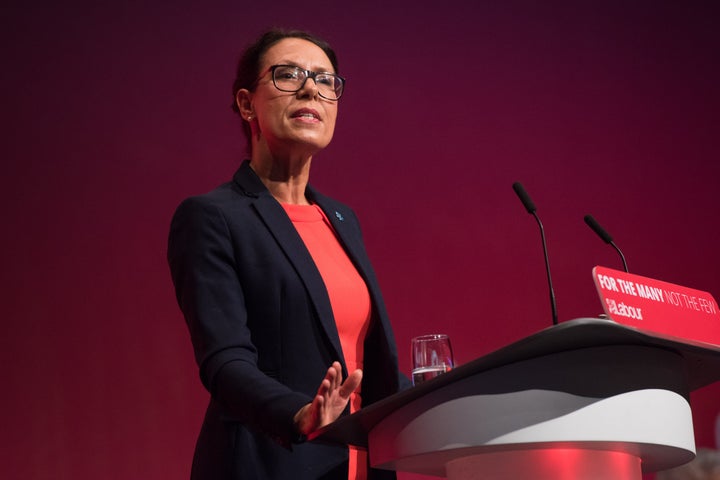 Former Labour minister Alan Milburn, who headed up the commission, said he decided to step down because Theresa May's weak leadership meant there was little prospect of turning "good words" on social justice into action.
JRF's report shows 20 years ago a third of children lived in poverty, which fell to 27% in 2011/12.
In 1994/95, 28% of pensioners lived in poverty, falling to 13% in 2011/12.
The charity said the falls were achieved by higher employment rates, more generous support for families through tax credits and extra help for poorer pensioners and rates remained stable despite the 2007 financial crash.
But it added changes to welfare policy - especially since the 2015 budget – have reduced families' financial breathing space, with wage growth at the bottom end of the labour market failing to make up the difference.
Lib Dem leader Vince Cable said: "This report sounds the death knell for Theresa May's claim to be building a country that works for everyone.
"Instead of tackling social injustice, the government's policies are worsening inequality and hitting the poorest in society hardest.
"The significant progress made recently in reducing child and pensioner poverty is now going into reverse, due to a growing squeeze on living standards combined with harsh welfare cuts."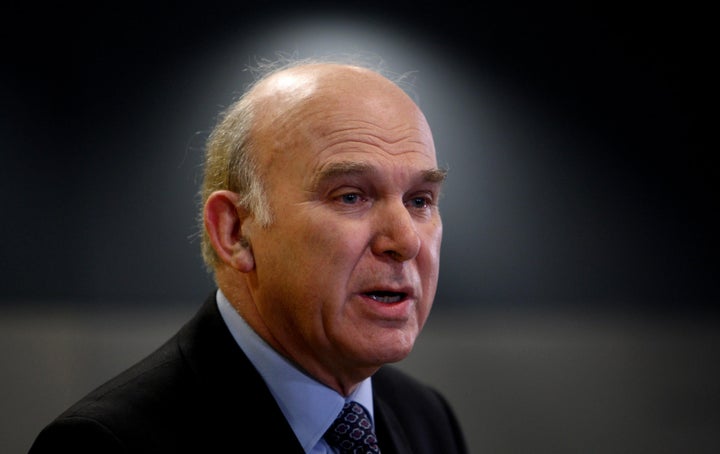 Oxfam said it was "deeply concerned" that securing a job was no longer enough to escape poverty in modern society.
Rachael Orr, head of the charity's UK programme, added: "It's not just working adults who are affected, but their children too, and it's a real worry to see progress on child poverty going into reverse.
"The government needs to make sure that work pays, so hard working families are not falling below the poverty line. Their Industrial Strategy, published last week, would have been a good place to start, but sadly was a missed opportunity."
Ryan Shorthouse, director of liberal Conservative think tank Bright Blue, said the government was right to prioritise cutting the deficit, but that the axe had fallen "disproportionately and unnecessarily" on working-aged benefits since 2010.
"Although there has been some real progress in reducing material poverty among certain social groups in recent decades, poverty is now rising again, especially among families with children, which will thwart life chances and cost society billions," he added.
"The government needs to focus tax cuts on those on the lowest incomes and restore, at least in part, the work allowances in Universal Credit. Its vision for welfare should not be cost cutting, but to build a contributory-based system."
Related