June marked the 14th month in a row to have broken average global temperature records.
It was 0.9 degrees Celsius hotter than the average global temperature for the 20th century and broke the 2015 record by 0.02 degrees Celsius.
Gavin Schmidt, director of NASA's Goddard Institute for Space Studies, told NPR: "2016 has really blown that out of the water."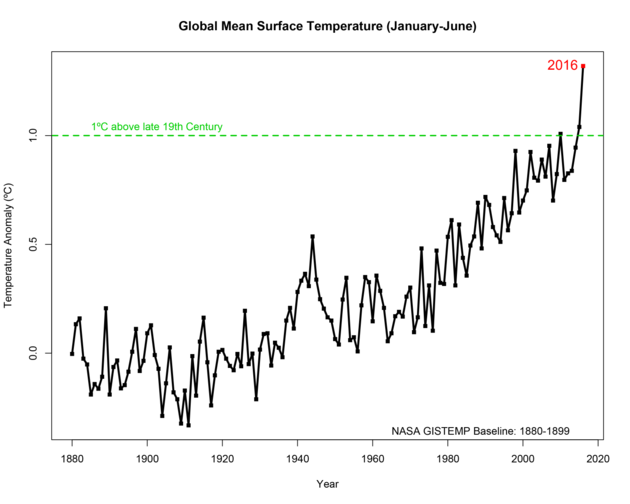 This year's powerful El Nino is partly responsible for the searing heat of late. But its influence now appears to be fading, revealing the impact of global warming.
Schmidt said in a statement this week: "While the El Niño event in the tropical Pacific this winter gave a boost to global temperatures from October onwards, it is the underlying trend which is producing these record numbers."
However, the global heatwave has also been exacerbated by a period of extreme warming in the Arctic, according to NASA.
Walt Meier, a sea ice scientist at the agency, said: "It has been a record year so far for global temperatures, but the record high temperatures in the Arctic over the past six months have been ever more extreme.
The area of Earth covered by Arctic sea ice has shrunk by 40% since the 1980s, NASA said.
Climate scientists have been taken aback by the rate of temperature change.
In May, Astrid Caldas, a climate scientists with the Union of Concerned Scientists told HuffPost US: "I think most climate scientists are surprised at the speed that it's happening. But at the same time, with emissions peaking again last year... everything was pointing to an increased temperature.
"It's the amount by which the records are being broken, not the fact that the record's being broken, that's really striking."