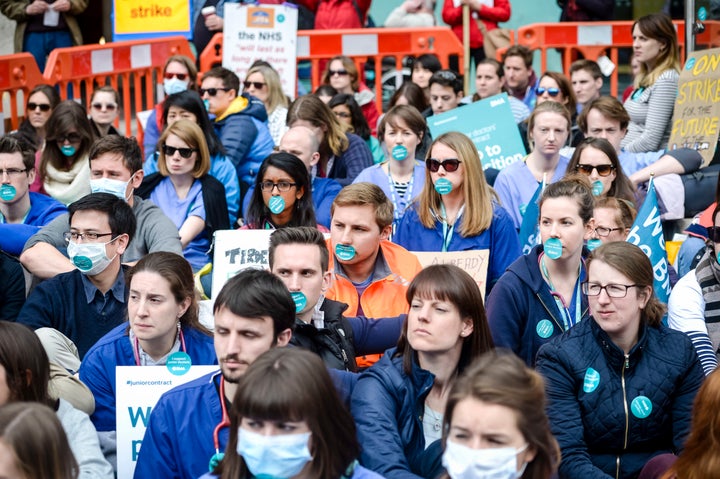 The British Medical Association has announced it is suspending industrial action planned for the week of September 12.
A spokesperson for the union said: "The remaining programme of industrial action stays in place."
Junior doctors had been planning a five-day walkout from September 12 to 16.
But while the first strike is suspended, further action in the run up to Christmas remains scheduled.
JUNIOR DOCTORS' STRIKE DATES:
October 5, 6, 7, 10 and 11
November 14 to 18
December 5 to 9
A statement from Ellen McCourt, the BMA's new junior doctor committee chair, read:
"Over the past few days we have been described as radical, we have been described as militant, we have been described as prioritising ourselves over our patient's safety. This is not true.

"Patient safety remains doctors' primary concern. For the first time in this dispute NHS England have told us that a service under such pressure cannot cope with the notice period for industrial action given. Our hospitals are chronically under staffed. Our NHS is desperately underfunded. We have to listen to our colleagues when they tell us that they need more time to keep patients safe.

"We have also listened to the concerns of working doctors, patient groups and the public. Thousands of you have been in touch, your level of anger over the Secretary of State's imposed contract remains high, but at the same time you want to keep your patients safe during industrial action.

"The BMA is therefore suspending the industrial action planned for the week of 12 September. The remaining programme of industrial action stays in place.

"This does not absolve the Secretary of State. He continues to ignore our request to stop the imposition.

"He continues to force upon junior doctors a contract that discriminates against carers, parents. doctors with disabilities and women, a contract that devalues our time and a contract that disincentives careers in our most struggling specialties.

"He continues to strive towards an uncosted, unfunded. unstaffed extended seven day service. He continues to disregard the concerns junior doctors have about staffing shortages and patient safety.

"Future action is, however, still avoidable. The BMA has repeatedly said that it will call off further action if the Secretary of State stops his imposition of the contract, listen to the concerns of junior doctors, and works with us to negotiate a contract, based upon fresh agreed principles, that has the confidence of junior doctors.

"There are four weeks until October. The Secretary of State must use this time to listen and act."
Prime Minister Theresa May has previously accused the BMA of failing to put patients first and "playing politics".
"Doctors, even on the other side to me in this dispute, recognise that we need to do better in terms of consistency of services offered at weekends," her health secretary Jeremy Hunt said on Friday.
"They should be sitting round and talking with us, not choosing this path of confrontation."
A Department for Health spokesperson said: "As doctors' representatives, the should be putting patients first not playing politics in a way that will be immensely damaging for vulnerable patients.
"What's more, the must be the first union in history to call for strike action against a deal they themselves negotiated and said was a good one.
"Whilst there are many pressures on the frontline, funding is at record levels, with the highest number of doctors employed in the history of the NHS. Co-operation not confrontation is the way forward to make sure patients get the best treatment and the NHS is there for people whenever they need it."
Popular in the Community