Kashmir is no stranger to conflict, and after a controversial move from India's Prime Minister Narendra Modi, there are fears the region could be heading for further bloodshed.
Tensions began rising earlier this week, when Modi suddenly stripped the region of a special status - Article 370 of the constitution - that protects many of its residents.
But Kashmir's tumultuous story goes much further back than August 2019.
As protests take place and curfews remain enforced, here's everything you need to know about what's happening.
A Geography Refresher
First of all: Kashmir itself. In recent news reports, "Kashmir" is being used to refer to one part of a large region, which actually straddles Pakistan, India and China.
Each of the three countries administers different territories within Kashmir. The part within Indian borders is the state of Jammu and Kashmir, Pakistan administers Azad Kashmir and Gilgit-Baltistan, and China has Aksai Chin and the Trans-Karakoram Tract.
The region has been at the centre of countless disputes (and the site of wars) throughout history. Its current state – with each country effectively having part Kashmir – was brought about after the partition of India in 1947. While the split has been in place for decades, both India and Pakistan still claim the whole region in its entirety. Two of the three wars the nuclear-armed neighbours have fought since their independence from British rule were over Kashmir.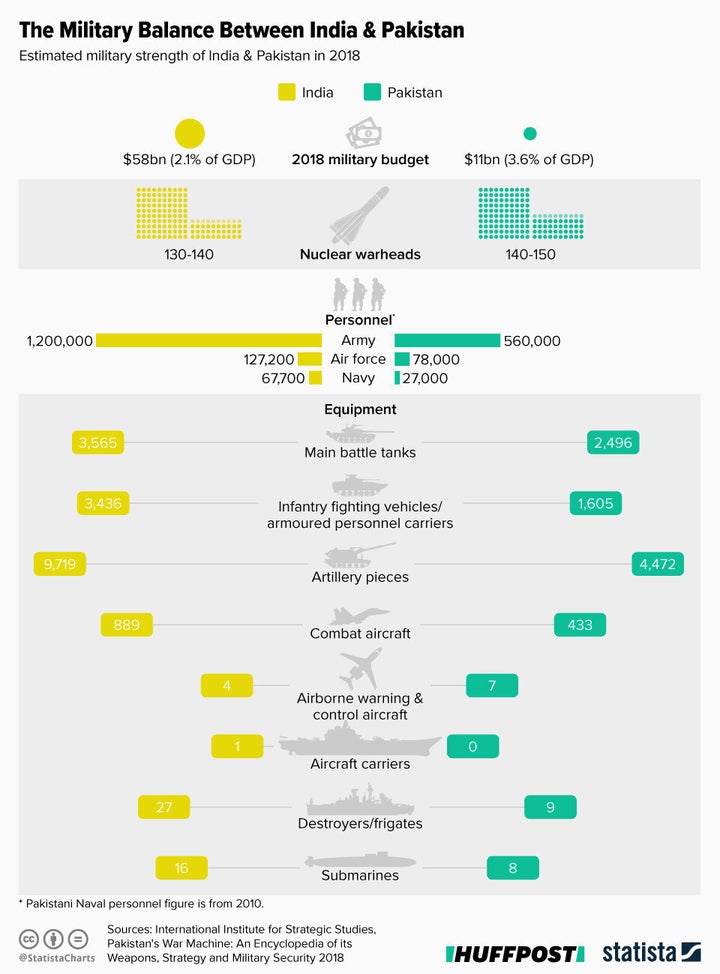 Jammu And Kashmir Had A Special Constitutional Status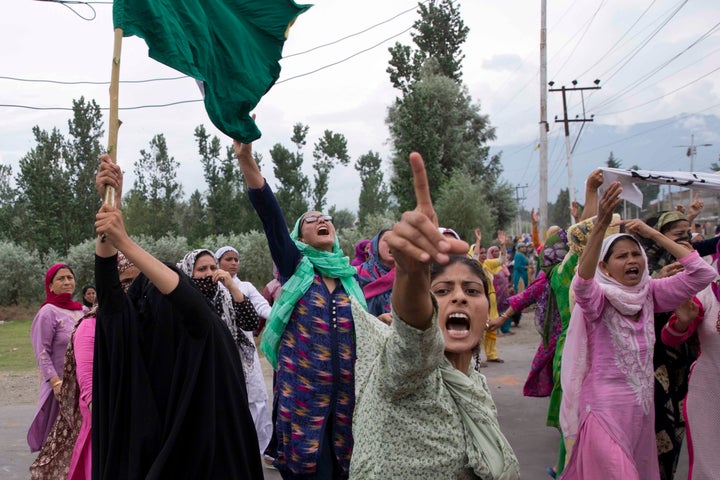 Jammu and Kashmir makes up around half of the geographical area of Kashmir, and it's this state that is the subject of the latest conflict.
Jammu and Kashmir has a special constitutional status, under Article 370, which allows it to govern itself in many ways, and allows Kashmiris to buy property, hold government jobs or win education scholarships. It also meant that Indians from outside the state could be prohibitedfrom purchasing property or settling there.The rules largely safeguard the future of the majority-Muslim population who live there.
However the government has said the special status was only a temporary measure.
Prime Minister Modi Has Revoked It
This is where the conflict has arisen. On August 5, India's Hindu nationalist-led government initiated the revocation of Kashmir's special status – a move which immediately sparked outrage and even the threat of war. Kashmiris now fear this will lead to a demographic transformation of the region from majority Muslim to majority Hindu.
The government has also decided to split the state into two union territories – Jammu and Kashmir, which will have a legislature, and Ladakh, which will be ruled directly by the central government without a legislature of its own.
India Then Placed Kashmir On Indefinite Lockdown
Pre-empting the furious reaction its announcement would be met with, the Indian government deployed at least 10,000 extra troops to Kashmir, which was already one of the world's most militarised regions.
India also ordered thousands of tourists and Hindu pilgrims to leave the region and shut off most communication with the area, including the internet, mobile phones and landline networks.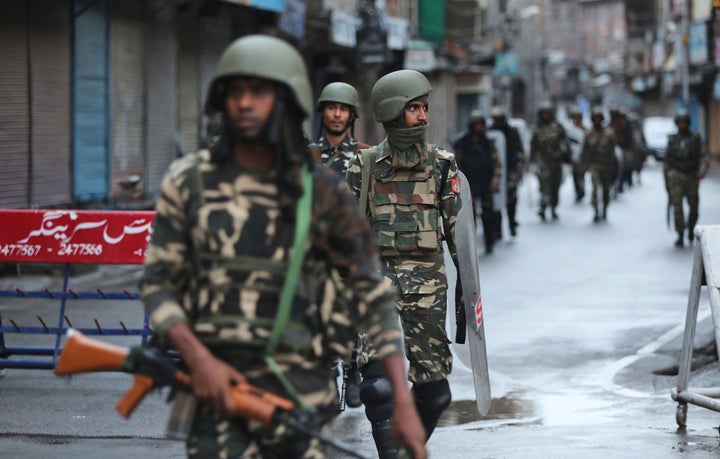 Authorities enforcing the strict curfew will deliver trucks of essential supplies for Eid from today, and the indefinite curfew was briefly eased last week, for weekly Muslim prayers in some parts of Srinagar, the region's main city.
This heavy-handed approach has obviously not helped ease any tensions, which brings us to...
Pakistan's Response
Both the Pakistan government and people are furious with tensions soaring along the Line of Control, the volatile, highly militarised frontier that divides Kashmir between India and Pakistan.
Hundreds of people in various parts of Pakistan and in its part of Kashmir have rallied against Modi, burning effigies of him and torching Indian flags.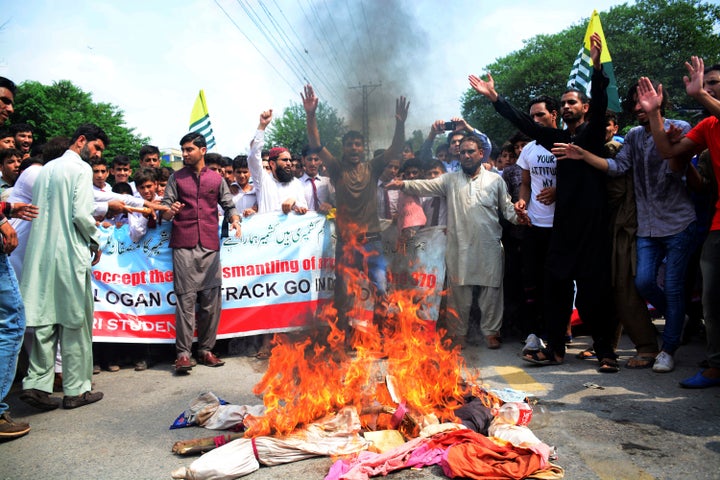 Earlier this week, Pakistan's prime minister Imran Khan told MPs that he fears the angered Kashmiri people could attack Indian security forces – and that New Delhi could blame Pakistan for it.
"If India attacks us, we will respond," Khan said. "We will fight until the last drop of blood."
In Islamabad on Friday, about 8,000 supporters of the Pakistani Islamist party Jamaat-e-Islami marched towards the Indian embassy to denounce New Delhi's action on Kashmir. Hundreds of activists held similar peaceful rallies across Pakistan.
In February, a bombing in Indian-controlled Kashmir killed 40 Indian troops. India responded with an air strike inside Pakistan, blaming a Pakistani group for the attack.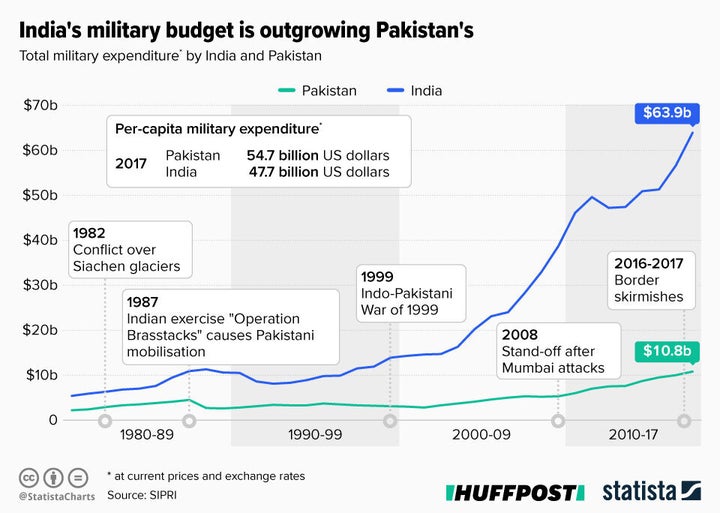 What Now?
Meanwhile, Pakistan has downgraded diplomatic relations and cut off bilateral trade with India. The country's government has also said it would be referring the Kashmir issue to the United Nations Security Council and is considering an approach to the International Court of Justice over India's action.