Katherine Jenkins, accomplished classical singer and songwriter, talks to well-known TV presenter and broadcaster Anita Rani, in the second of a series of InSync Stories, produced in conjunction with Activia.
The series brings together inspiring women who share their stories of how they balance their personal lives with successful careers. We also discover how they recognise their InSync moments - when they feel confident, in control, and like they're reaching their full potential.
In this second video, Katherine and Anita reflect on how they have both embraced new career challenges, overcoming their initial fears and self-doubt. The two women bond over their shared love of the outdoors and how it helps to keep them centred. They also discuss preparing for stage or live TV appearances: how they maintain confidence while pushing themselves to continually improve their performances.
Anita, 38, is perhaps best known as a presenter on the phenomenally successful Country File. The show regularly pulls in over nine million viewers, making it the most popular factual programme on TV currently. Last year, Anita reached the semifinals (and an even larger audience!) in Strictly Come Dancing and this summer she's been co-presenting This Morning with James Martin. But her success hasn't come overnight. Like Katherine, Anita shares a determined work ethic and has been steadily working her way up the presenting ranks since her first job on Channel Five's The Edit in 2002.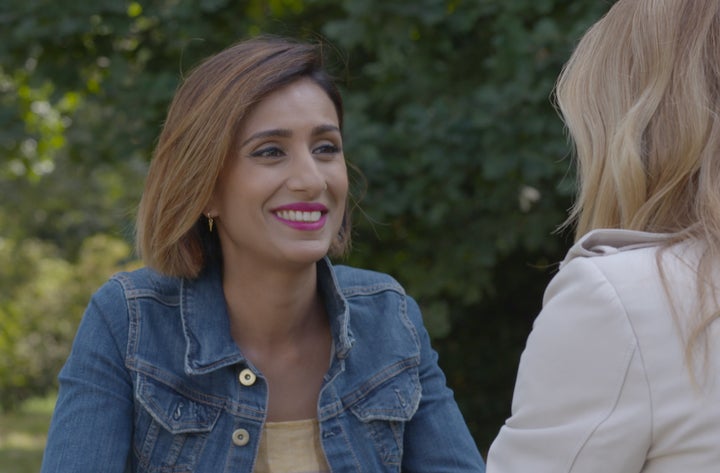 Embracing opportunities
Katherine says: "I've been so lucky with my singing, but I think the world's for the taking and you've got to go out and experience everything."
Anita agrees readily with this ethos of embracing opportunities offered. "You don't know what life's got in store for you. The worst thing you can do is put a block up," she says.
She admits she had never danced before her success on Strictly "but there was also no doubt in my mind that I was going to give it my all."
Katherine, 36, says she shared exactly the same attitude when she appeared in the US version of Strictly, Dancing With The Stars. "I just threw myself into it, because you do, don't you? I'm not going to do this half-heartedly."
Anita and Katherine agree they are best placed to embrace opportunities when they are feeling InSync. "I know when I'm in sync when I'm calm and I'm excited to walk out on stage," says Katherine.
Anita feels most InSync when she's not over-thinking things. "If I'm not self-conscious then I know it's going well. It's as soon as you start thinking: 'Oh there's a camera on me, and it's the royal wedding and billions of people are watching', then it's game over. You've got to lose your inhibitions."
Katherine and Anita talk about how this state of excitement but calm sense of purpose has to be worked at. Katherine admits she often has to calm her dissenting inner voice, for example before she was about to sing at the Queen's 90th birthday celebrations. "But that's where confidence comes in, being able to talk yourself back into a place where you can recognise the experience and the hard work that has gone into that moment."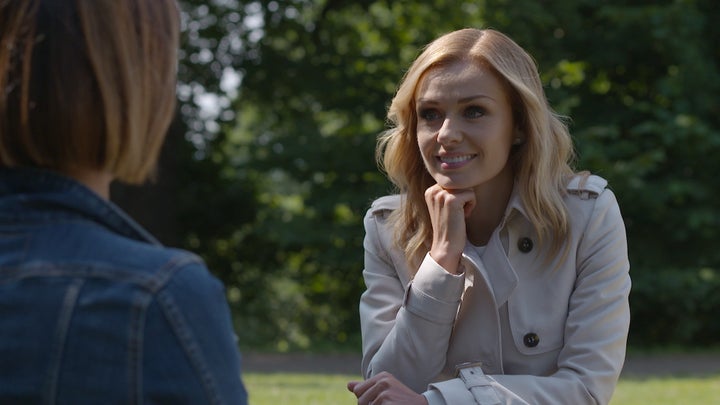 Anita says she thinks self-confidence is about how you project your energy demonstrating "that positive strength" so your team have faith in you. The video ends with these two successful women giggling over how confidence grows with each challenge met but it's still a case of 'fake it till you make it' sometimes.
Confidence: Go for it!
Psychotherapist Hilda Burke says: "When you're faced with a new situation, like a job interview or a work decision, it's important to take stock and give yourself a pep talk. You've done A, B, C, so of course you can do D.
"When you're anxious and full of self-doubt about accomplishing something new, it's worth thinking if you pass up an opportunity and remain cruising in your comfort zone, how would you feel in six months time? That usually prompts people to say, OK, I'll give it my best shot."
The InSync Stories video series, produced in conjunction with Activia, sees inspiring women reflect on their lives and the ways they stay InSync - balancing career success, family life and finding personal fulfillment. The series is hosted by prolific classical-crossover singer and songwriter Katherine Jenkins, OBE, and Victoria Pendleton, women whose work and family life exemplify what it means to be InSync.
Activia believes that women can achieve their best when they feel InSync - with a sense of harmony, order and control. For more InSync inspiration, go to danoneactivia.co.uk.
Related