Katie Price has revealed doctors have warned her it could take as long as two years for her to heal properly after breaking both of her feet.
In a new vlog recorded before she underwent surgery last week, the reality star and former glamour model set the record straight to those questioning the legitimacy of her injuries, revealing what she's been told by her doctors.
"The update on my feet, they are saying it will take two years for me to be back on my feet after proper rehabilitation," she told her subscribers.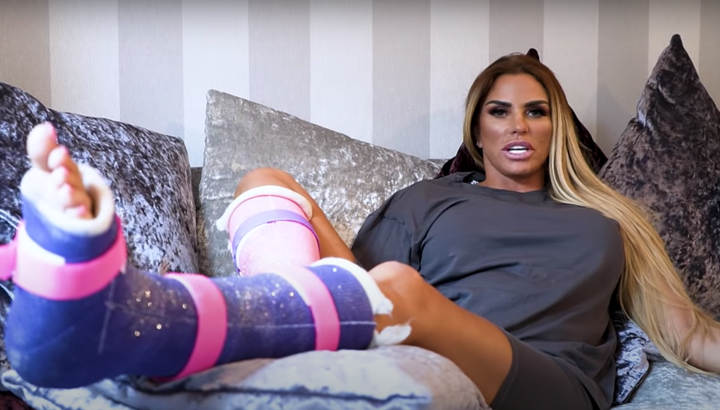 Later in the video, Katie also says she will have arthritis and feel pain in her feet "for the rest of my life".
Taking on her detractors, she said: "For some reason, people think I'm lying about breaking my feet. Number one, why would I lie about it?
"And number two, people are saying 'oh it's her trying to get sympathy'. Why do I need to get sympathy? Why do I need to pretend I've broken my feet? If anything, that's aggro, and that's sick to do that."
She continued: "So many trolls have literally said… where I had my kneepads on and I was shuffling getting into a car, 'well if she's broken her feet, she wouldn't be able to do that'. The fact is, yes I have, and yes I can.
"Why? Because I'm not going to sit there, moaning, ringing a bell 'can someone help me?'... life goes on. I've broke my feet. Deal with it, get on with it. That's exactly what I'm doing.
"Yes, it's very painful, but what am I going to do? It's the rest of my life now, I'm going to be in pain with my feet, I'm going to have arthritis in my feet, I'm going to have to learn to walk again, fact. I've been told this. If some of you guys don't want to believe me, don't believe me."
Katie also praised her new boyfriend Carl Woods, claiming he's been "amazing" at helping her through her recovery.
After undergoing surgery last week, Katie wrote on Instagram: "Unfortunately more procedures was needed when they entered my feet than thought, but I'm lucky I have the chance to one day get on my feet again.
"Chelsea Westminster hospital nurses doctors have been amazing and the surgeons totally have my up most RESPECT and absolutely FANTASTIC very professional and have been very honest and straight with me to make me actually sink in my head the seriousness of my injuries."
Doctors in Turkey had originally wanted to operate on Katie's feet when she first sustained her injuries, but she said at the time she wanted to wait until her holiday was over and she was back in the UK.