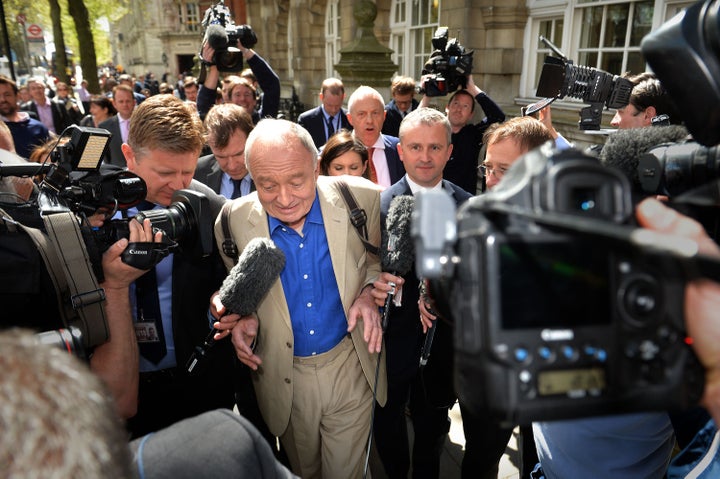 Jeremy Corbyn has hit back at his internal-critics, after Ken Livingstone was suspended from the Labour Party for comments he made about Hitler and anti-Semitism.
The Labour leader denied the party had been thrown into "crisis" by the row.
The former mayor of London triggered a furious argument this morning after he said Hitler "was supporting Zionism" before the Holocaust.
In a statement issued on Thursday afternoon, the Labour Party said: "Ken Livingstone has been suspended by the Labour Party, pending an investigation, for bringing the Party into disrepute."
Livingstone made the remark as he defended Bradford West MP Naz Shah, who was yesterday suspended from Labour for anti-Semitic Facebook posts.
Labour MPs, including London mayoral candidate Sadiq Khan, quickly demanded Corbyn suspend Livingstone from the party.
"It's not a crisis. There is no crisis"
The Labour leader told BBC News: "It's not a crisis. There is no crisis. Where there is any racism in the party, it will be dealt with, it will be rooted out. I have been an anti-racist campaigner all my life."
Corbyn said Labour was "not tolerating anti-Semitism in any way".
Asked whether Labour's reputation was on the line, Corbyn added: "I suspect much of this criticism that you are saying about crisis in the party actually comes from those who are nervous of the strength of the Labour Party at local level."
David Cameron has said the row shows Labour has "a problem" with anti-Semitism. "It is unacceptable in a modern political party, and every political party facing this problem has got to deal with it," he said.
As Livingstone toured TV and radio studios to defend himself, pursued by journalists, he was angrily confronted by Labour MP John Mann who attacked him as a "disgusting racist".
Mann told Livingstone: "You're a lying racist. A Nazi Apologist. You're a disgusting Nazi apologist, Livingstone," he said. "Go back and check what Hitler did. There is a book called Mein Kampf."
The row began outside the studio, in footage captured by ITV News. Livingstone was speaking to LBC radio at the time. The former London mayor told the station: "I've got a violent MP threatening me."
Mann was also told this afternoon by the party's chief whip Rosie Winterton that it is "completely inappropriate" to be involved in public rows on television.
Speaking to BBC Radio London this morning, Livingstone said of Shah: "Her remarks were over the top but she's not anti-Semitic. I've been in the Labour Party for 47 years, I've never heard anyone say anything anti-Semitic."
He added: "Let's remember when Hitler won his election in 1932 his policy then was that Jews should be moved to Israel he was supporting Zionism - before he went mad and ended up killing six million Jews."
"There's been a very well-orchestrated campaign by the Israel lobby to smear anybody who criticised Israeli policy as anti-Semitic."
In a Facebook post in 2014, before she became MP for Bradford West, Shah shared a graphic which showed an image of Israel's outline superimposed onto a map of the US under the headline "Solution for Israel-Palestine Conflict - Relocate Israel into United States", with the comment "problem solved".
The argument between Mann and Livingstone continued on the BBC's Daily Politics programme.
Asked if he thought Livingstone was antisemitic, Mann said: "Yes he is." And the Labour MP attacked the claim Hitler had supported Jewish people moving to Israel.
"Hitler was not a zionist," Mann said. "Hitler blocked any attempt to get Jews into what was then Palestine."
"I think you've lost it Mr Livingstone," he added. "I think you need some help."
Livingstone hit back: "I've not said Hitler was a zionist. What I said was, his policy in 1932 was to deport Germany's Jews to Israel."
Nick Clegg, who was also on the programme, expressed confusion at what Livingstone had said.
"In all my years, I've never seen the perverse logic that starts throwing Hitler and a rewriting of history into an incredibly sensitive debate.
"What possessed you to talk about Hitler and your views of his approach to Zionism?" the former Lib Dem leader added.