A spokesman for Jeremy Corbyn said: "It's quite clear that the Prime Minister is not supporting the call for an urgent ceasefire by the US administration."
May was asked during PMQs on Wednesday if the UK would use its influence on the United Nations Security Council to put forward a resolution calling for a ceasefire and an opening up of negotiations.
"We certainly back the US call for de-escalation in Yemen", she said. "A nationwide ceasefire will only have an affect on the ground if it is underpinned by a political deal between the conflict parties.
"The UK will encourage all parties to agree to de-escalation and to that lasting political deal which will ensure that any ceasefire will hold the long term."
Corbyn's spokesman said: "The [US] Defence Secretary and Secretary of State called for a ceasefire within 30 days and it's clear from Theresa May's response that she's not backing that.
"That goes to highlight that the role that the British Government has played in supporting the Saudi-led bombing campaign in Yemen and the direct advice to Saudi military by British forces under Government direction.
"We support an immediate ceasefire. The country faces devastating famine and huge civilian casualties and this war needs to come to an end immediately."
A spokesman for the PM said that the US position appeared to be in line with the UK's own "long-standing position" of advocating "de-escalation" of the conflict.
But he would not say whether "de-escalation" was the same as a ceasefire.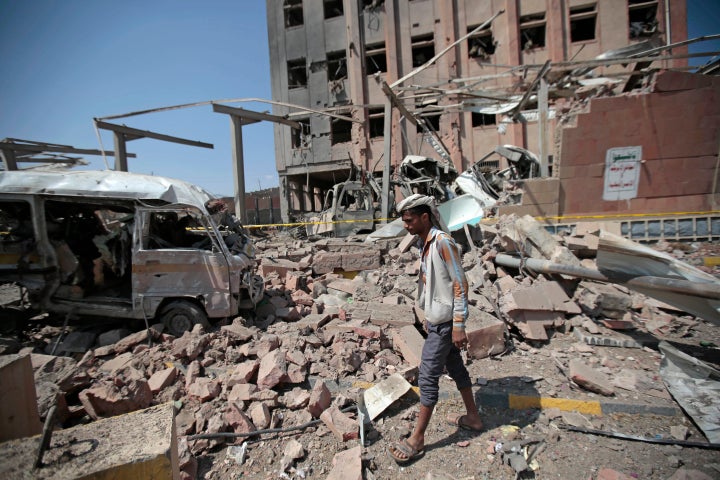 Last night the US Defence Secretary James Mattis said all parties involved in the Yemen conflict needed to take part in UN led negotiations in the next 30 days.
The US has faced calls in the past to end it's support for the Saudi coalitions operations in Yemen.
Foreign Secretary Jeremy Hunt told the BBC: "This is an extremely welcome announcement, we have been working the cessation of hostilities in Yemen for a long time.
"I think this is a very positive moment, if we can land this and we strongly support all efforts to do so we could create a humanitarian corridor and head off this terrible situation."
Yemen has been devastated by conflict since 2015 when Houthis rebels seized control of much of the country and forced President Abdrabbuh Mansour Hadi to flee abroad.
Since then the Saudi led coalition has been engaged in a brutal conflict with the rebels which has led to almost half the population relying on humanitarian food aid.