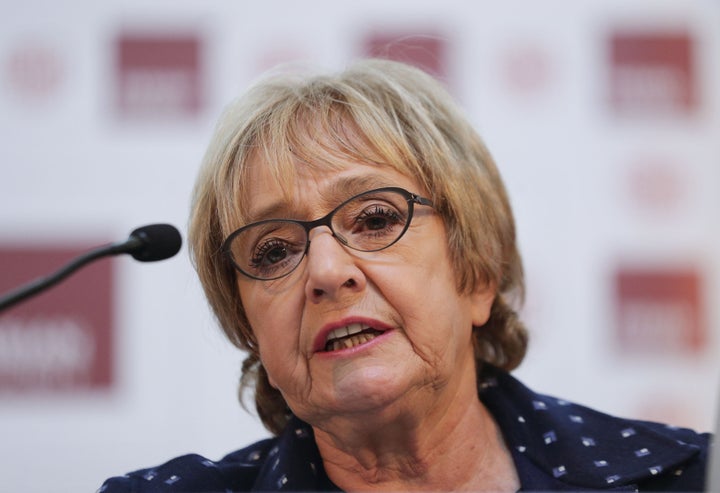 Former minister Margaret Hodge is facing a fight to remain as an MP after her local Labour party 'triggered' a reselection challenge.
Activists in her Barking and Dagenham constituency sparked the run-off during a string of local meetings on Saturday, HuffPost UK can reveal.
With a general election looming, the move means Hodge is the second Labour MP to be triggered by her local party. Hull MP Diana Johnson has also been plunged into an internal Labour fight to keep her seat.
Under new rules passed last year by the party's conference, only a third of constituency branches are needed to trigger a reselection, whereas under previous rules just 50% were required.
In Hodge's seat, 5 out of the 11 branches voted for a contest. Six backed the sitting MP, local sources said.
One particular ward, Longbridge, there were 30 votes against the MP and just seven for. But in others, she lost by a handful of votes.
The former minister has clashed repeatedly with Jeremy Corbyn over the party's anti-Semitism controversy, accusing him of failing to grip the issue.
The Equalities and Human Rights Commission watchdog is currently investigating Labour for alleged institutional anti-Semitism.
Hodge said: "I am obviously disappointed. My priority remains serving the people of Barking as I have done for the last 25 years.
"At a vital time for the country, with a general election looming, we should be focusing our efforts on holding Boris Johnson and the Tories to account. I will work to secure the full backing of Barking Labour Party, so I can continue to play my part as their MP in doing that."
Former deputy leader Harriet Harman, who was herself targeted by activist recently, expressed her dismay.
But some local Left activists argue that Hodge has never supported Jeremy Corbyn's politics or the direction in which he is taken the party since he was elected in 2015.
A chief whip's report to the local party revealed that she had rebelled seven times against the party whip in parliament, although it stressed that deeply held 'personal convictions' were recognised if signalled in advance of a vote.
One local source said "this wasn't a Corbyn inspired plot" but was instead prompted by Hodge's failure to engage with members and trade unionists. "A coalition of the willing has moved for a fresh start in Barking."
A source complained that she had "turned up in a Bentley" to some local party meetings.
Mike Katz, chair of the Jewish Labour Movement, said: "Margaret Hodge has been a steadfast campaigner against racism, fascism and intolerance throughout her political life.
"She saw off the BNP in Barking, and has over the last few years been determined in her opposition to antisemitism within the Labour Party."
Luke Akehurst, Secretary of centrist group Labour First, said: "The new trigger system is ridiculous and undemocratic.
"Margaret Hodge won in a majority of branches but the new system means a minority have been able to force her into an unnecessary full selection.
"Triggering one of Labour's few Jewish MPs is an appalling look in the face of an EHRC investigation for institutional antisemitism. We will do everything we can to help Margaret win her reselection contest."
Shadow foreign secretary Emily Thornberry told HuffPost UK last week that trigger contests were a distraction given the impending snap election.
"It is the timing. We have to be moving on and looking at the prize which is a general election."
Stressing she was not against giving members the right to remove their MP as election candidate in principle, she added: "We should be taking it to the Tories.
"Given that we may be facing a general election in two months, what we don't want is for local parties, instead of being outward looking, knowing they're fighting [themselves]."