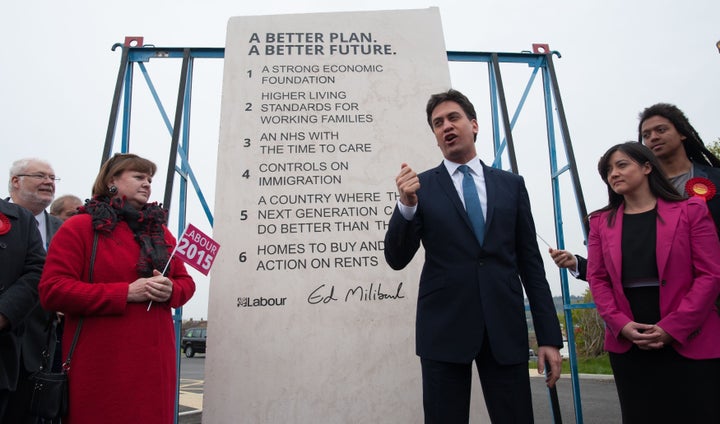 Poor Ed Miliband. The Labour Party has been fined £20,000 by the Electoral Commission today for undeclared spending during the 2015 general election campaign - including the £7,000 it spent on the infamous 'Ed Stone'.
It is the largest fine handed down by the watchdog in its history.
Labour's decision to engrave Miliband's campaign promises into an 8ft high slab of stone - with a promise to move it into Downing Street should he win - was one of the most mocked incidents of the entire election.
At the time, MIliband defended it as a way of getting "people talking" about his campaign. "If I am prime minister I will keep our stone in a place where we can see it every day as a reminder of our duty to keep Labour's promises," he said.
Bob Posner, Director of Party and Election Finance at the Electoral Commission said: "The Labour Party is a well-established, experienced party. Rules on reporting campaign spending have been in place for over 15 years and it is vital that the larger parties comply with these rules and report their finances accurately if voters are to have confidence in the system."
Labour was missing 74 payments totalling £123,748, along with 33 separate invoices totalling £34,392 - including the £7,614 for the Ed Stone.
Related