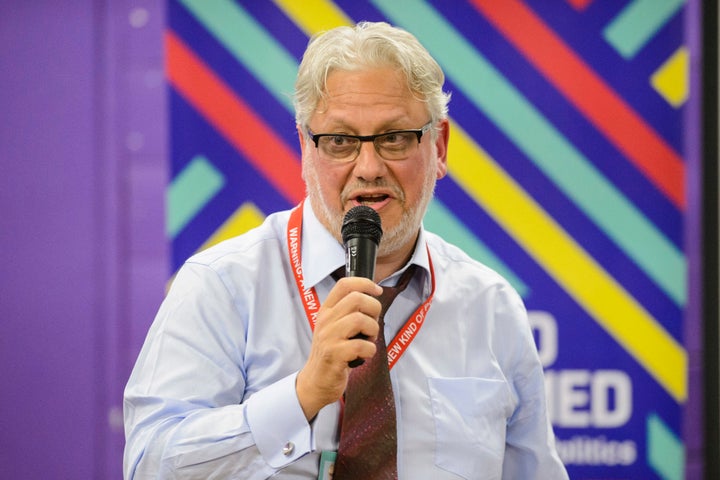 Momentum founder Jon Lansman has emerged as a surprise possible contender for the post of Labour general secretary, HuffPost has learned.
Lansman was expected to announce his intentions on Monday just hours after the party decided the appointment process would be fast-tracked and completed in just three weeks flat.
The leftwing veteran was being urged to run following claims that Unite official Jennie Formby was being 'railroaded' through as the favoured candidate of key allies of Jeremy Corbyn.
Formby is seen as divisive among other trade unions and Lansman is among several alternative candidates.
One source said: "It's true, Jon will go for the general secretary vacancy. He's been urged to do so by lots of people. And he will have strong support."
A source close to Lansman told HuffPost: "He knows the party like the back of his hand, has decades of experience and everybody wants an open contest with a range of candidates, so why not?"
A separate senior insider said if Lansman got the top job it would be a "powerful symbol that this was now a members'-led party".
Yet another source revealed that Lansman was had "put his hat into the ring" ahead of the Left caucus conference call at 8pm in a bid to get it to think again about moves to back Formby.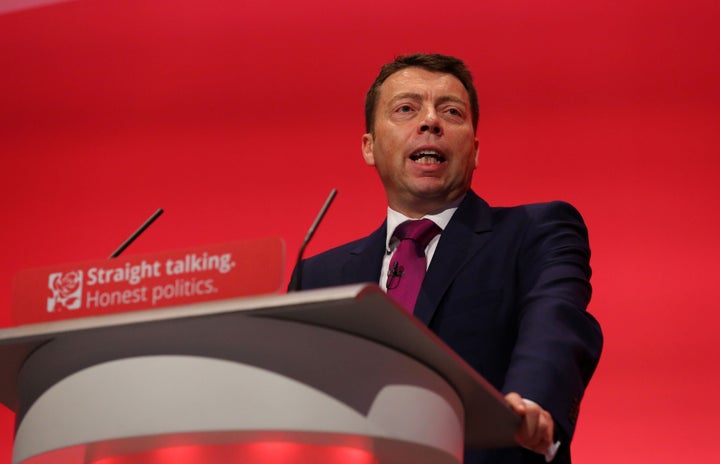 Corbyn's close aide Karie Murphy was seen in a meeting with Lansman on Monday night as the Parliamentary Labour Party met, one party activist said.
An NEC source said: "It's a case of ABJ. Anyone But Jennie."
One senior MP joked: "So, it's Momentum v Unite? It'll come down to who's got the biggest membership list!"
The party's ruling National Executive Committee (NEC) officers group decided on Monday that the successor to Iain McNicol will be chosen by March 20.
The rapid timetable, which was unusually approved without a final sign-off by the full NEC, marks a break with the previous appointment in 2011, when the process took 10 weeks.
Applications for the general secretary post will open on Tuesday and the full NEC will interview shortlisted candidates and make an appointment exactly three weeks later.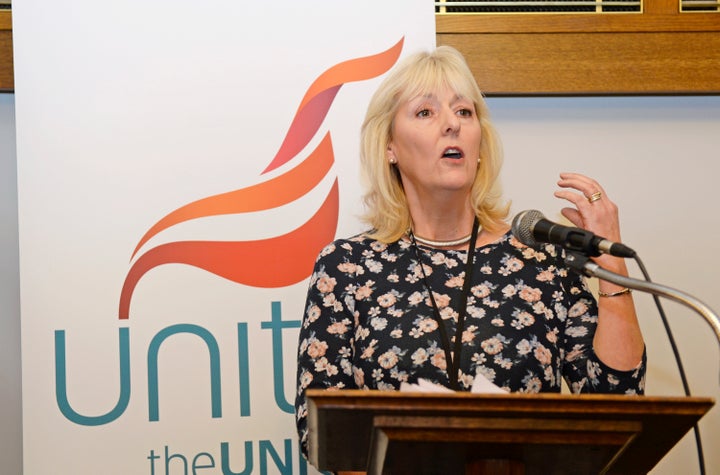 "Normally the timetable and job advert would be approved by the full NEC," one source said. "But they want it done fast. They've decided they can do what they want and have delegated authority of the NEC."
Labour MPs gave McNicol a standing ovation at their weekly meeting of the Parliamentary Labour Party (PLP) on Monday night in the Commons.
Some on the NEC fear Formby's candidacy is being "railroaded" through, contrary to their leader's new drive for more democracy and transparency.
But as Jeremy Corbyn's allies seek a swift end to the McNicol era, their backing for former Unite political director Jennie Formby met some stiff opposition from senior MPs, Shadow Cabinet ministers, other unions and – crucially - some left-wing members of the NEC.
Formby's critics claim that she will fail to unite the party and union wings and are instead urging three other women to apply for the job as a compromise 'unity' candidate.
The GMB's Lisa Johnson, Unite's current political director Anneliese Midgley and Labour HQ official Emilie Oldknow are seen as less divisive than Formby, although she does have the strong backing of close allies of Corbyn.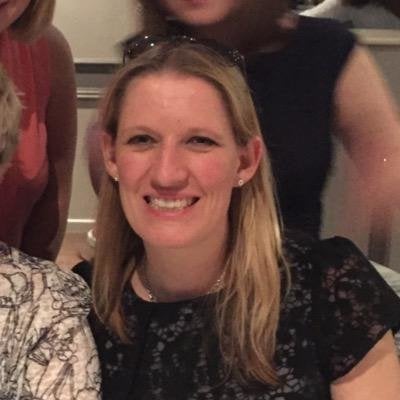 HuffPost understands that at meeting of the 'Left' contingent of the NEC on Monday, there was pushback at one plan to shortlist only Formby and no one else.
The idea, proposed by a senior figure close to the Labour leader, met with strong opposition.
One source claimed that even Momentum founder Jon Lansman is uneasy about attempts to bounce the NEC into hiring Formby. HuffPost has been unable to confirm this claim.
Some Labour MPs are furious at the ousting of McNicol, who had very recently made clear privately that he intended to stay in post despite heavy criticism of some Corbyn supporters of his seven-year tenure.
McNicol is understood to have been told at a meeting last week that his departure was non-negotiable, although he has not formally resigned and will hammer out a severance deal before he goes.
The timetable for the selection has been set out in an email to NEC members, obtained by HuffPost.
Monday 26th February:

NEC officers agree draft timetable for NEC & agree expanded NEC Officer panel for process of long-listing and short-listing

NEC officers meeting to agree the recruitment timetable.

NEC officers agree job description, person specification and advertisement

Tuesday 27th February: Advertisements placed

Tuesday 13th March: Closing date for applications

Wednesday 14th March: NEC officers meeting to determine long list/final short-list (TBC)

Thursday 15th March: Short list as required

Tuesday 20th March: NEC meeting to interview and appoint GS
However in 2011, this was the previous timetable: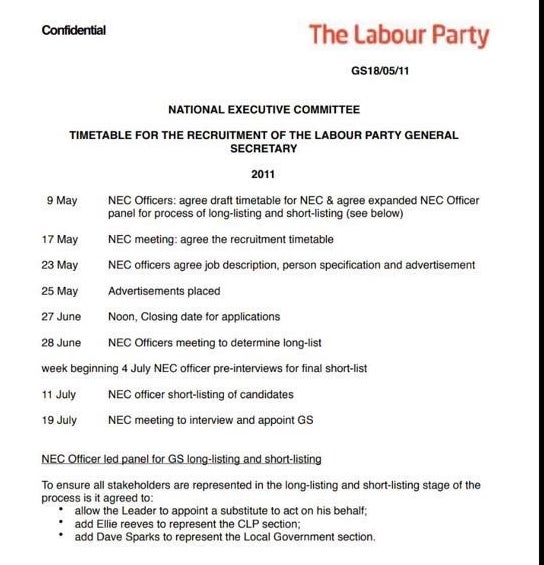 One party source told HuffPost that among the reasons for the fast-tracked timetable were the desire to get a new general secretary in place before a decision on Ken Livingstone's appointment and before a ruling on the Unite general secretary election.
Labour First activist Luke Akehurst suggested the Unite decision was key.
However other party sources have played down both suggestions and said that the speedy process is aimed at preventing rival candidates to Formby to gather support.
Yet another source claimed that the reason was Theresa May's new list of peers is expected soon and McNicol could appear on it. This has been denied by other party insiders.