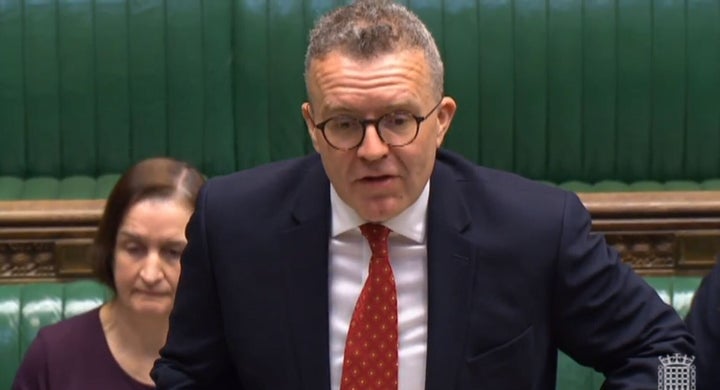 Labour's policy is still to "remain and reform" the EU, the party's deputy leader Tom Watson has said.
The claim came as talks are due to resume on Monday between Labour and the Conservatives to try and reach a compromise Brexit deal that can win a majority in the Commons.
Keir Starmer has warned it would be "impossible" for any Tory-Labour deal to get through parliament if it did not include a second referendum.
The shadow Brexit secretary told The Guardian as many as 150 of the party's 229 MPs would refuse to vote for a deal if it was not put to a public vote.
Speaking to BBC Radio 4′s Today programme on Monday, Watson agreed it would be "difficult" for his party to assist in the UK's exit from the EU without another referendum.
Asked what the party's policy was, he said: "We are remain and reform party but obviously when it comes to a deal people can form their own view."
The statement contradicts the position outlined by Shadow International Trade Secretary Barry Gardiner on Sunday.
Asked on Sky News' Sophy Ridge on Sunday if Labour's position was that the UK should leave the EU, he said: "That's what we've been trying to do with these negotiations with the government, that's why we're there."
In a sign of the confusion over the party's position, Shadow Health Secretary Jon Ashworth told the BBC's Andrew Marr Show an hour "no, no, no – we're not a Brexit party".
Speaking about the chances of a Brexit deal being reached, Watson said today: "If a deal could be found that inspires enough votes in Westminster then fine, but it seemed to me that that's very, very difficult.
"And so my idea of a confirmatory ballot is not a religious point or a point of ideology, it's just how do you get an outcome, how do you sort this out?
"One way to do it are these two minority positions – the Prime Minister's deal and those that think the people should have a say on the deal – plug them together and you build a majority."
Lasy month Jeremy Corbyn saw off an attempt to commit the party to a confirmatory referendum on any Brexit deal.
Labour will instead only back a fresh vote only if it cannot either win the changes it wants to Theresa May's deal or secure a general election.
Jeremy Hunt said this morning this was "a crunch week" for Brexit. Speaking in Brussels, the foreign secretary said Labour and the government had held "very detailed discussions".
And he did not rule out a second referendum. "From a Conservative point of view, we've always said that we think that would be a betrayal of what people voted for, and we want to implement the first referendum," he said. "But let's see where these talks go to."