Labour is to step up its election campaign in the north and midlands by stressing its offer to Leave voters of a jobs-first Brexit, more council houses and better buses, sources have suggested.
The new approach follows increasing concern that the party is suffering a major loss of support in its heartlands that voted Leave in the 2016 referendum.
HuffPost UK understands from multiple sources that the party's own internal polling shows Labour is behind the Tories in many marginals it currently holds.
The survey showed a string of seats in areas like West Bromwich, Wolverhampton and Darlington, falling for the first time in decades to the Tories.
But there is unease among some within the higher ranks of the party that its offer of a referendum has been seen as too pro-Remain in northern and midlands constituencies.
Jeremy Corbyn took his first step towards reassuring Leave voters last week when he dramatically announced during a BBC Question Time programme that he would remain 'neutral' during any referendum.
Shadow ministers who have been pro-Leave are set to be given a greater media profile to highlight that the party wants a 'credible' Brexit offer that would allow the UK to leave the EU with protections for workers and jobs.
The party will also stress bread-and-butter policies like its plans to make bus travel cheaper under publicly-run services, and its pledge to build huge numbers of council houses, one source said.
Party chair Ian Lavery told HuffPost UK: "Labour understand quite clearly the reasons why many people voted leave in the EU referendum. It's not just the north, it's the east and west midlands the north west, Yorkshire and Humberside and the north east.
"We're not refocusing efforts, we're redoubling our efforts in those communities blighted by austerity.
"There's a real need for the Labour party to articulate our fantastic policies and manifesto pledges in many communities so there's an understanding how a Labour government can transform their lives and their communities."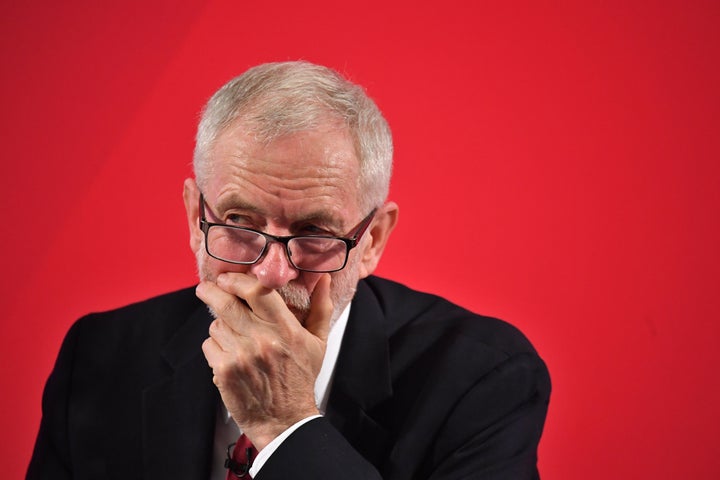 Insiders pointed out that Labour's rating has been improving in its own polls and the situation is tightening in key marginals, while big city safe seats are still showing strong support. But the party is still behind.
"It's looking better than it was, but it's not good," one source said.
It is understood that some in the party are stressing that while Labour was developing its campaign, it would be wrong to describe it as a major pivot.
Still, in recent weeks, candidates who have spent years sitting on large Labour majorities have for the first time had to fight their seats like a marginal.
The party has been stretched by trying to both win Tory seats while putting resources and campaigning into defending areas it has never had to defend before.
Shadow international development secretary Barry Gardiner suggested to SkyNews's Kay Burley Show that the Times poll could actually help Labour.
"For those who were thinking of voting Conservative, I hope this poll gives them great comfort, they sit back, they say 'I don't need to go out and vote on polling day because it's wet and it's windy'," he said.
The PM's chief adviser Dominic Cummings blogged on Wednesday his own fear that such polls could depress turnout.
"You will see many polls in the coming days. Some will say Boris will win. Trust me, as someone who has worked on lots of campaigns, things are MUCH tighter than they seem and there is a very real possibility of a hung parliament," he said.
A string of privately-commissioned MRP polls have shown similar outcomes to the Times. One poll for the Best for Britain anti-Brexit group put Labour on 199 seats, which would be worse than Michael Foot's 1983 disaster.
Some of the party's candidates believe that it was a mistake of some shadow ministers react to the European elections in the summer with a stronger pro-Remain message.
"Some people who should know better over-reacted to the Euros. But the Lib Dems are showing in this election they aren't the big threat to us some claimed, especially after their daft Revoke idea [the party wants to revoke Article 50 of the EU treaty to reverse Brexit]," one said.
Labour is seen as suffering in several of its northern and midlands seats from the fact that the Brexit party is standing in those areas but not in Tory-held constituencies.
Some Labour voters would rather back Nigel Farage's party than support the Conservatives, but there is evidence that some are 'switching' directly to Johnson too.
With the Labour membership overwhelmingly pro-Remain, the party opted at its recent conference to back a second referendum policy, though it postponed until after the election any decision on how it would campaign.
Several polls have shown that Liberal Democrat voters are much less likely to vote tactically in Tory-Labour marginals to support Labour's referendum offer than Labour voters are to lend their support to Lib Dems against Tory candidates.