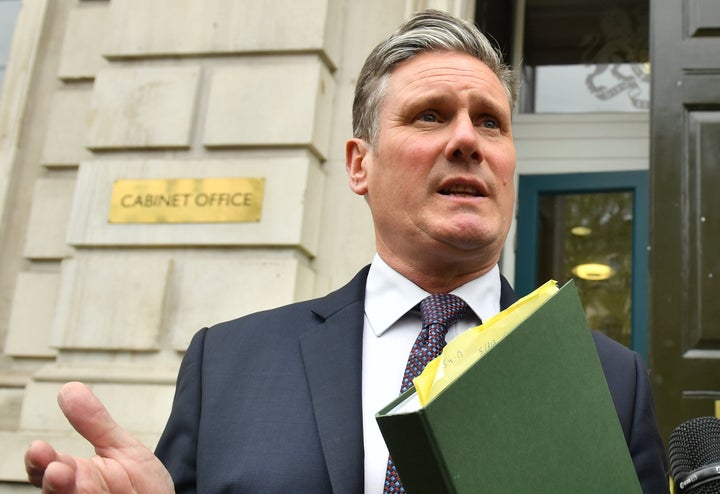 Labour will not fall into Boris Johnson's "trap" and vote for the general election he wants, Shadow Brexit Secretary Keir Starmer has confirmed.
The prime minister will ask MPs to vote on Wednesday evening for an election to be held on October 15.
But Starmer said Labour suspected Johnson would then move the date of the poll once parliament had voted for it.
MPs opposed to a no-deal Brexit are worried the PM could hold an election campaign over the October 31 exit day, leaving parliament powerless to stop the UK crashing out of the EU without an agreement.
"We are not going to be voting with Johnson today," Starmer told BBC Radio 4′s Today programme.
"Having got control from Boris Johnson last night we are not going to hand it back to him in what is very obviously a trap.
"Nobody in parliament trusts this man. This is the basic difference between him and Theresa May. People trusted Theresa May.
"He has zero trust because I am afraid he has been dishonest time and again."
Starmer added Labour was not going to "dance to Boris Johnson's tune" and "walk into a trap".
Under the terms of the Fixed Term Parliaments Act, two-thirds of MPs must vote for an election for it to take place.
However there other avenues the government could pursue to get a poll – including passing a new law.
Those sacked include Philip Hammond, David Gauke and Rory Stewart - all of whom were serving in Theresa May's cabinet just weeks ago. Party stalwarts Ken Clarke and Sir Nicholas Soames, Winston Churchill's grandson, were also dismissed.
Johnson said parliament is "on the brink of wrecking any deal" with Brussels after voting to give the cross-party alliance control of the Commons.
He said on Twitter today: "Corbyn and his surrender bill would mean years of uncertainty and delay. I am determined to lead this country forward and take Britain out of the EU on October 31."
Wednesday will also see Johnson take his first session of Prime Minister's Questions, before chancellor Sajid Javid sets out public spending plans.