Comedy legend Ricky Gervais is on the promo-trail for the new David Brent movie (which we're super excited about) and on Wednesday he stopped by on 'Late Night With Seth Meyers' to chat and show off his acting skills.
While recording a few promotional shots for the show, Ricky put his acting skills to the test when Seth gave him improvised prompts for each one - and they all turned out to be absolutely hilarious.
This is all getting us very excited for when 'David Brent: Life On The Road' lands this summer.
The hotly-anticipated big screen adventure catches up with David 12 years after the conclusion of 'The Office', and finds him now working as a travelling salesman with Lavichem, a cleaning and ladies' personal hygiene products company.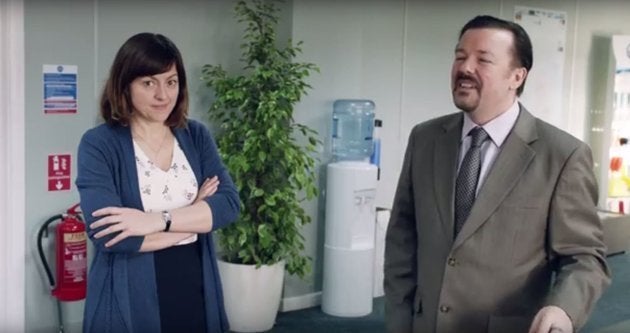 However, he hasn't given up on his dream of rock stardom and is about to embark on a self-financed UK tour with his band, 'Foregone Conclusion'.
Assembling a group of session musicians who are just in it for the money, along with talented rapper Dom (Ben Bailey Smith), in an attempt to gain street cred, David cashes in his pensions and takes unpaid leave in a bid to turn his dream into reality.