If ever there was a good time to be a woman in business, it's now. According to accounting and consulting member firm Grant Thornton's annual Women In Business report 75% of global businesses now have at least one woman on the senior management team.
This is reflected in the UK, with an equal 75% of firms having women in senior positions, which is up from 59% last year.
As the boundaries facing women in business continue to be broken down, here's a round-up of what we can learn from those redefining what is means to be a woman in business today.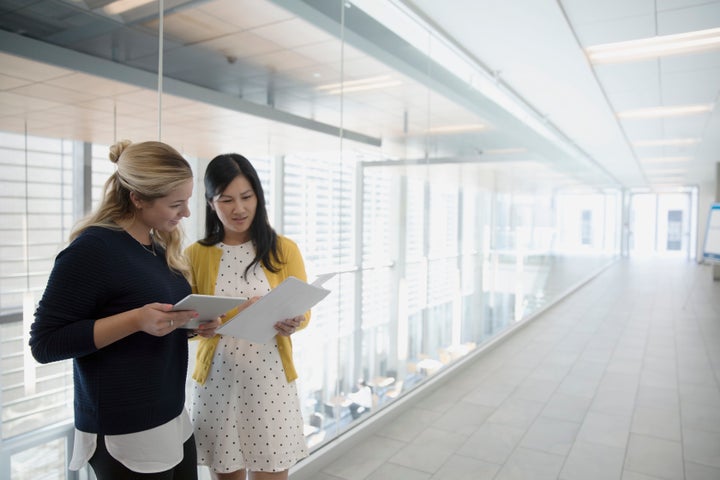 Be visionary
As the youngest ever female to pass A level computing aged 11, Dr Anne-Marie Imafadion, went on to graduate from Oxford with a Master's Degree in Mathematics and Computing aged 20.
A recognised thought-leader in the tech arena she co-founded Stemettes in 2013. This is an award-winning social enterprise working across the UK, Ireland and beyond to inspire and support young women into the fields of Science, Technology, Engineering and Mathematics.
The ambition of Stemettes is to enable women and young girls to make informed decisions about careers in the STEM industries. The mission is to have women more widely represented in these areas.
Anne-Marie's work has resulted in her being awarded an MBE in 2017 as recognition.
Think big, always
After qualifying as a chartered accountant in 2008, Nami Patel started working on corporate finance projects and set herself the challenge of being a chief financial officer by the time she reached 35.
With drive and determination, she hit her target three years early. In 2016, she was appointed CFO of Fox Networks Group in UK and Africa.
She's also a senior vice president of business development for Europe and Africa, co-chair of the company's female leadership group (Women@21CF) in the UK, is also a board director of DriveTribe and a BAFTA member.
It's been reported that she credits her ability to succeed to her teenage years when her mother died unexpectedly.
Recognise your strengths, then play to them
A former naval lieutenant turned events director turned hyper connected business powerhouse, Simone Roche, is the driving force behind Northern Power Women campaign for gender equality.
Her work sees her engaging both men and women to act as agents of change and she describes herself as a 'serial collector of kick-ass people'.
She has been working for over ten years to drive the issue of gender equality in business and was recently awarded the MBE in recognition of her success.
Simone has said she wanted to use her skills to help empower more women to be successful in business and realise their potential – which was the driving force behind Northern Power Women.
Work smarter, not harder
Former social media editor turned author and award-winning broadcaster, Emma Gannon has just published her second book which has been hailed as the bible of career reinvention.
The Multi-Hyphen Method challenges the career norm and gives express advice on how to make your working life more than just a job, but a career that really works for you.
Emma is at the forefront of business, technology and career development and her podcasts have amassed more than 1.5m downloads to date with listeners in over 100 countries.
A truly global force Emma's advice on the modern career path looks set to be the blueprint for the working life in the future.
She has been named as one of Forbes magazine's 30 Under 30. Emma says she embraces a truly flexible multi-skilled career and works smarter – as a result she now earns more money in a month than she used to do in six.